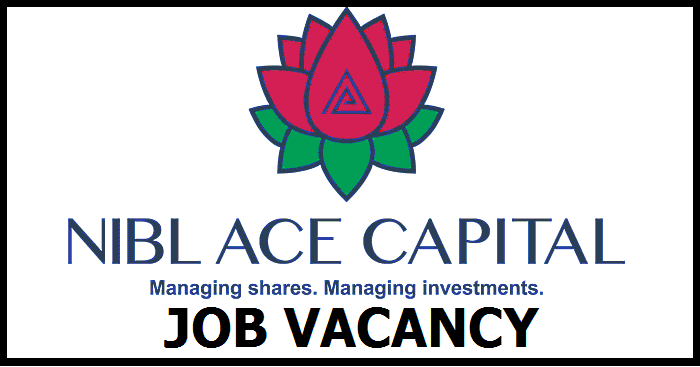 NIBL Ace Capital Limited Vacancy Announcement: With the vision to expand and strengthen the management team, NIBL Ace Capital ltd. is Inviting applications from self-motivated, dynamic, and competent individuals in the following position:
Position: Executive Assistant
Number of Requirements -1 (One)
Required Qualifications:
Minimum Bachelor's Degree from a reputed institution.
Experience of minimum 2 years of supporting the Executives'.
Experience and Interest in internal and external communications and partnership development. Fluent, confident, and tactful in Verbal and Written Communication In English.
Smart and enthusiastic individual with a passion to work with utmost dedication. Age not exceeding 30 years of age is preferred.
Skills and Abilities:
Acting as the point of contact between the Executives' and internal or external stakeholders. Skills in supervising, advising and instructing staff in subordinates.
Excellent listening and communication skills and high level of Peopk/Interpersonal Ability to work with the Executives' and the team tactfully, calmly and patiently.
Ability to resolve complex administrative problems independently, perform tasks that are diverse and advanced, and follow through on a variety of tasks.
Use courtesy, patience, adaptability, Initiative, cooperativeness, resourcefulness in determining priorities and making decisions and mature judgement In dealing with all type of personalities. Ensure that the information Is relayed correctly.
Need to have terrific organizational skills to keep the working day in order by managing and scheduling meetings, appointments, travel plans and travel arrangements, billing for the Executives' and others.
Demonstrate strong knowledge and extensive use of Microsoft Office (Word, Excel and Power Point), emails, Adobe Acrobat and Social Media web platforms.
Handle routine matters independently when it is not necessary to involve the
Bask Functions of the position:
Assisting the Executives with primary responsibility of assisting the CEO.
Must be creative and enjoy working within the business environment that is mission-driven, results•riven and community oriented.
Must have the ability to exercise good judgment in a variety of situations, and the ability to maintain a realistic balance among multiple priorities.
Possess the ability to work under pressure at times to handle a wide variety of activities and confidential matters with discretion.
No Bar on Salary for Deserving Candidates and Immediate Joiners will be highly preferred.
If you have the zeal to work in a professional team and meet the requirements, kindly request you to send your application letter with an updated resume and credentials with a photograph at the email: [email protected]
Applications must be sent within 15 days of the vacancy's published date.
NIBL Ace Capital Limited, P.O. Box 23220, Kathmandu, Nepal.
Banking Career
Job Vacancy
Banking Job