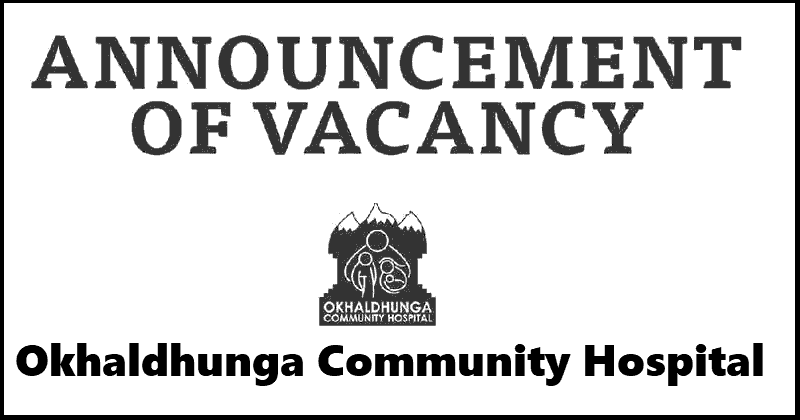 Okhaldhunga Community Hospital is a rural hospital (officially 50 beds), to the east of Kathmandu, about one day's journey by vehicle. We provide hospital services to our surrounding communities - including general medicine and surgery, orthopedics, pediatrics, obstetrics, and gynecology. The vision is to expand to a 100-bed hospital. Associated programs of the hospital include community-based rehabilitation and mental health. Okhaldhunga School of Health Sciences was established in 2019 (BS 2075) to train staff nurses (PCL Nursing). Hospital Pharmacy provides pharmaceutical services to all hospital programmes.
Position: Physiotherapist
Required No.:1
The hospital physiotherapist will have day-to-day responsibility for physiotherapy services and treatment both for in-patients and outpatients.
Qualification and Experience:
Bachelor of Physiotherapy (or equivalent) from a recognized university with Nepal Health Professional Council (NHPC) registration.
Salary and benefits will be according to OCH standards.
All interested individuals who meet the minimum qualifications are encouraged to apply for this position. The Job Description and Application Form can be downloaded from our website: www.umn.org.np/vacancy.
Completed application forms accompanied by electronic copies of academic qualifications, passport size photograph, and registration certificate from NHPC should be sent via e-mail to [email protected] by 5 pm, Monday, 26 December 2022. Applications must be in English.
Late applications will not be considered.
Interviews will take place at Okhaldhunga Community Hospital Siddhicharan NP - 71, Sobru, Okhatdhunga District, Province 1 in January 2023.
We especially encourage applications from women and members of marginalized groups.
Hospital Job Vacancy
Okhaldhunga
Job Vacancy
Health Job