Purbakhola Rural Municipality Vacancy for HA, AHW, ANM, and Light Vehicle Driver:
Purvakhola Rural Municipality (Gaupalika), Office of Rural Municipal Executive, Purvakhola, Palpa, Lumbini Province: Since various posts for the health post under Purbakhola Rural Municipality have to be filled through the contract process; Applications are invited from the following qualified candidates within 15 days from the date of publication of the notice.
Vacancy Details:
Position
Level
Req. No.
Health Assistant
5th Level
4
AHW
4th Level
2
ANM
4th Level
2
Light Vehicle Driver (for Ambulance)
1
Types of Vacancy: Contract Service
2) Required Educational Qualifications:
Must have passed HA, AHW, ANM course from a recognized educational institution and be registered with Nepal Health Practitioners Council, and Nepal Nursing Council. Advertisement No. 13 should be literate and have a driver's license.
3) Types of exams: 10, 11, and 12 written and interview. Experimental and Interview for Advertisement No. 13.
4) Examination Center: Purbakhola Rural Municipal Executive Office, Palpa
5) Fee: Rs.500 / -
6) Necessary documents: A copy of the educational certificate, a copy of the citizenship, and a copy of the training along with the receipt of the required fee should be submitted along with the application form. The application form can be downloaded from www.purbakholamun.gov.np.
7) Place to submit application: Purbakhola Rural Municipal Executive Office, Health Branch, Palpa.
8) Last date to submit application: 2075-01-31
9) Age limit of the candidate: 18 years completed and not exceeding 40 years
10) Contact date: 2078-02-02
11) Exam Date: The date of contract date will be fixed.
12) Service facility: Rural Municipal will be as per the decision of the executive.
13) Priority: Special consideration will be given to those with experience and higher qualifications.
14) For more information: contact no. 9847440303 and 9857060629
First published date: 2078-01-16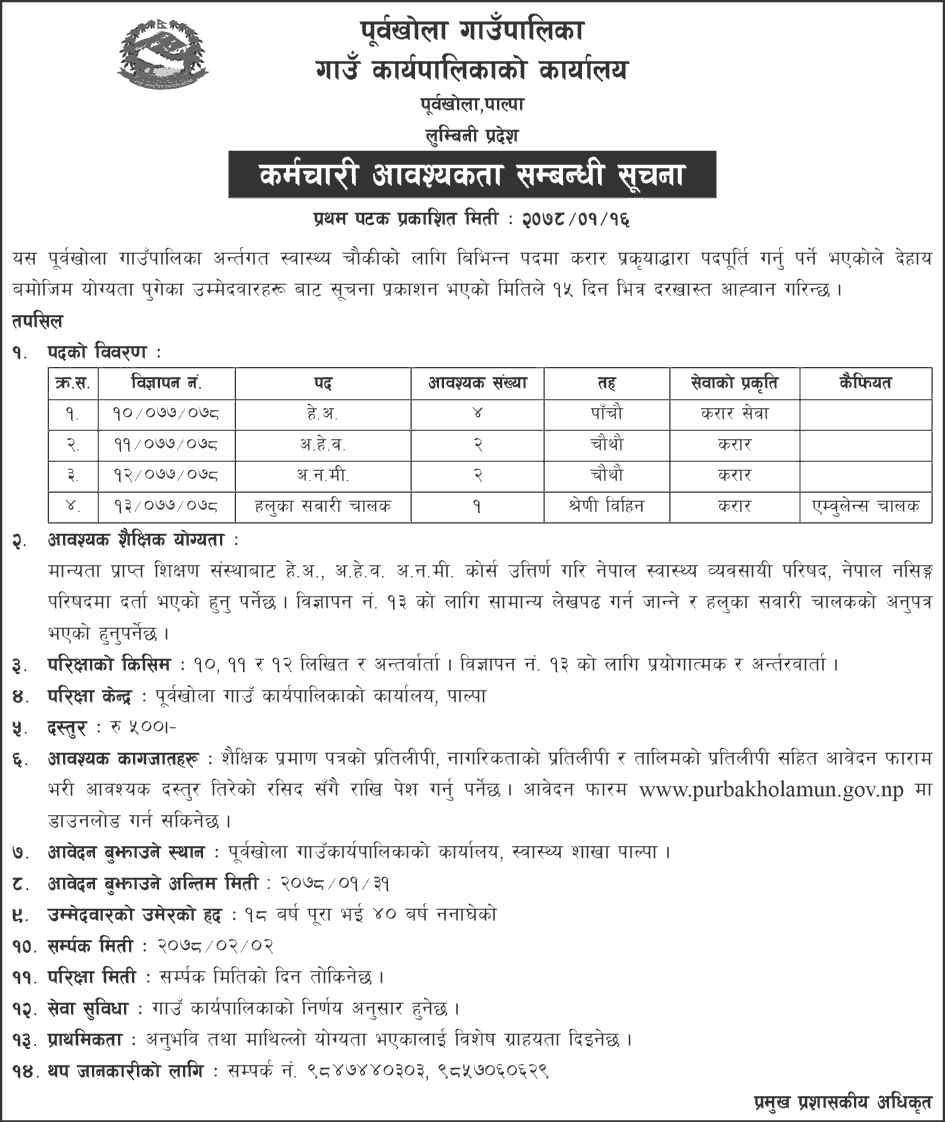 Palpa
Lumbini Pradesh
Job Vacancy
Health Job
Government Job