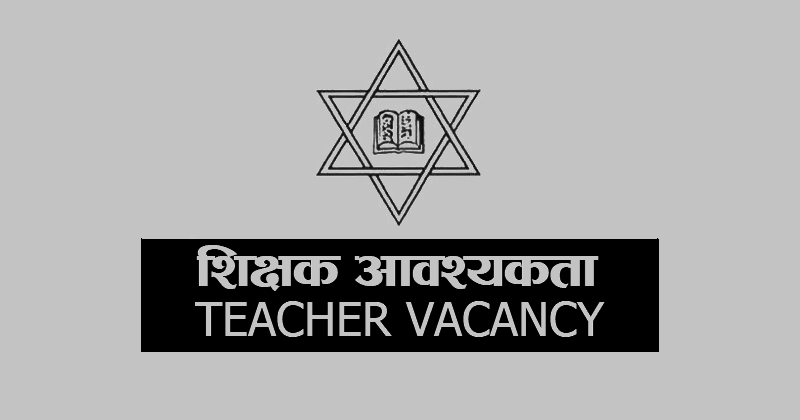 Opportunity for Secondary English Subject Teacher at Ramjyoti Secondary School
Ramjyoti Secondary School, located in Pokhara, is seeking a qualified English Subject Teacher for the secondary level. The school management committee has made the decision to fill the post through an open competition, and interested Nepali citizens who meet the qualifications are encouraged to apply.
Advertisement No.01/2079/080
Level: Secondary
Subject: English
Required No.: 1 (One)
Type: Teaching Learing Relief Fund (Contractual)
Minimum Qualifications and Requirements
To apply for this position, candidates must hold a B.Ed degree in the related subject or its equivalent, and have received a secondary level teaching license from the commission. Candidates must be Nepali citizens between 18 and 40 years of age. Along with the application, candidates are required to submit their academic records, a copy of their qualification certificate, a copy of their permanent teaching permit, and a copy of their Nepali citizenship.
Application Details
Interested applicants are required to submit a handwritten application along with the aforementioned documents. The application fee is Rs. 1,000/- (one thousand rupees only). The selection process will consist of a written and interview examination, with practical exams if required. The salary and other benefits will be provided as per the grant available from the Nepal government.
The written exam and interview will be held at the Education Department in Pokhara Mahanagarpalika, Kaski. Applications must be submitted to Sri Ramjyoti Secondary School in Pokhara- 26, Kaski, no later than May 7th, 2080 to 2080 for the contract list Baisakh 13 till 4:00 p.m. The application process will remain open until 4:00 PM on 21st Baisakh 2080.
Candidates must bring their documents to appear in the exam, and those in the contract list must submit a copy of the paper showing the merit order in the contract list of the relevant level and subject of Gandaki province.
Contact Details
For further information or inquiries, candidates may contact Shri Ramjyoti Secondary School at 061-411201.
The date of the exam will be determined on the contact date, which is set for Baishakh 22nd, 2080.
This is an excellent opportunity for qualified English subject teachers to join the faculty at Ramjyoti Secondary School in Pokhara.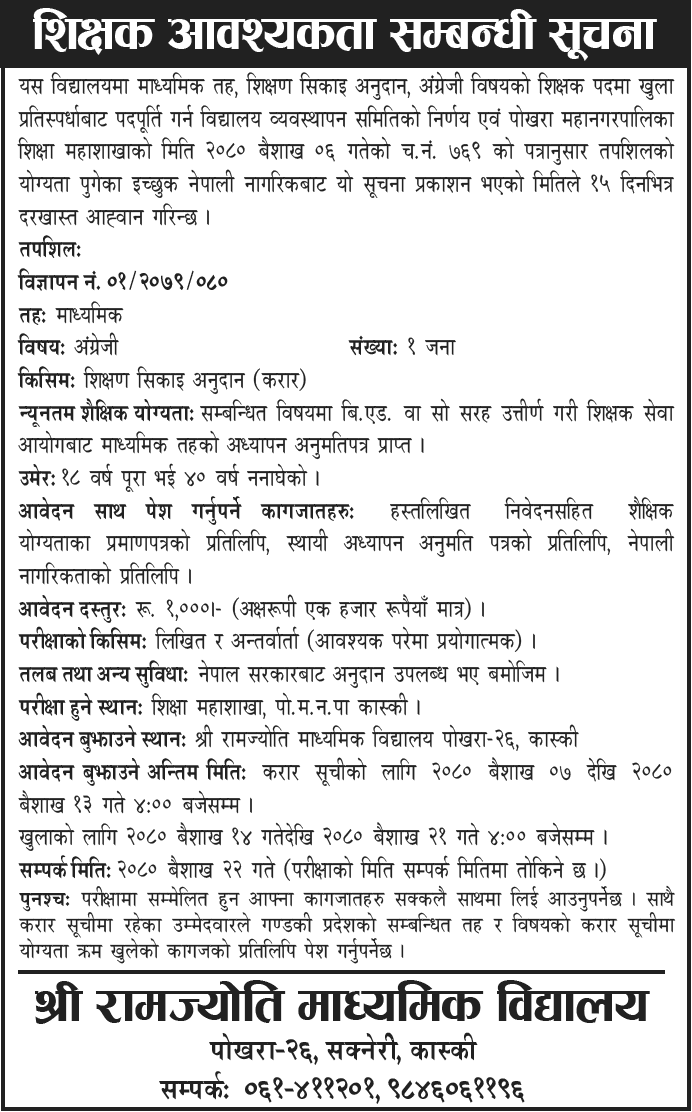 Pokhara
Teaching Jobs
Job Vacancy
School Job