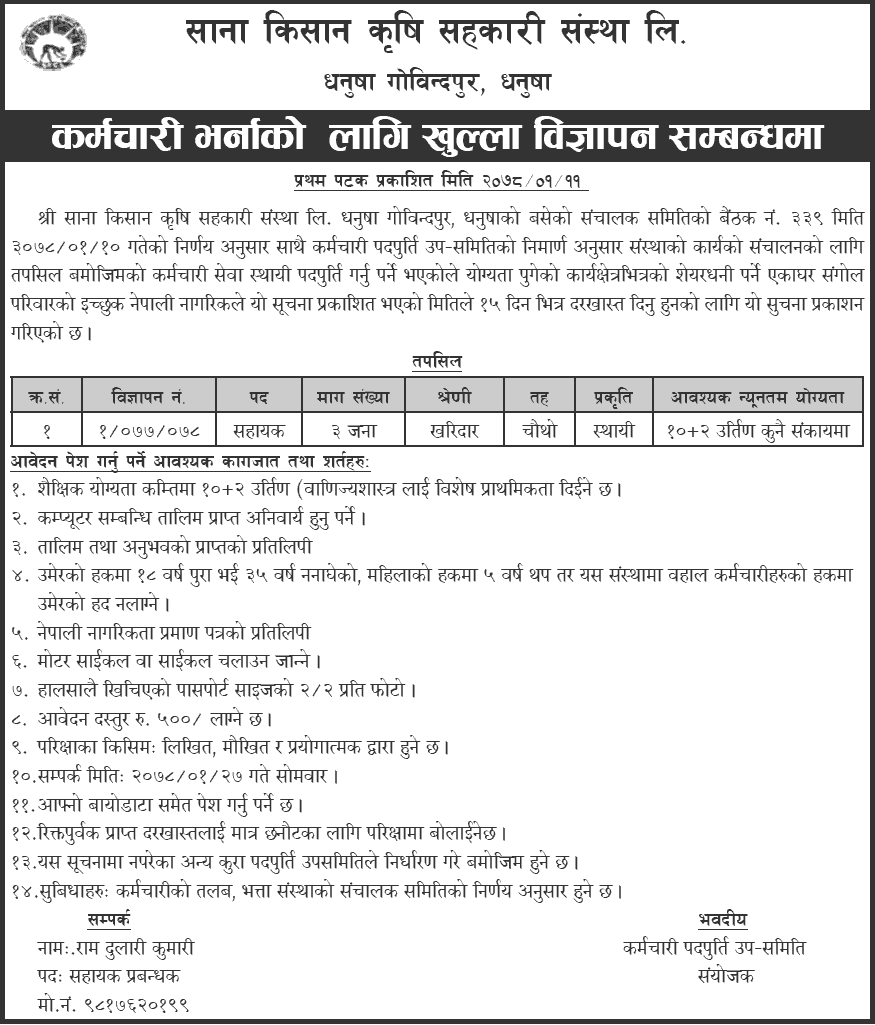 Sana Kishan Krishi Sahakari Sanstha Limited Dhanusha Vacancy for Assistant:
Sana Kishan Krishi Sahakari Sanstha Limited Dhanusha Govindpur, Dhanusha notice Regarding open advertisement for staff recruitment
Sana Kishan Krishi Sahakari Sanstha Limited, Dhanusha Govindapur, Dhanusha as per the decision of the Board of Directors dated 2078-01-10 as well as the formation of the Staff Sub-Committee for conducting the work of the organization, as per the details the staff service has to be filled permanently; This notice has been published for the interested Nepali citizen of Sangol family to apply within 15 days from the date of publication of this notice.
Details
| | |
| --- | --- |
| Ad no. | 01/2077/078 |
| Position | Assistant |
| Required No. | 3 (Three) |
| Level | 4th Level (Kharidar) |
Documents and conditions required to submit the application:
1) Educational Qualification At least 10+2 Passed (Commerce will be given special priority).
2) Must have received computer-related training.
3) Copy of training and experience received
4) In case of age having completed 18 years and not exceeding 35 years, in case of women 5 years more but in case of working employees in this organization no age limit is required.
5) Copy of Nepali citizenship certificate
6) Know how to ride a motorcycle or bicycle.
7) Recently taken 2 copies of passport size photos.
8) Application fee is Rs. Rs. 500.
9) Types of examinations: will be by written, oral and experimental.
10) Contact date: 2078-01-27, Monday.
11) You also have to submit your biodata.
12) Only the vacant application will be called for selection in the examination.
13) Other matters not covered in this notice shall be as determined by the sub-committee.
14) Facilities: The salary and allowance of the employee will be as per the decision of the board of directors of the organization
Mo. No. 9817620199
First published on 2078-01-11
Madhesh Pradesh
Dhanusha
Job Vacancy