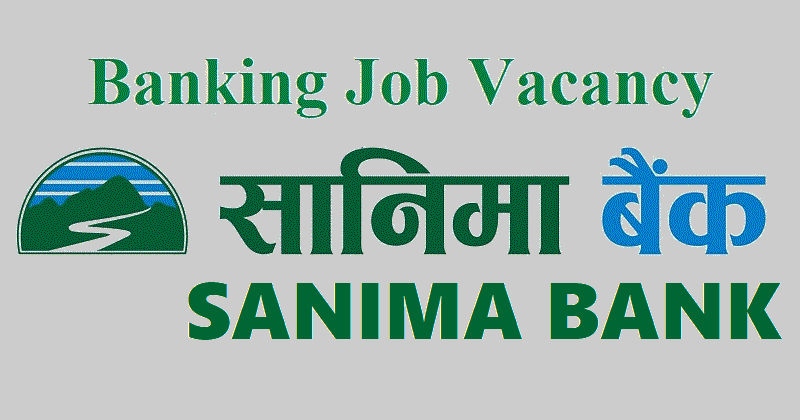 VACANCY ANNOUNCEMENT
Sanima Bank seeks applications from highly motivated. aeative. result-oriented and competent Nepalese citizens for the following positions
Head Legal: Deputy Manager - Senior Manager
Officer Information Security (OIS): Junior Officer Senior Officer
Database Administrator (DBA): Senior Assistant - Senior Officer
lava Programmer: Senior Assistant
IT Assistant (IT Support S CBS Operation): Junior Assistant - Senior Assistant
Assistant (System Administrator): Junior Assistant - Senior Assistant
Assistant (System Integrator): Junior Assistant - Senior Assistant
Candidates should clearly specify the personal and professional details and name of the organization they are working at present.
Candidates are not encouraged to apply for more than one position higher than their current corporate position. Only shortlisted candidates will be called la further selection process.
The education qualification of the candidate shall be given secondary importance in cast s/he holds considerable years of relevant experience. Bar* resents the right to accept and rent any application without assigning any reason whatsoever.
The decision of the Bank in this regard shall be final and binding to the applicants. Canvassing at any stage of the prom:4 shall lead to automatic disqualification.
For detailed information and to apply:
long on to https://career.sanimabank.com and Click the "Apply Online" icon to apply to the position.
The deadline for application is 17:00 hours. September 13, 2023.
Sanima Bank
Alakapuir Naxal. Kathmandu
Telephone: 01-5970033
Webiste: www.sanimabank.com
Email: [email protected]
Banking Career
Job Vacancy
Banking Job