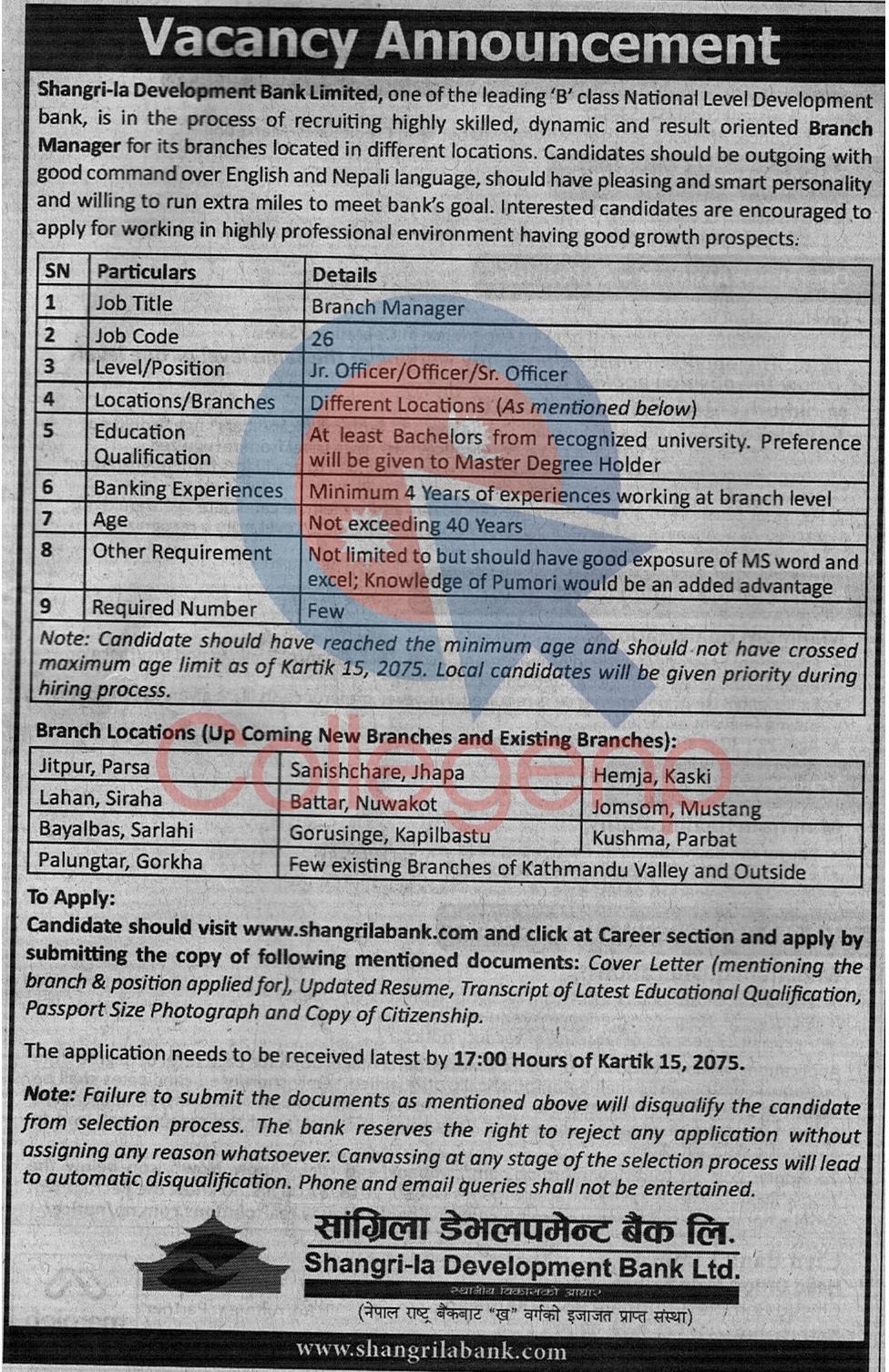 Shangri-la Development Bank Limited, one of the leading 'B' class National Level Development bank, is in the process of recruiting highly skilled, dynamic and result oriented Branch Manager for its branches located in different locations. Candidates should be outgoing with good command over English and Nepali language, should have a pleasing and smart person and willing to run extra miles to meet the bank's goal. Interested candidates are encouraged to apply for working in a highly professional environment having good growth prospects.
Particulars

Details

Job Title

Branch Manager

Job Code

26

Level/Position

Jr. Officer/Officer/Sr. Officer

Locations/Branches

Different Locations (As mentioned below)

Education Qualification

At least Bachelors from a recognized university. Preference will be given to Master Degree Holder

Banking Experiences

Minimum 4 Years of experiences working at branch level

Age

Not exceeding 40 Years

Other Requirement

Not limited to but should have good exposure of MS word and excel; Knowledge of Pumori would be an added advantage

Required Number

Few

Note: Candidate should have reached the minimum age and should not have crossed the maximum age limit as of Kartik 15, 2075. Local candidates will be given priority during the hiring process.
Branch Locations (UpComing New Branches and Existing Branches):
Jitpur, Parsa

Sanishchare, Jhapa

Hemja, Kaski

Lahan, Siraha

Battar, Nuwakot

Jomsom, Mustang

Bayalbas, Sarlahi

Gorusinge, Kapilbastu

Kushma, Parbat

Palungtar, Gorkha

Few existing Branches of Kathmandu Valley and Outside
To Apply:
Candidate should visit www.shangrilabank.com and click at the Career section and apply by submitting a copy of the following mentioned documents: Cover Letter (mentioning the branch & position applied for), Updated Resume, Transcript of Latest Educational Qualification, Passport Size Photograph and Copy of Citizenship.
The application needs to be received at the latest by 17:00 Hours of Kartik 15, 2075.
Note: Failure to submit the documents as mentioned above will disqualify the candidate from the selection process. The bank reserves the right to reject any application without assigning any reason whatsoever. Canvassing at any stage of the selection process will lead to automatic disqualification. Phone and email queries shall not be entertained.