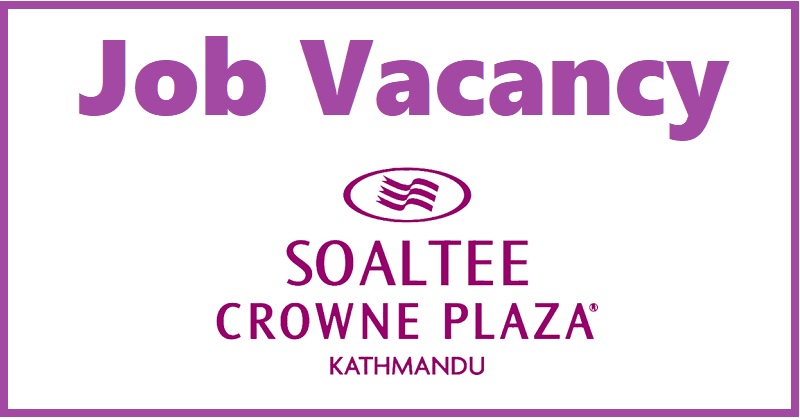 Soaltee Crowne Plaza Kathmandu Vacancy for Various Positions:
Soaltee Crowne Plaza Kathmandu is owned by Soaltee Hotel Limited and managed by Intercontinental Hotels Group which owns, manages, leases, or franchises, through various subsidiaries, over 5,000 hotels offering close to half a million guest rooms in nearly 100 countries.
Soaltee Crowne Plaza Kathmandu is a preferred destination for Business Meetings, Leisure, and all celebrations.
1. Position: Operations Manager for Flight Catering Unit (One)
Requirements:
Age: Minimum 26 years
Education: Bachelor in Hotel Management or Graduate with required experience in Airline Flight Catering Business.
Experience: Minimum two years of experience in Flight Catering Unit or Food & Beverage experience in a reputed hotel
Knowledge/Abilities: The candidate must be capable to execute the policies and SOPs in the department, in line with international airline catering norms to ensure compliance with the company and legislative requirements. Monitor the loading processes as per Airline requirement and must be capable of maintaining a good relationship with staff and measure performance in order to achieve the highest level of efficiency and effectiveness. Must be well versed with logistics handling, equipment inventory and must have good communication skills. Candidate must be good at maintaining excellent client relationship
2. Position: Bakery Chef (One)
Requirements:
Age: Up to 45 years
Education: Candidate should be a Hotel Management Graduate or Diploma holder in Hotel Management School,
Experience: Minimum 4 to 6 years work experience in any 4/5 star Hotel as Bakery in charge.
Knowledge/Ability: - Prepares and presents a broad array of cakes, pastries, desserts, petits fours that meet customer expectations,
3. Position: Food & Beverage Manager (One)
Requirements:
Age: At least 25 years
Education: Bachelor's degree in Hotel Management or graduate with required experience in Food & Beverage operations/outlets in a reputed hotel.
Experience: 5 to 8 years working experience in Food and Beverage service in any 5-star hotel. Working in a similar position will be given preference.
Knowledge/Ability:- Manage food and beverage operations to ensure quality service and standards while delivering a guest experience that is unique. Ensure compliance with all federal, state, and local regulations concerning health, safety, or other requirements,
Candidate must promote the desired work culture around the core values of Trust, Integrity, Respect, One Team, and Service along with adherence to brand standards of IHG.
Interested and qualified candidates can send an updated resume with a passport-sized photograph to Human Resources Department, Soaltee Crowne Plaza, Tahachal, PO Box 97, Kathmandu, Nepal or email to [email protected] latest by April 13, 2021. Only shortlisted candidates will be called for the interview.
www.crowneplaza.com/kathmandu
Phone: +977-01-4273999
Hospitality Jobs
Job Vacancy
Kathmandu