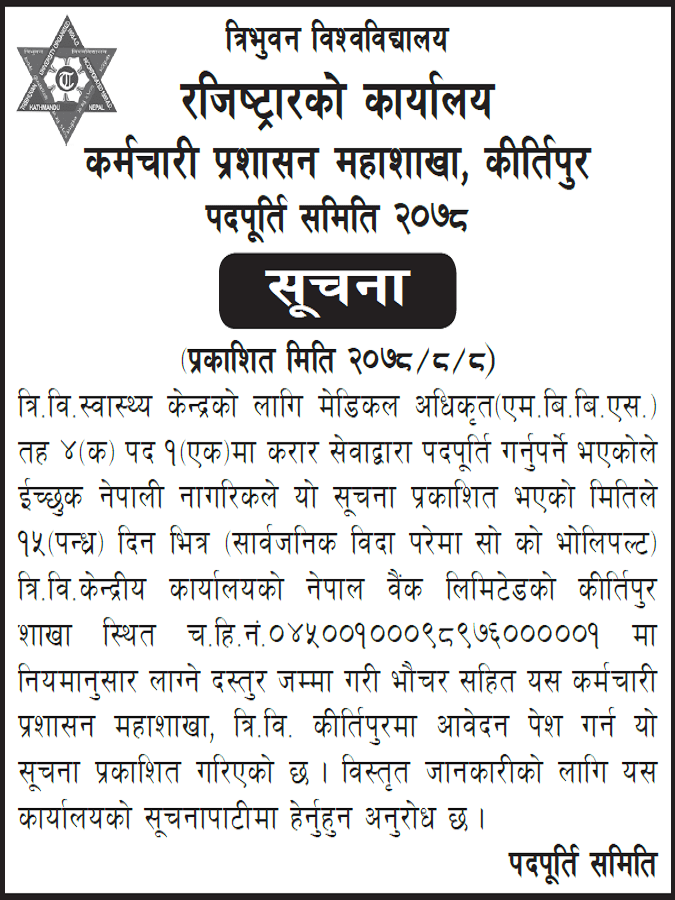 Tribhuvan University, Office of the Registrar, Personnel Administration Division, Kirtipur Vacancy for the Position of Medical Officer. Since the post of Medical Officer (MBBS) Level 4 (a) for Tribhuvan University Health Center has to be filled through contract service.
Interested Nepali citizens should submit the notice within 15 (fifteen) days from the date of publication of this notice (the day after the public holiday) to the Chalti Hisab Number 045001000989760000001 located at the Kirtipur Branch of Nepal Bank Ltd. of Tribhuvan University Central Office along with the voucher.
This information has been published in the Personnel Administration Division, Tribhuvan University, Kirtipur to submit the application. Please see the notice board of this office for details.
Position: Medical Officer (MBBS)
Required No.: 1 (One)
Vacancy Published Date: 2078-8-8
Job Vacancy
Tribhuvan University
Health Job