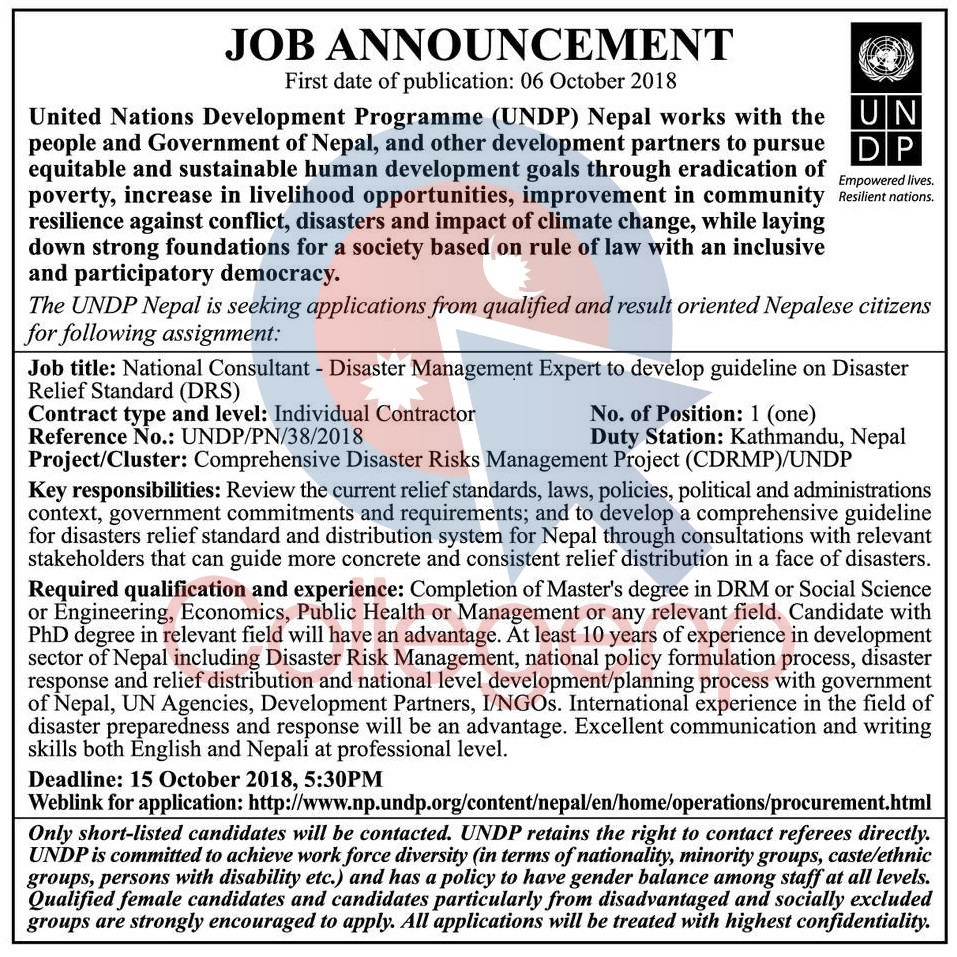 United Nations Development Programme (UNDP) Nepal works with the people and Government of Nepal, and other development partners to pursue equitable and sustainable human development goals through eradication of poverty, increase in livelihood opportunities, improvement in community resilience against conflict, disasters and impact of climate change, while laying down strong foundations for a society based on rule of law with an inclusive and participatory democracy.
The UNDP Nepal is seeking applications from qualified and result oriented Nepalese citizens for the following assignment:
Job title: National Consultant - Disaster Management Expert to develop a guideline on Disaster Relief Standard (DRS)
Contract type and level: Individual Contractor
No. of Position: 1 (one)
Reference No.: UNDP/PN/38/2018
Duty Station: Kathmandu, Nepal
Project/Cluster: Comprehensive Disaster Risks Management Project (CDRMP)/UNDP
Key responsibilities:
Review the current relief standards, laws, policies, political and administrations context, government commitments, and requirements; and to develop a comprehensive guideline for disasters relief standard and distribution system for Nepal through consultations with relevant stakeholders that can guide more concrete and consistent relief distribution in a face of disasters.
Required qualification and experience:
Completion of Master's degree in DRM or Social Science or Engineering, Economics, Public Health or Management or any relevant field. Candidate with a Ph.D. degree in a relevant field will have an advantage. At least 10 years of experience in development sector of Nepal including Disaster Risk Management, national policy formulation process, disaster response and relief distribution and national level development/planning process with the government of Nepal, UN Agencies, Development Partners, I/NGOs. International experience in the field of disaster preparedness and response will be an advantage. Excellent communication and writing skills both English and Nepali at a professional level.
Deadline: 15 October 2018, 5:30 PM
Weblink for application: http://www.np.undp.org/content/nepal/en/home/operations/procurement.html
only short-listed candidates will be contacted. UNDP retains the right to contact referees directly. UNDP is committed to achieving workforce diversity (in terms of nationality, minority groups, caste/ethnic groups, persons with disability etc.) and has the policy to have gender balance among staff at all levels. Qualified female candidates and candidates particularly from disadvantaged and socially excluded groups are strongly encouraged to apply. All applications will be treated with highest confidentiality.