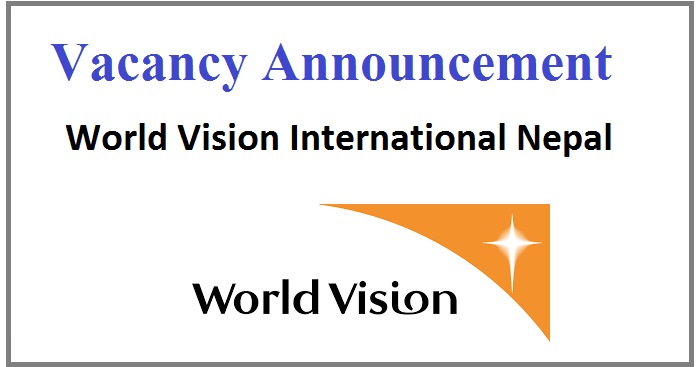 World Vision International Nepal (WVIN), an international Christian relief, development and advocacy organization dedicated to working with children, families and communities to overcome poverty and injustice, is looking for potential Nepalese candidates to fill out the following positions:
Position: SCM Coordinator 2
(Based in National Office, Lalitpur (I) and East Field office, Biratnagar (I)
Key Responsibilities:
The Supply Chain Management Coordinator will be responsible for execution of sourcing process until the payment process on all requisitions for goods, works and services across all commodity categories to ensure general purchases and supplier relationship are carried out in alignment with WVIN Procurement Policies. This position will work closely with the technical and non-technical staffs in order to acquire appropriate and quality goods and services as per the specific requirements in order to implement projects. The incumbent will adopt strategies to meet department goals and provide relevant information and recommendations to the management for proper decision making. He/she will also assist in the development of high standard of accountability and transparency in procurement of goods and services.
***For National Office based SCM Coordinator
The incumbent will also support Field Officers for centralized procurement and other procurement that are infeasible and complicated to be carried out at filed level.
***For East Field Based SCM Coordinator
The incumbent will be working closely with the NGO partner staff to monitor the procurement activities, build their capacities and provide adequate support to manage projects timely and with quality.
Minimum Qualifications, Experience and Competencies required for both position:
A Bachelor's Degree in Business Administration or in relevant discipline or similar from recognized university with at least 3 years' experience (preferred Masters) in Supply Chain Management. Good knowledge on Admin, Procurement, Finance, Security policies and procedures; should have proper understanding of advocacy theory, process and practice; Strong political awareness and judgment is essential; Proven ability to write and produce publications; Strong knowledge of Procure-to-Pay processes; Excellent oral and written English and Nepali; Demonstrated proficiency in computer applications including use of Microsoft of flexibility; Hold a light level of integrity and honesty; self-motivated, confident, and able to work independently; Strategic, creative and innovative thinking with decision making and problem solving skills; Good understanding of humanitarian sector.
Please mention the position that you have applied for with location.
*Due to the urgency of the position, preference will be given to early applicants.* Candidates fulfilling the criteria mentioned above may send in their complete Curriculum Viate (CV) with statement of purpose' by 8 July 2018 before 17:00 hours to the address mentioned below.
World Vision International Nepal
People & Culture Department
Email: [email protected]
World vision International Nepal is committed to diversity and inclusion within its workforce, and encourage candidates of diverse background, women and differently abled, to apply. Only short-listed candidates will be called for the subsequent selection procedure.
WVIN reserve all rights to qualify/disqualify applications in any case.
Vacancy Published Date: 30th June, 2018 at Kantipur Daily