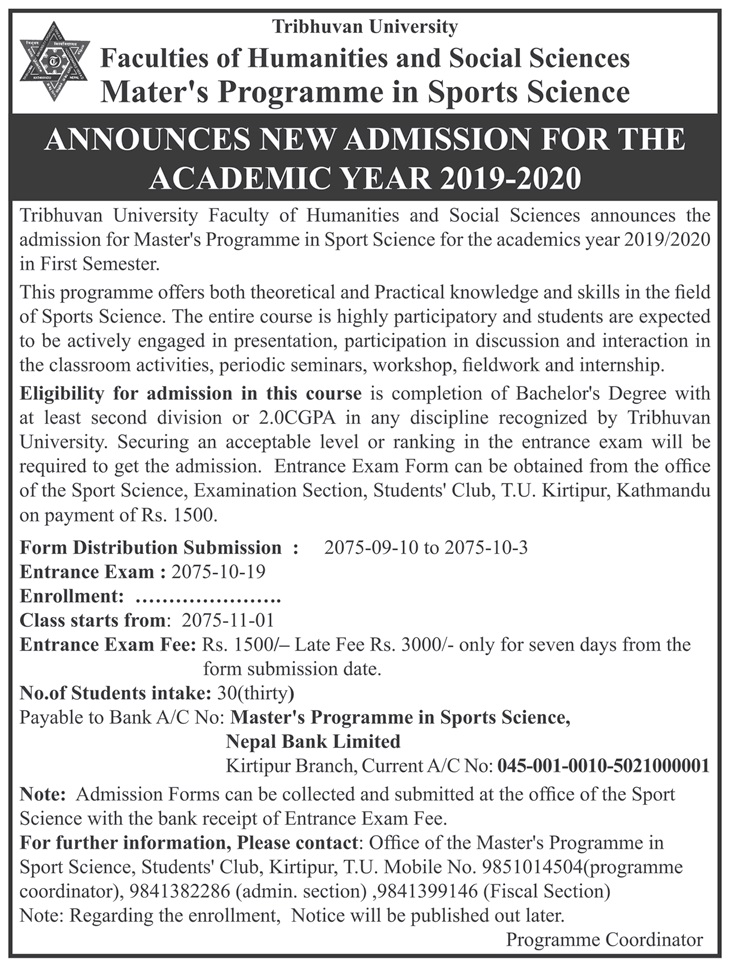 Tribhuvan University Faculty of Humanities and Social Sciences announces the admission for Master's Programme in SSports Science for the academics year 2019/2020 in First Semester.
This programme offers both theoretical and Practical knowledge and skills in the field of Sports Science. The entire course is highly participatory and students are expected to be actively engaged in presentation, participation in discussion and interaction in the classroom activities, periodic seminars, workshop, fieldwork, and internship.
Eligibility for admission in this course is the completion of Bachelor's Degree with at least second division or 2.0CGPA in any discipline recognized by Tribhuvan University. Securing an acceptable level or ranking in the entrance exam will be required to get the admission. Entrance Exam Form can be obtained from the office of the Sports Science, Examination Section, Students' Club, T.U. Kirtipur, Kathmandu on payment of Rs. 1500.
Form Distribution Submission : 2075-09-10 to 2075-10-3
Entrance Exam: 2075-10-19
Enrollment:
Class starts from 2075-11-01
Entrance Exam Fee: Rs. 1500/— Late Fee Rs. 3000/- only for seven days from the form submission date.
No.of Students intake: 30 (thirty)
Payable to Bank A/C No: Master's Programme in Sports Science,
Nepal Bank Limited
Kirtipur Branch, Current A/C No: 045-001-0010-5021000001
Note: Admission Forms can be collected and submitted at the office of the Sport Science with the bank receipt of Entrance Exam Fee.
For further information, Please contact: Office of the Master's Programme in Sport Science, Students' Club, Kirtipur, T.U. Mobile No. 9851014504(programme coordinator), 9841382286 (admin. section) ,9841399146 (Fiscal Section)
Note: Regarding the enrollment, Notice will be published out later.