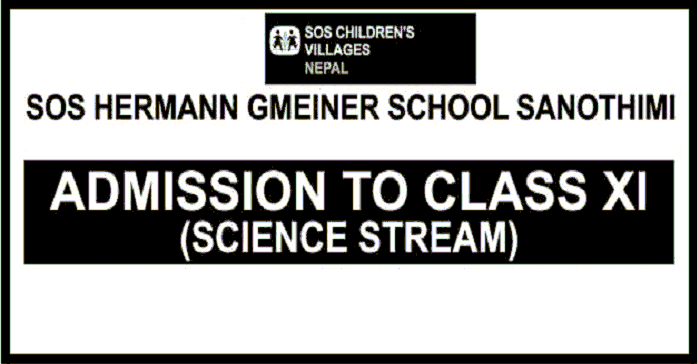 Admission to Class 11 (Science Stream): SOS Hermann Gmeiner School Sanothimi, Bhaktapur announces admission to Grade XI (Science Stream) for the academic year 2078 (2021/22 AD).
Eligibility:
Students who have secured at least 2.8 GPA in aggregate, B+ GP in Compulsory Maths, English, and Science in the SEE are eligible to apply for admission.
Students who are deprived of parental care, those from families below the poverty line, community school graduates, differently-abled, from local (Madhyapur Thimi Municipality), and marginalized communities are given priority in admission.
Please visit www.soshgssanothimi.edu.np for further information.
SOS CHILDREN'S VILLAGES
SOS HERMANN GMEINER SCHOOL SANOTHIMI
Telephone: 01-6630491,
E-mail: [email protected]
Website: www.soshgssanothimi.edu.np
NEB Class 11