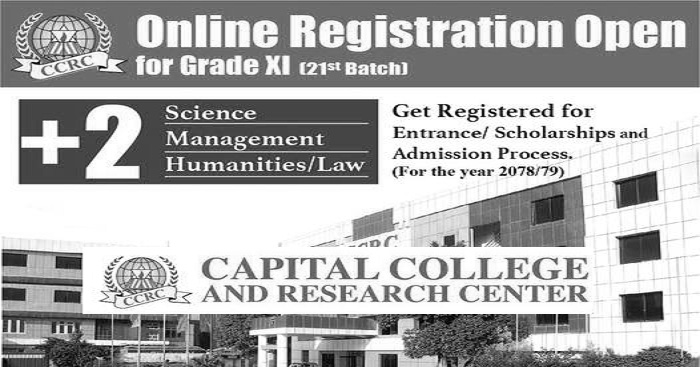 Admission Information for Grade XI (22nd Batch): Capital College and Research Center (CCRC), a leading education institution in the country for +2 education, with over two decades of academic excellence, calls for new admission from SEE Graduates for +2 Programs 2079/80 (22nd Batch).
Features of CCRC:
Excellent performance in NEB Result
Outstanding Achievements in MBBS/BE Scholarships & CA
Student Placements in World's Top Ranked Universities
The Choice of School Toppers
Students Centered Faculties & Management Team
Youth Development Programs
Involvement of Students in Social Activities
Scholarships for deserving and needy Students
High-Quality Students Service and Facilities
Enjoys own Infrastructures (Land and building)
Pre-Medical, Pre-Engineering & Pre-CA Classes from Grade XI
Science:
Shift: Day/Morning
Eligibility to Apply: Minimum GPA 3.0 in SEE Subject Grades: Minimum C+ in Science, Maths & English; Minimum D± in other subjects (Optional Mathematics is Compulsory)
Management/Humanities/Law
Shift: Morning /Day
Eligibility to Apply: Minimum 2.4 GPA in SEE Subject Grade: Minimum D+ in English, Mathematics, Social Studies & Nepali
Scholarship: CCRC offers a wide range of scholarships based on entrance exam results, GPA in SEE, and in other many categories. The scholarships awarded will be valid for both Grade XI and XII.
Important Dates: Form Distribution: 12th Shrawan, 2079 onwards Last Date for Form Submission: 19th Shrawan, 2079
Form Cost: Rs. 125/- Only
Entrance/Scholarship Exam: 20th Shrawan 2079, Friday (5th Aug 2022)
(In-person exam will be held at the college premises)
Note: Students applying through online are required to collect the Entrance Exam Admit Card from the College by 19th Shrawan.
Contact Details:
CAPITAL COLLEGE AND RESEARCH CENTER (CCRC)
GPO Box 9737, Koteshwor, Kathmandu
Telephone: 01-5100423, 01-5100456,
Fax: +977-1-5100781
E-mail: [email protected]
Website: www.ccrc.edu.np
Admission Open
NEB Class 11
NEB