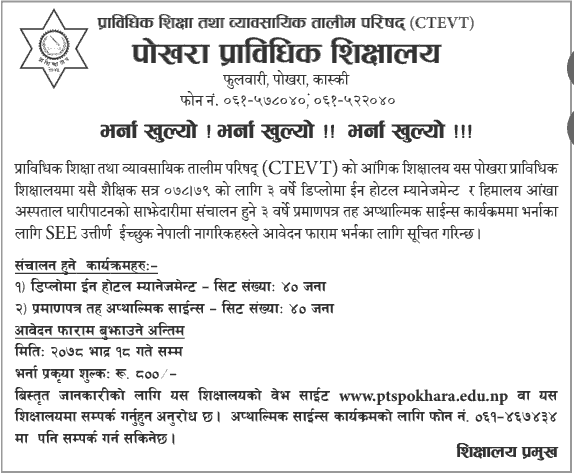 SEE aspirants for admission in 3-year Diploma in Hotel Management and 3-year Certificate Level Ophthalmic Science Program for the current academic session 078/79 at Pokhara Technical School, an affiliated school of Council of Technical Education and Vocational Training (CTEVT). Nepali citizens are advised to fill the application form.
Programs to be conducted:
1) Diploma in Hotel Management - Number of seats: 40
2) Certificate Level Ophthalmic Science - Number of Seats: 40
Last to submit the application form: Bhadra 18, 2078
Admission Process Fee: Rs. 800
For more information, please visit http://www.ptspokhara.edu.np or contact this school. For Ophthalmic Science Program, you can also contact on Phone No. 061-467434.
Contact Details:
Pokhara Technical School
Phulwari, Pokhara, Kaski
Phone no. 061-578040, 061-522040
CTEVT