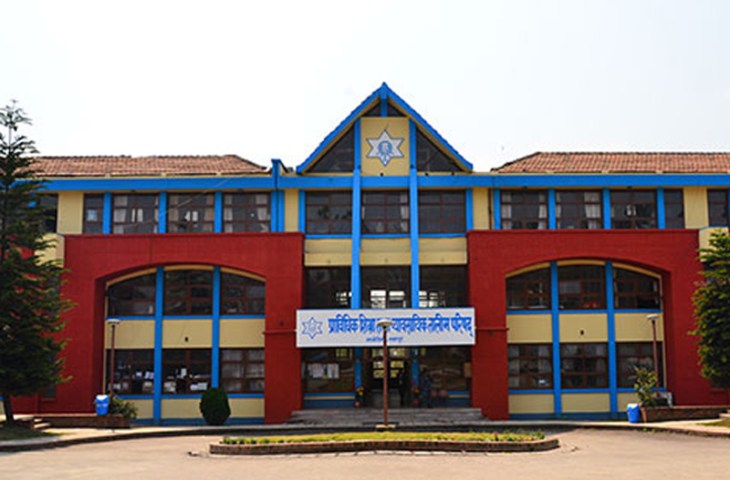 Nirmal Lama Polytechnic Institute Announces Admission Open on Vacant Seats for Diploma and Certificate Programs
The Council for Technical Education and Vocational Training (CTEVT), Examination Control Office, Sanothimi, Bhaktapur, has officially announced the availability of vacant seats for various diploma and certificate programs at Nirmal Lama Polytechnic Institute, Bardibas-11, Mahottari. The announcement comes as a follow-up to the entrance examinations conducted earlier this year.
Publication Date: The information was published on 2080/05/21, and candidates have until 2080/05/25 to register their applications.
Who Should Apply?
Candidates who participated in the entrance examination conducted on 2080/05/06 and 2080/05/09
Candidates who are on the pass list for the respective programs
Candidates who have received an admission letter but have not yet enrolled
Available Programs and Vacant Seats
Diploma Programs
Diploma in Civil Engineering

Open: 8 seats
Madhesi: 1 seat
Total: 9 seats

Diploma in Geomatics Engineering

Open: 7 seats
Madhesi: 2 seats
Female: 1 seat
Total: 10 seats

Diploma in Hotel Management

Open: 8 seats
Madhesi: 2 seats
Total: 10 seats

Diploma in Food and Dairy Technology

Open: 27 seats
Total: 27 seats

Diploma in Forestry

Open: 14 seats
Total: 14 seats
Certificate Programs
Certificate in Folding Diagnostic Radiography

Open: 5 seats
Total: 5 seats
Special Note
Candidates who have applied for the Diploma in Food and Dairy Technology but are interested in other faculties can also apply for the Diploma in Forestry program.
How to Apply
Interested candidates are requested to register their applications within 5 days from the date of this notice. Please submit your application along with a copy of your admission letter during office hours.
Contact Information
For more details, you can contact the institute at 9854021941.
Deadline
The last date to register your application is 2080/05/25. Don't miss this opportunity to advance your technical and vocational skills with CTEVT.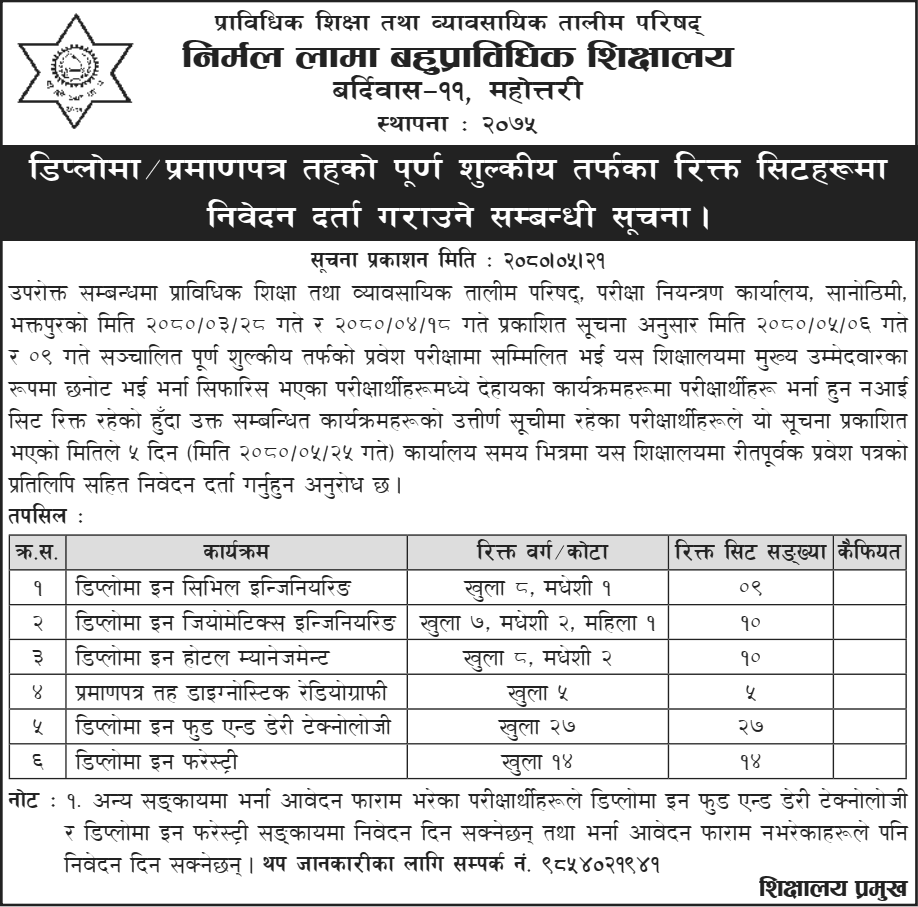 PCL Level
Diploma Level
Admission Open
CTEVT
Mahottari