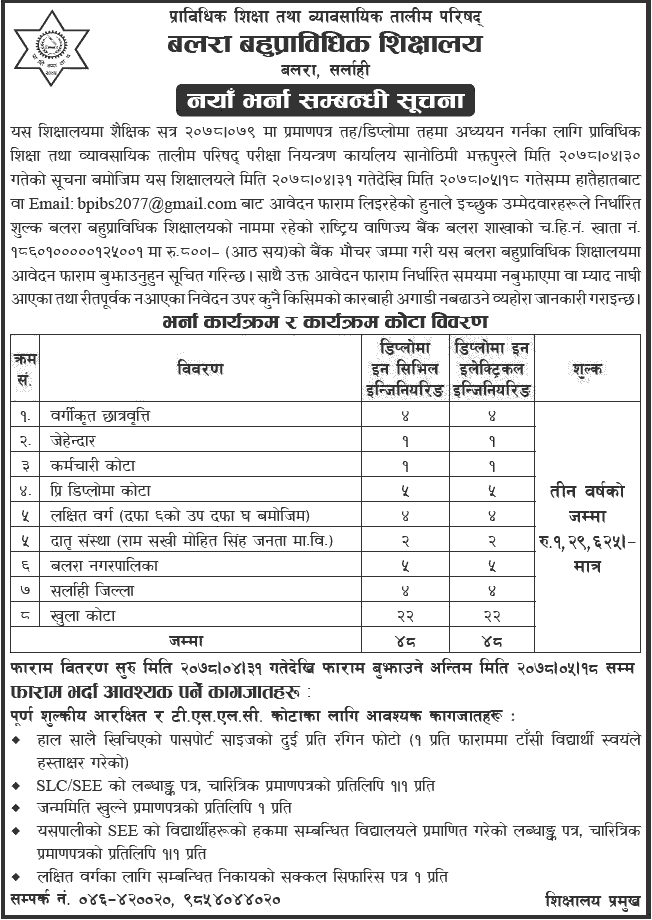 Balara Polytechnic Institute - Council for Technical Education and Vocational Training (CTEVT), Balra, Sarlahi New Admission Notice for Diploma in Civil Engineering and Electrical Engineering
According to the information given by the Council of Technical Education and Vocational Training (CTEVT) Examination Control Office, Sanothimi Bhaktapur on 2078-04-30, to study at the certificate level/diploma level in the academic session 2078.079. As the application form is being collected by hand or from Email: [email protected] till 05-08-18, the interested candidates have to deposit the prescribed fee in the name of Balara Polytechnic School in account No. 1860100000125001 of Rastriya Banijya Bank Balara Branch. It is advised to deposit the bank voucher of Rs. 800 / - and submit the application form to this Balara Polytechnic.
In addition, if the application form is not submitted within the stipulated time or no action will be taken on the application which has expired and has not been duly received.
| | |
| --- | --- |
| Programs | Seats |
| Diploma in Civil Engineering | 48 |
| Diploma in Electrical Engineering | 48 |
| Total Fees for 3 years | Rs. 129625 |
Documents required to fill the form:
Full fee reserve and TSLC. Documents required for quota:
Two recent passport size color photographs (1 copy affixed on the form by the student himself/herself, SLC / SEE mark sheet, 1/1 copy of character certificate
1 copy of the birth certificate
In the case of SEE students, a copy of the certificate of attestation certified by the school concerned, 1/1 copy of the certificate of character.
1 copy of the original recommendation letter of the concerned body for the target group
Contact Details:
Balra, Sarlahi, Province No. 2
Phone: 046-420020, 9854044020
CTEVT