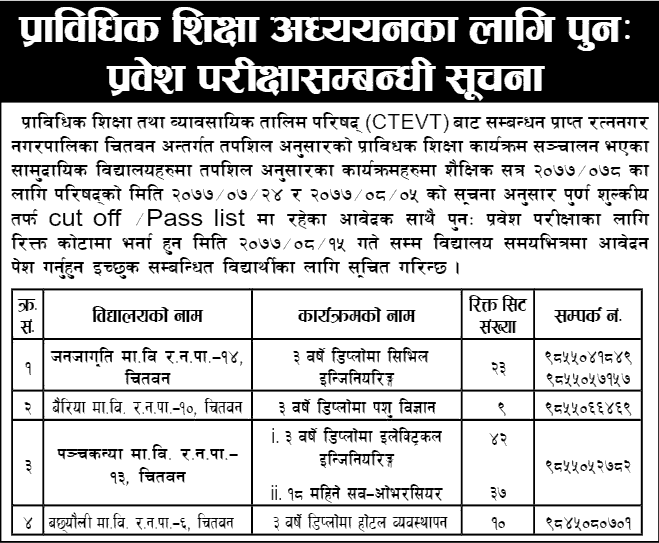 Diploma in Civil Engineering, Electronics, Animal Science, Hotel Management Admission at Community Schools in Chitwan:
For the academic session, 2077/078 in the following community technical schools under Ratnanagar Municipality Chitwan affiliated to the Council for Technical Education and Vocational Training (CTEVT).
As per the notices of the council dated 2077-07-24 and 2077-08-05, the applicants who are in the Pass List / Cut Off list for the full fee Pauomgas well as and to be admitted in the vacant quota for re-entrance examination, submit the application within the school time till 2077-08-15. Interested students are informed.
Details of the following Community School Name, Address, Contact No. Available Course and Seats:
School Name, Address, and contact number
Courses and Available Seats
Janajagriti Secondary School, Ratnanagar-14, Chitwan, Contact No. 9855041849, 9855057157
Diploma in Civil Engineering -23
Bairiya Secondary School, Ratnanagar-10, Chitwan, Contact No. 9855066469
Diploma in Animal Science -9
Panchakanya Secondary School, Ratnanagar-13, Chitwan, Contact No. 9855052782
Diploma in Electrical Engineering -42
Pre-Diploma in Civil Engineering (Civil Sub-Overseer)-37
Bachhauli Secondary School, Ratnanagar-06, Chitwan, Contact No. 9845080701
Diploma in Hotel Management -10