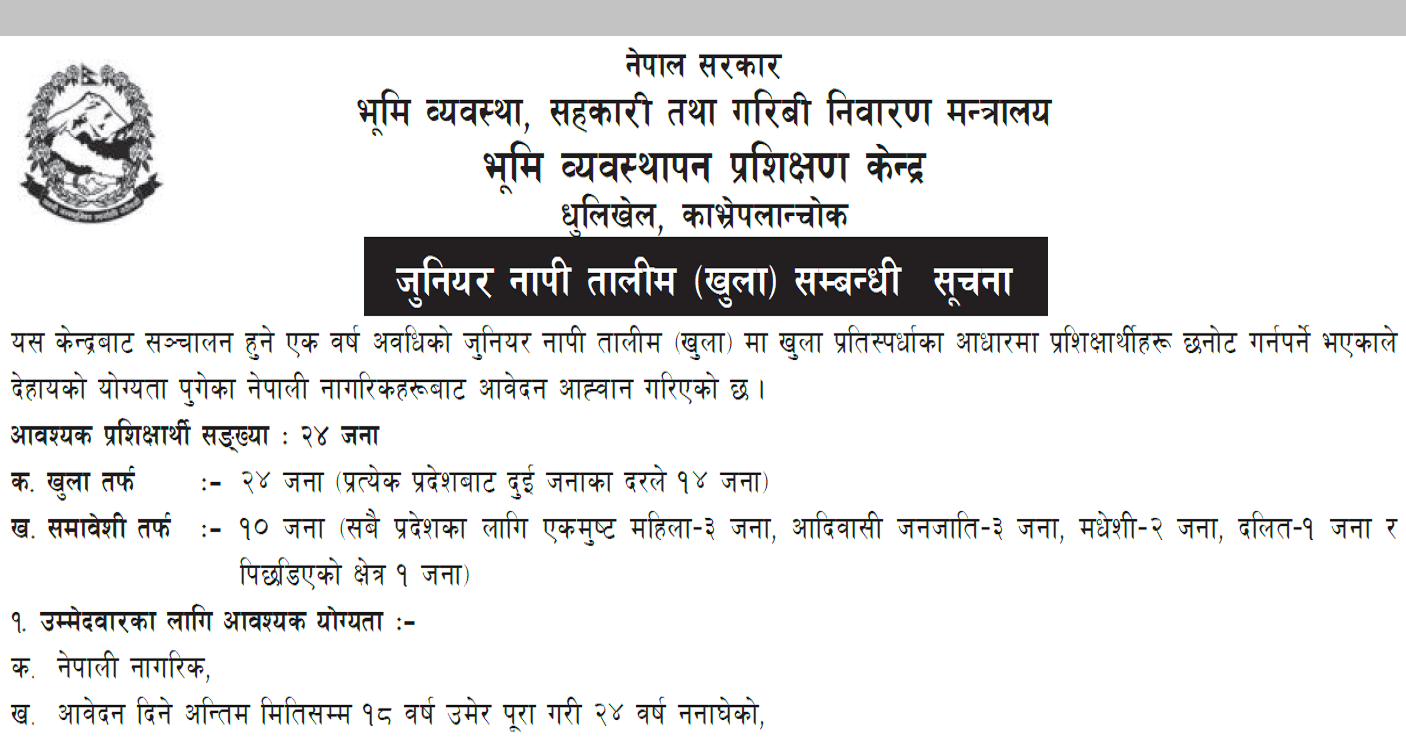 Junior Survey Training (Napi Talim) Program by Land Management Training Center (LMTC), Nepal
The Land Management Training Center (LMTC) situated in Dhulikhel, Kabrepalanchok, under the Government of Nepal, Ministry of Land Management, Cooperatives, and Poverty Alleviation, announces an open application for the Junior Survey Training Program. This opportunity invites ambitious individuals to take part in an extensive one-year training program designed to foster skills in land management and surveying.
Open Positions and Diversity Quotas
A total of 24 positions are open for the course, divided into two categories:
Open Category: 14 positions, with an allotment of two individuals per province.
Inclusive Category: 10 positions designated for diverse groups across all provinces, including 3 positions for women, 3 for Adivasi Janajati, 2 for Madhesi, 1 for Dalit, and 1 for individuals from a backward area.
Eligibility Criteria
To qualify, potential candidates must meet the following requirements:
Be a Nepali citizen.
Be between 18 and 24 years of age by the final date of application.
Have passed 10 + 2 or equivalent, majoring in Science with Mathematics.
Have scored at least 50% marks in Science and Mathematics (including a 200-mark Mathematics subject) with a 50% overall score.
Have achieved a minimum grade of C+ in Science and Mathematics in class 12, with a C+ overall in the current grading system.
Students of class 12, who are waiting for final exam results, can submit their class 11 mark sheet. Once the final results are out, they must submit a certificate attesting to at least a C+ grade in Science and Mathematics, and an overall C+ grade.
Application Procedure and Required Documents
Applicants must submit:
A copy of their Nepalese citizenship certificate.
A copy of their 10+2 pass certificate or equivalent in Science, including Mathematics, and a character certificate. If not available, class 11 result sheet, with 12th exam results to be published.
A copy of the equivalency certificate for those who have studied outside Nepal and earned their educational qualification.
A passport size photograph.
Candidates applying from the inclusive group must submit a letter of recommendation from the concerned body.
To submit an application, use the link provided on the Center's website www.lmtc.gov.np, and upload the required documents as per Section 2 with a maximum file size of 5MB.
The application and examination fee is NPR 400 for open and targeted groups and NPR 200 for inclusive groups.
Deadline and Late Submission
The last date for application receipt is 30 days from the date of the notice publication in Gorkhapatra. Applications can be submitted for an additional 7 days beyond the deadline. If the last day falls on a holiday, applications can be submitted the next day during office hours.
Application Rejection and Admission Card
The Center reserves the right to cancel an application if the required minimum qualifications and other documents are not submitted. Additionally, any applications submitted after the specified date will not be considered.
After approving an application, the center will provide the applicant with an admit card.
Trainee Selection Process and Examination Information
Selection for the training program will be based on a written test. The exam will be held on 23rd May 2080. Information regarding the exam center will be published later on the website.
Results Announcement
The final result, based on the merit order of the written test, will be published on the center's website.
Fee Submission
Details for submitting the application form fee are as follows: Bank Account No. 100020010000 at the National Commercial Bank, Dhulikhel Branch (Office Code: 336042601, Revenue Title No. 14224 – Examination Fee). In case of submitted applications, the voucher will also have to be uploaded.
For any additional information, candidates may contact the Land Management Training Center, Kavre via phone at 011 - 415055 or visit the office. Information can also be obtained from the Centre's website: www.lmtc.gov.np.
Embark on this journey to acquire land management skills and contribute towards equitable and sustainable development in Nepal.
Notice Publication Date: 31st Ashad 2080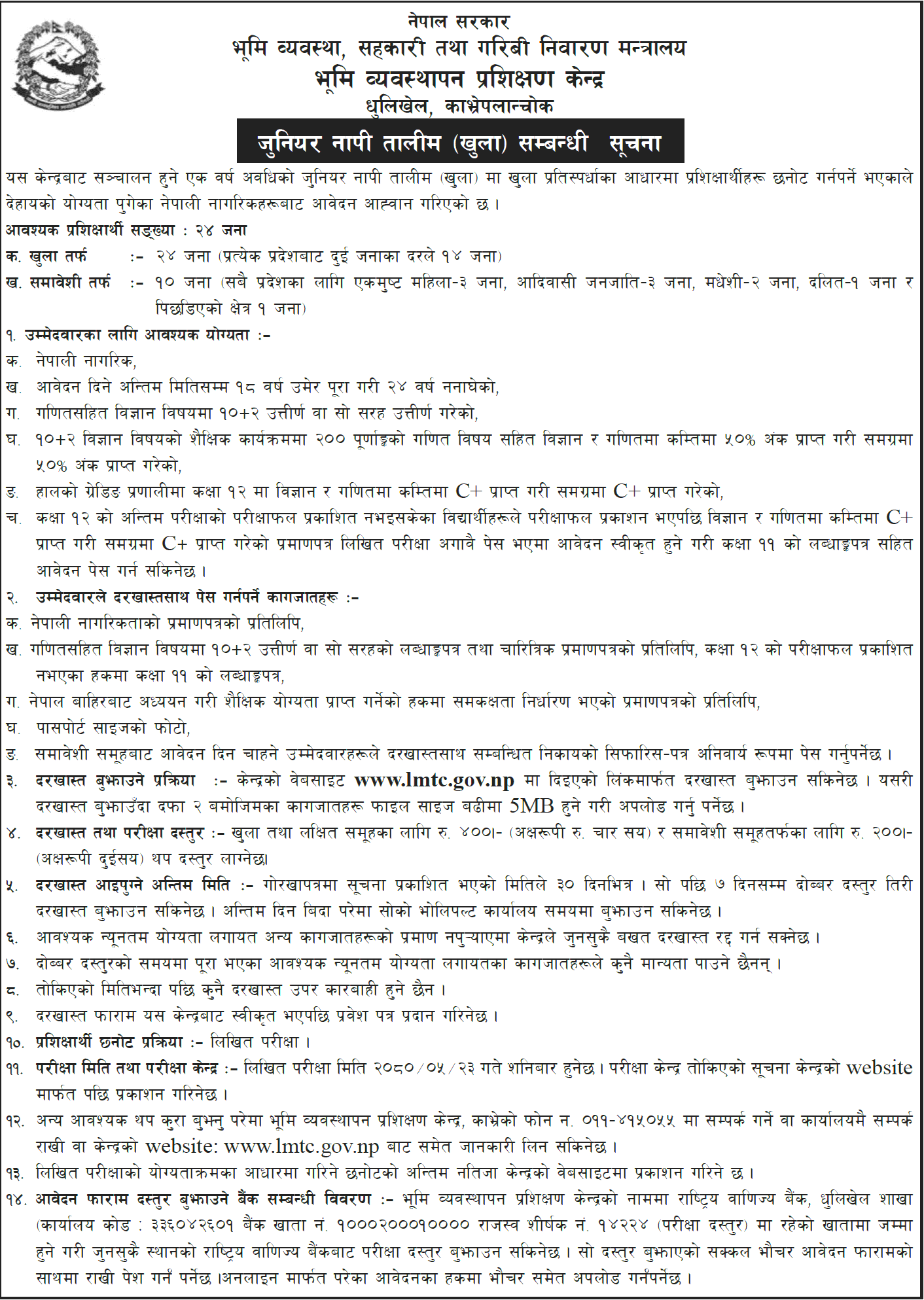 Training