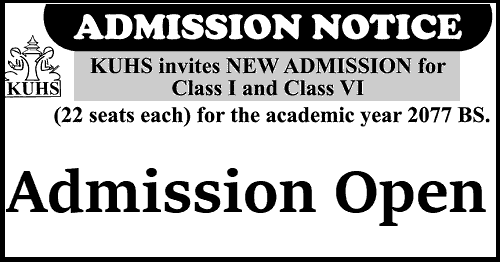 Kathmandu University High School Admission Open for Class I and Class VI:
Kathmandu University High School (KUHS) invites NEW ADMISSION for Class I and Class VI (22 seats each) for the academic year 2077 BS.
The school offers exceptional educational nurturing in the pristine air of a beautiful hilltop setting. KUHS provides weekly boarding in modern facilities, with day students coming from the local community.
Committed teachers have high academic experiences. A strong activities programme (with life skills) builds character and independence.
Application Forms Available: Falgun 18 — Falgun 29, 2076
Admission Test: Chaitra 1, 2076 B.S. at 10:00 am.
Application Forms and Prospectus are available from the School Office and also:
Patan Book Shop, Patan Dhoka; Tel: 01-5555256
Kewal's Uniform, Pako Marg, First Floor, New Road, Kathmandu, Tel: 01-4259121
Kathmandu University, Dhulikhel. Tel: 011-663734/661511
New Pragati Pustak Bhandar, Banepa. Tel: 011-661590
For detailed information please contact us:
Kathmandu University High School
Telephone: 011-490561, 011-490638
Email: [email protected]
Website: www.kuhs.edu.np