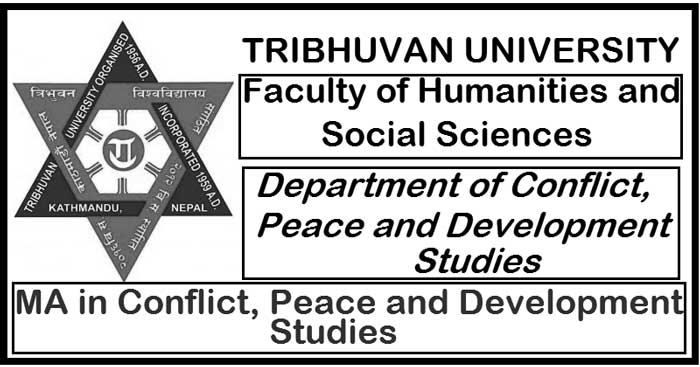 Tribhuvan University, Faculty of Humanities and Social Sciences, Department of Conflict, Peace and Development Studies, Kirtipur Call for Admission to MA in Conflict, Peace, and Development Studies
DCPDS is pleased to inform that applications for a limited number of seats to Master of Arts in Conflict, Peace and Development Studies under the Faculty of Humanities and Social Sciences, TU for session 2022 (2078/79) are open.
The two-year, four-semester Master's is a multidisciplinary program at Tribhuvan University with the experience of student and faculty exchange among various universities abroad. The program follows English as its medium of instruction and examination.
Please visit www.entrance.tufohss.edu.np to register the application.
For more details, contact 9841364981.
Eligibility:
Bachelor's degree in any discipline from TU or Institution recognized by TU
Application Schedule:
Application period: 2079 Poush 5 to Magh 24 midnight (2022 December 20 to 2023 February 7)
Application period with late fee: 2079 Magh 25 to 26 midnight (2023 February 8 to 9)
Entrance examination: 2079 Fagun 1 (2023 February 13), 1:00 -3:00 pm at TU Kirtipur
Application Fee:
Application fee: NPR 1,500/-. Applicants are required to pay their application fee via e-Sewa or Khalti. (Late fee NPR 3,000/-).
Females, marginalized and remote area candidates are highly encouraged to apply
Contact Details
Tribhuvan University,
Faculty of Humanities and Social Sciences,
Department of Conflict, Peace and Development Studies, Kirtipur, Kathmandu
Phone: 01-4332631
Website: www.dcpds-tu.edu.np,
Email: [email protected]
Admission Open
Tribhuvan University