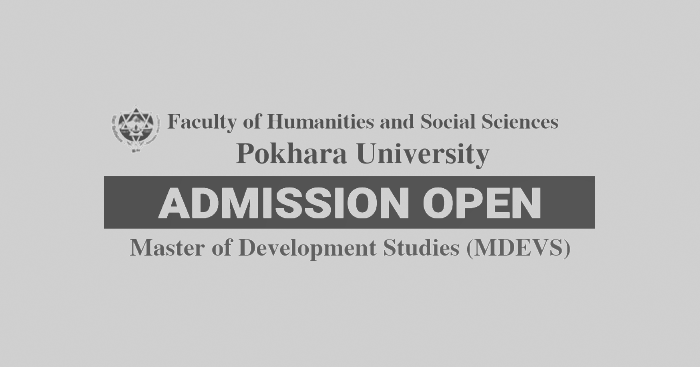 Master's in Development Studies at Pokhara University
Pokhara University's Faculty of Humanities and Social Sciences announces Admission Open for Master's in Development Studies (MDEVs)
Program Highlights
Course Offered: Master of Development Studies (MDEVS)
Eligibility Criteria: Applicants must possess a Bachelor's degree or its equivalent in any discipline.
Key Dates to Remember
Submission Deadline: Forms should be submitted by Ashoj 24, 2080.
Entrance Test: Brace yourself for the entrance examination on Ashoj 25, 2080.
Why Choose the Master of Development Studies (MDEVS)?
When it comes to higher education, making an informed decision is crucial. If you're contemplating the Master of Development Studies (MDEVS), here's a breakdown of why it might be the right fit for you:
Holistic Understanding of Development: MDEVS offers a comprehensive insight into the multidimensional aspects of development, including social, economic, political, and environmental facets.

Interdisciplinary Approach: The course bridges the gap between various disciplines, providing a rich blend of knowledge from areas like economics, sociology, anthropology, politics, and environmental studies.

Research Opportunities: Delve into groundbreaking research and contribute to the broader understanding of development issues, challenges, and solutions.

Career Prospects: Graduates often find lucrative opportunities in NGOs, INGOs, governmental bodies, research institutions, policy-making, and consultancy services.

Global Relevance: In a rapidly globalizing world, understanding development from a global perspective is invaluable. MDEVS equips students to comprehend and address global challenges.

Skills Development: Beyond theoretical knowledge, the program cultivates essential skills like critical thinking, project management, policy analysis, and effective communication.

Networking: Engage with peers, professionals, and experts in the field, opening doors to collaborations, partnerships, and career opportunities.

Contribution to Positive Change: Equip yourself with the knowledge and skills to contribute significantly to sustainable and inclusive development initiatives.
In essence, choosing MDEVS is not just about obtaining a degree. It's about embracing a journey that shapes you into a well-rounded professional, ready to make impactful contributions to society and the broader world of development.
Why Choose MDEVS at Pokhara University?
Authentic & Comprehensive Curriculum: Designed keeping in mind the global standards of humanities and social sciences.
Engaging Environment: Learn from the best and engage in high-quality, interactive sessions.
Clear and Concise Learning Path: Our program structure is curated to give students a precise understanding of the subject.
Contact and Application Details
For those eager to become a part of this transformative journey, application forms and further details are available at:
School of Development and Social Engineering Pokhara University, Pokhara 30, Kaski.
Contact:
Landline: 061-504038 | 061-504078
Mobile: 9856021122
Pokhara University