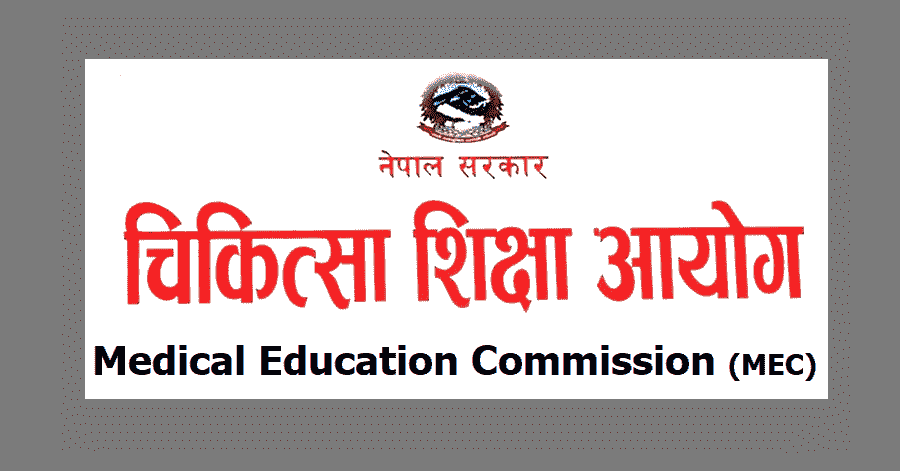 Medical Education Commission (MEC) Seat Distribution for Postgraduate (PG) Programs 2022: The Medical Education Commission has determined the seats for the academic year 2079 for the post-graduate (PG) level. The Commission has determined 1,684 seats for various Postgraduate (PG) programs in various educational institutions operating across the country.
According to the Commission, 33 seats have been allocated to Birat College, 49 seats to Nobel Medical College, 20 seats to Purbanchal University School of Health Sciences, 173 seats to BP Koirala Institute of Health Sciences (BPKIHS), 3 seats to Madhesh Institute of Health Sciences and 63 seats to National Medical College.
According to the commission, 45 for College of Medical Science Teaching Hospital, 94 for Chitwan Medical College, 70 for Kathmandu Medical College, 63 for Nepal Medical College, 12 for Kist College, 2 for Ayurveda Campus, 157 for Maharajganj Medical Campus, 23 for Manmohan Medical Institute of Health Science, 59 for Nepalese Army Institute of Health Sciences, 15 for Nobel College, 136 for National Academy of Medical Sciences (NAMS).
Similarly, the Commission has allocated 30 for the Central Department of Public Health, 11 for Kantipur Dental College, 110 for Kathmandu University of Medical Sciences, 45 for Kathmandu University of Medical Pharmacy, 28 for Patan Academy of Health Sciences, 50 for KIST College, 35 for Manipal College of Medical Sciences, 6 for Himalaya Eye Institute, 42 for Science of Health and Applied, 40 for Gandaki Medical College, 18 for Pokhara Nursing Campus, 32 for Pokhara Academy of Health Sciences, 33 for Nepalgunj Medical College, 24 for Lumbini Medical College and Teaching Hospital, 66 for Universal College of Sciences, 4 for Karnali Academy of Health Sciences, 10 for Shree Medical and Technical College Chitwan and 6 seats for NBMS program including B&B.
The Commission has opened the online application for Common Entrance Test for admission to the scheduled seats. It is said that the common entrance exam will be conducted from 2079 Mangsir 10th to 11th for the allotted quota.
Download Seat Distribution List.Pdf

Medical Education Commission (MEC)