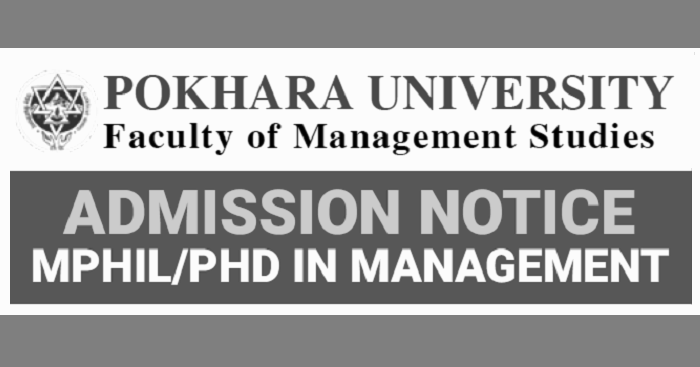 POKHARA UNIVERSITY, Faculty of Management Studies Admission Open for MPHIL/ Ph.D. IN MANAGEMENT: Applications are invited from eligible candidates for admission into the MPhil and Ph.D. programme for the 2079 session offered by the Faculty of Management Studies, Pokhara University, Nepal. Admission to the programmes is guided by the "Pokhara University Regulation for Doctoral Programme" and other relevant rules and orders of the University. The programmes seek candidates with strong academic background, who are highly motivated and have the curiosity and desire for intellectual excellence required to succeed in research careers.
About the Programme: The programme comprises of 24 credits of extensive coursework structured in two semesters. After successfully completing the course work, the scholars can opt to either pursue an MPhil degree or directly register for the Ph.D. programme. The normal duration of the Ph.D. programme is 3-5 years with a total of 60 credits including advanced study, thematic independent study, research seminars, and doctoral dissertation. The areas of specialization offered in the Ph.D. programme are General Management, Human Resource Management, Marketing Management, Accountancy and Finance, and Economics and Development.
Eligibility:
Master's degree in management or economics from a recognized university with a minimum CGPA of 3.0 or higher second division of 55 percent. Prior work and research experience is preferred.
Admission Process: Admission to the MPhil/PhD program will be on merit basis based on total score (200) obtained from:
Entrance test (100): The entrance test will be based on an MCQ comprising of modules - Quantitative ability (20), Logical reasoning (20), English Proficiency (20), Conceptual knowledge of Management and Economics (20), and Research aptitude (20)

Interview (30)

Statement of purpose (5) and Research synopsis (10)

Academic achievement (40)

Research publication (10) and work experience (5)
Successful candidates will get provisional admission to the Ph.D. programme initially and shall be registered as Doctoral candidates only after successful completion of course work and PhD proposal requirements.
Key Dates:
Last date for application form submission: 26/05/2079
Entrance examination: 01/06/2079 (8:00 —11:00 AM),
Venue: School of Business, Pokhara University
Personal interview: 02/06/2079 (8:00 AM onwards),
Venue: IAC, School of Business
Publication of result: 04/06/2079
Period for provisional admission: 05/06/2079 to 28/06/2079
Programme induction: 19/07/2079
Documents to be Submitted:
I) Duly completed the application form and bank voucher of Rs. 7,000 as payment for the application form (Rs. 2,500) and entrance examination fee (Rs. 4,500).
Bank: MC Asia Bank Ltd.
Account Name: Faculty of Management Studies,
PU Account No: 7341 0523 4315 2401
ii) Self-attested copies of academic certificates (mark sheets/transcripts, character certificates).
iii) Statement of Purpose (SOP) of not more than one page focusing on motivation for Ph.D. study and career objective, Research synopsis within 2,000 to 3,000 words (in prescribed format).
iv) Curriculum Vitae (CV), Letters of recommendation from two referees, and No objection letter from a current employer in case of employed candidates.
Intake Size:
The intake size for the Mphil/Ph.D. programme is 20 seats.
Reservation and scholarship will be availed to selected candidates as per the provisions stated in "Operating Procedures of PhD in Management"
Note: For further information see the information brochure. Information brochure, application form, formats for a statement of purpose, research synopsis, no objection certificate, recommendation letter; check-list for document submission, and other relevant documents (Forms 1 to 7) can be downloaded from https://pu.edu.nplacademics/faculties/fms/phdadmission or obtained from the Dean's office, Faculty of Management Studies, PU.
For more information contact :
Dean's Office
Faculty of Management Studies, Pokhara University
Dhungepatan, Leldmath, Pokhara, Nepal
Email: [email protected]
Member Secretary, Faculty Doctoral Committee (9846026556)
Admission Staff, PhD Center (9841006911)
Website: www.pu.edu.np
PhD
MPhil
Admission Open
BBA Admission
Pokhara University