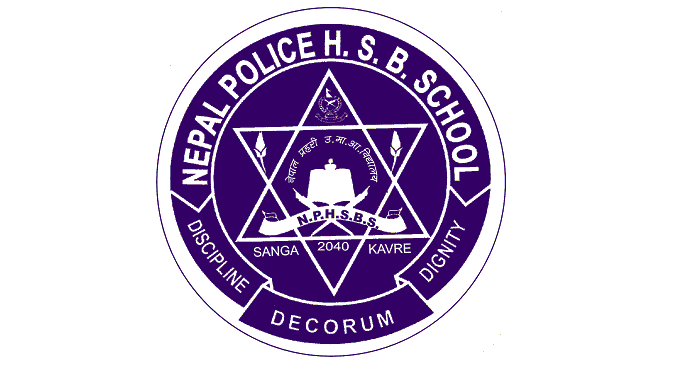 Nepal Police School Sanga Kavre Admission Open for Class 11: In Nepal Police School Sanga Kavre operated under the welfare program of Nepal Police, 60% seats for the children of police personnel and 40% seats for the children of civilians for the academic session 2079 for new admissions in the Faculty of Class 11 Science (Residential) and Management (morning session) as follows. When the notice is published; It is respectfully announced that all police personnel who wish to educate their children in this school will be notified.
It is also respectfully announced that the said notice will be communicated to all police personnel through CUG message, broadcast through Metro Traffic FM and Police Request Program, and placed on Nepal Police's website till 23rd of Shrawan 2079.
Eligibility Criteria: (Minimum GPA)
GPA 2.4 for science faculty and minimum C+ in all subjects

GPA 2 for management skills and at least D+ in all subjects
Registration Process: You have to register by going to the link available at https://admissions.qubex.com.np/nps/plus2 or Website: www.nps.edu.np and Facebook: Nepal Police School, Sanga.
Last date for registration:-2079 Shrawan 23rd till 16:00 hrs.
Contact date, place: After receiving the confirmation of registration form on 24th Shrawan 2079, the entrance examination fee of Rs.250/- should be paid and the school should be contacted between 9:00 am to 16:00 pm to collect the admit card.
Entrance Exam: 2079 Shrawan 25th at 11:00 AM.
Place of Entrance Exam:- Nepal Police School, Sanga, Kavre.
Publication of the examination results (Result): 2079 Shrawan 26th.
Interview and Student Admission: 2079 Shrawan 28 to 30 (Time 11:00 to 16:00).
Documents required along with the form:-
Online Copy of SEE Grade Sheet,

In the case of existing police personnel, a letter of recommendation from the office where the rank has been opened,

Copy of Pension Patta in case of ex-police personnel and descendants of Amar policemen,

For the local quota of Sanga, Bhangal and Khalchok areas, the documents along with the recommendation of the ward office must be submitted to the school before the entrance examination.
The application form will not be valid if the required documents are not submitted.
For more information:-
Nepal Police School Sanga Kavre
Educational Administration 011-664670
Inquiry Room 011661301,9851286005
Fees 011-663495, 9851294944 (Dadhiram Neupane)
Published date:-2079-04-18.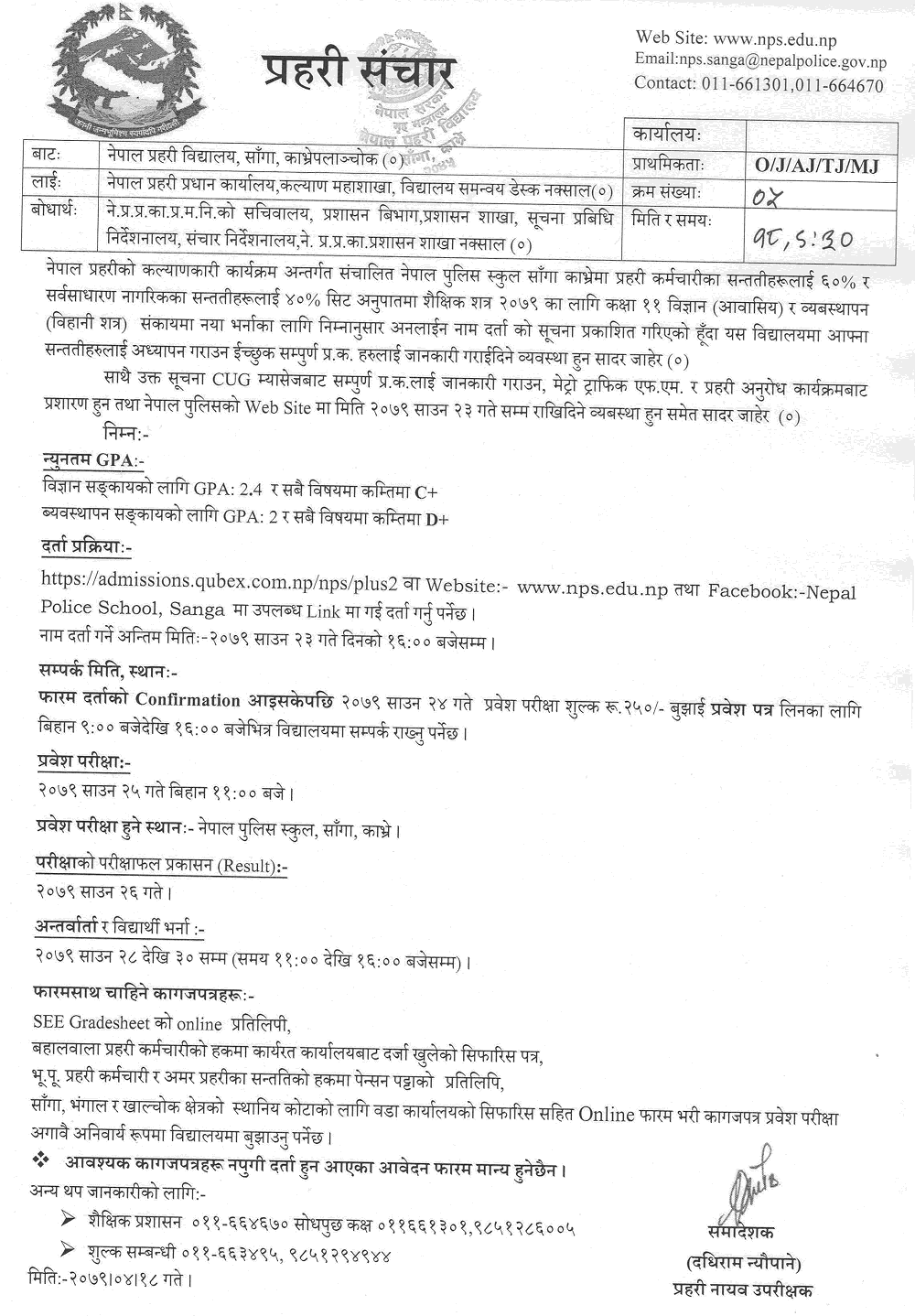 Admission Open
Kavre
NEB Class 11
NEB
Nepal Police