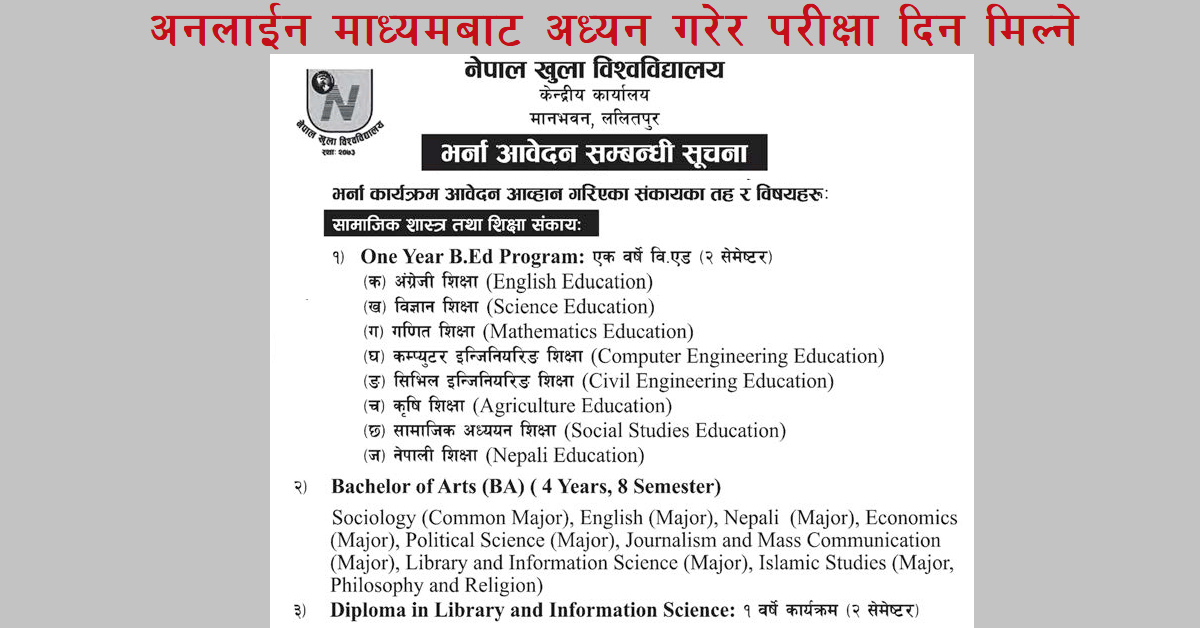 Admission Notice for Bachelor and Diploma Programs at Nepal Open University
Nepal Open University, Central Office, located in Manbhawan, Lalitpur, is now accepting admission applications for various programs under the Faculty of Social Sciences and Education for the academic year 2080/081.
Programs Offered
Faculty of Social Sciences and Education
One Year B.Ed Program (2 Semesters)
English Education
Science Education
Mathematics Education
Computer Engineering Education
Civil Engineering Education
Agriculture Education
Social Studies Education
Nepali Education
Diploma in Library and Information Science
1 year program (2 semesters)
Bachelor of Arts (BA) ( 4 Years, 8 Semester):
Sociology (Common Major), English (Major), Nepali (Major), Economics (Major), Political Science (Major), Journalism and Mass Communication (Major), Library and Information Science (Major), Islamic Studies (Major, Philosophy and Religion)
Who Should Apply?
Candidates looking for quality education in social sciences and educational fields
Individuals aspiring for a career in teaching, civil engineering, agriculture, and library sciences
How to Apply?
Interested candidates are encouraged to visit our official website Nepal Open University for detailed information on application procedures, eligibility criteria, and other important dates.
Contact Information
For further inquiries, please contact us at the following numbers:
Faculty of Social Sciences and Education

Contact No.: 01-5424108, 01-5008047
Key Dates
Date Published on Website: 2080/05/31
Why Choose Nepal Open University?
Flexible Learning: Our programs are designed to fit your schedule, allowing you to balance your studies with your personal and professional commitments.

Quality Education: We are committed to providing a comprehensive educational experience that prepares you for real-world challenges.

Diverse Curriculum: We offer a wide array of courses to suit different career aspirations.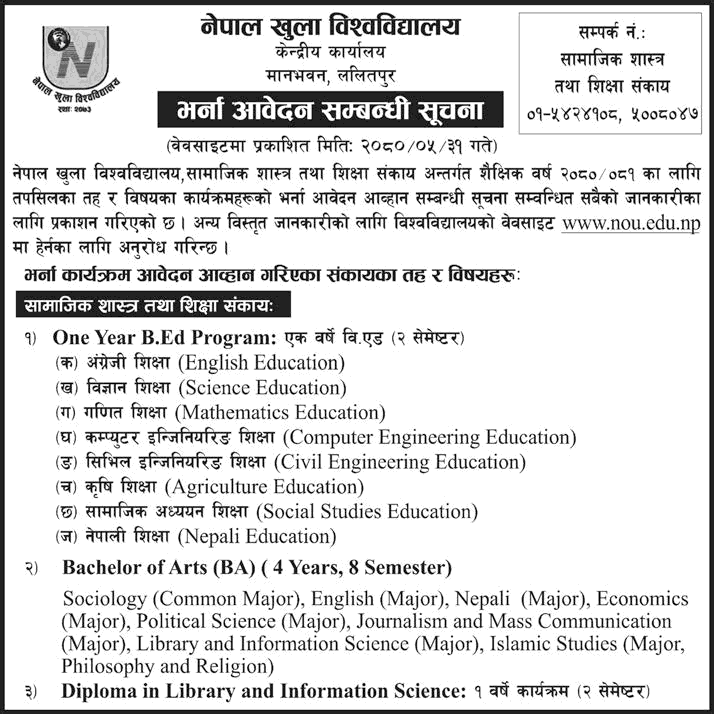 Admission Open
Notice