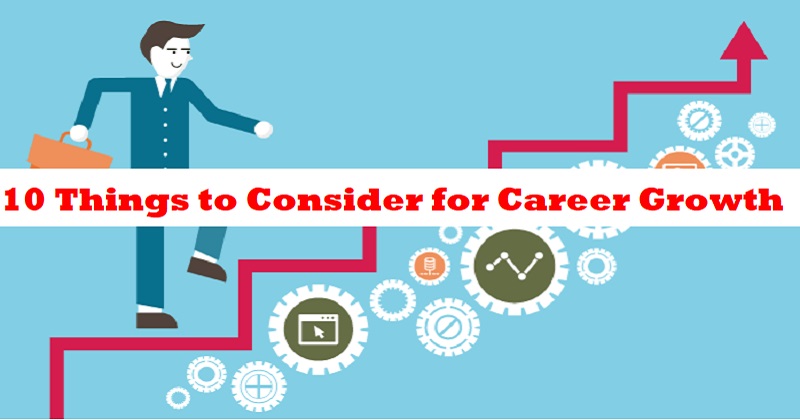 If you want to make a great career, then it is important to take care of some other things besides bookworm. In fact, you cannot have a better life on the basis of a bookworm; academic knowledge can give you a job or a platform, but for better performance on that platform, keep track of some important things other than knowledge of books. These important things are not learned in school or college but you have to learn it yourself. So let's know that there are 10 such things that help you in building a better career.
10 things to build a better career or Career Growth:
1. Find your talent:
The trusting knowledge can be expected to have a better career or job. Now the time has changed. The career cannot be created by becoming a bookworm or by placing a degree of degrees. If you want to make a great career, then you need to show your hidden talent and find your talent yourself. Once you have got the eternal talent, you can get advice from the experts and get a better place from that field.
2. Self Confidence is the Most Important:
You must have the confidence to win the battle of life. If you have the qualifications but there is a lack of confidence then you cannot do anything if you take a higher degree. As well as studying along with various participants in such activity, you must increase your confidence.
3. Increase the connectivity:
The more people your connection will have, the easier your life will be. The similar thing applies even when making a career. Your best connection can give you an excellent career opportunity. So, meet many people and keep them informed and know about them. When career or job fluctuates, your only connection is yours (remains). So, keep in touch with many people.
4. Become Techno-friendly
You need to be techno-friendly for a great career. Today the competition has increased so much that the new technology cannot be denied. Keep a good knowledge of technology related to your field. Along with this, learn new technologies regularly and stay updated.
5. A family is the most important:
Many People often go away from home because of career building. But if you want real happiness then you have to understand the importance of a family relationship. Your family comes to you only during the fluctuation in the career. So stay with a good relationship with your family and do not let distances. Staying with the good family relation reduces your tension and you have more focus on careers than before.
6. Your Transparent is your first impression:
Your behavior is your first impression, so learn to behave with others. On the other hand, your good treat opens up the way for you to grow, so learn to behave best than other people.
7. To be honest with you:
Always have been honest towards yourself and present your original image in front of people, not fake other than it, always being honest towards your work; your honesty can lead you to the highest position.
8. Do Not much Ambitious:
Being too much ambitious can be harmful to you. Although it is also necessary for every human being to be a great ally, being over-valued can harm you. You must have to be patient, everything will come to you on time. Get the first experience then again.
9. Stay updating yourself:
Nowadays, mobile apps also speak for themselves to update themselves, so it is important that you also keep changing yourself according to time. It is very important to keep updating yourself to keep your valuables in the career market.
10. Make plan 'B' with you:
This happens many times when your decisions taken in the career begin to prove to be void, keep the plan 'B' in your time. So that; your plan 'B' will also come to you when the time comes. Keeping alternative plans of your career decreases your chances of failure.
You Must Read: