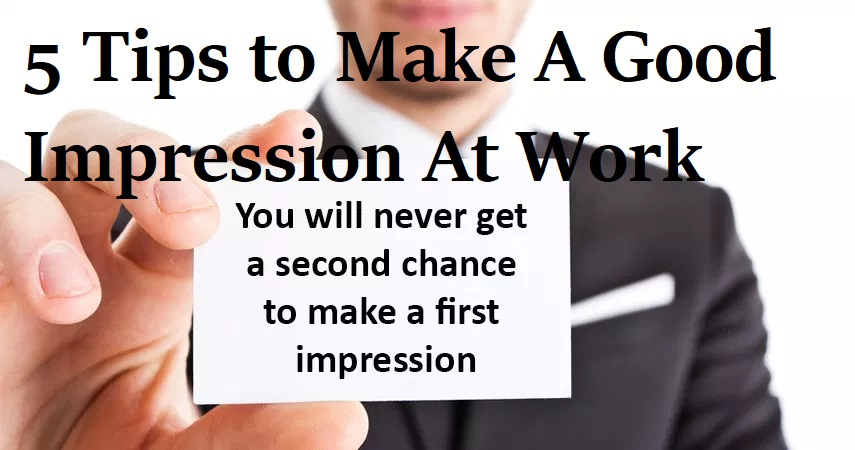 Getting jobs in any good company is as difficult as it is to grow in that job. In today's time, every person in the corporate sector does not want to be a part of a competition, then the competition is from his own talent or you have to take part in it from any other team. Indeed, every person in the corporate sector is trying to prove himself better than others. In this case, you must take some special tips. If you do not take these tips, you are even ignored after being a good employer. If you are working in a good place and wish that you are always ahead of your talent, then today we are going to give you some tips. By adopting these tips, you can work better than others. So let's know about the same five tips that every employee should adopt.
5 Tips to Make A Good Impression At Workplace:
1. Do not panic with the criticism:
Whenever you are criticized in the office, do not panic or otherwise. There are some good people in every office, so some are bad too. Take positive reviews whenever you get criticized and improve yourself. If you hear something from the boss, do not give it to your heart, but improve yourself. Indeed, criticism is of those people who work and try to extract. Therefore, ignore the criticisms.
2. Learn to ignore things:
Having a job in the corporate sector is like challenging, so you should also learn to ignore things. Many times you will be misinformed because every person is not your well-wisher in the workplace. So rather than being sad, ignore such things and have a mind in your work. If you keep working while you do not care for others, you will continue to grow.
3. Try to know your mistake:
If your boss removes any deficiency in your work or says that your work has not been satisfactory this month, then meet the boss and politely ask where he has been mistaken. Try to improve those mistakes, if you want, you can take any tips from the boss. This will not only make you aware of your mistakes but also improve your relationship with the boss.
4. Always be aware of the office:
There are many people who are waiting for the office to finish and watch the watch. Such people need to be a little careful. Actually, your small things are notified. So stay alert in the office, avoid the unnecessary gossip and breaking.
5. Always honest towards the company:
No company wants to lose honest and hard-working people, so remain honest towards the company. Complete all your time with time, come to office from time to time Follow the company's rules and regulations. If you do this then your good image becomes. It's important to have a good image to grow in the job.
You Must Read: