Overview
Himalaya Darshan College, Biratnagar, founded in 2013, stands as a beacon of academic innovation and excellence. This institution is dedicated to enriching minds and equipping students with the skills necessary to excel in today's dynamic world. Recognized for its commitment to fostering educational growth, the college offers an environment where young minds can flourish under the guidance of seasoned professionals and educators.
Objective and Educational Approach
The primary goal of Himalaya Darshan College is to provide quality education rooted in core values, designed to empower graduates to make significant contributions in their respective fields. With a holistic approach to personal and professional development, the college has carved a niche for itself in the realm of higher education.
Faculty Excellence: Leveraging the expertise of renowned faculty members, the college ensures that each student receives a comprehensive learning experience.
Professional Growth: Interactive sessions with experts and professionals at the national level contribute to the real-world knowledge and professional growth of students.
Value-based Curriculum: A modern curriculum that incorporates values and ethics, preparing students for both contemporary challenges and opportunities.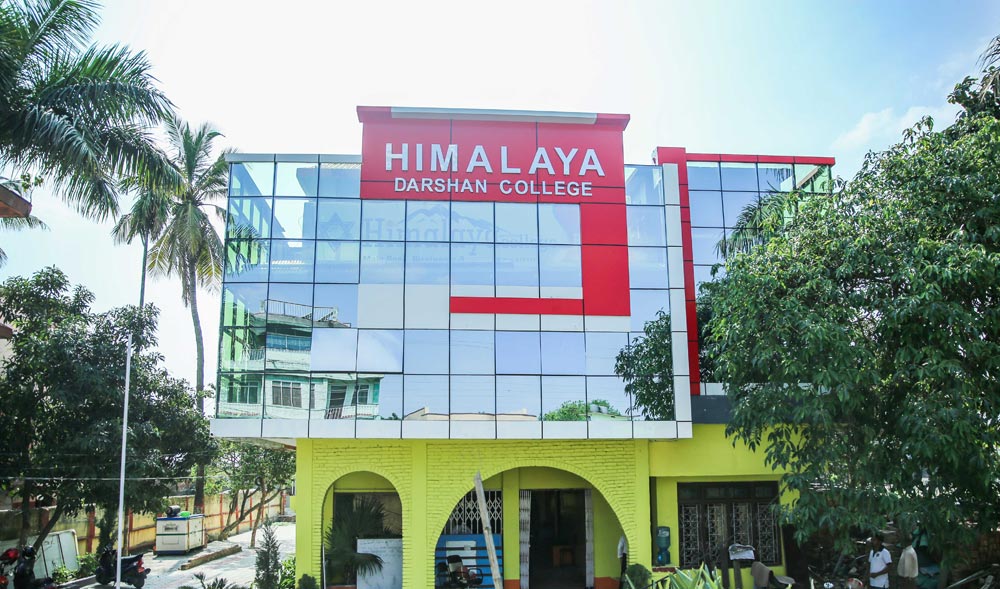 Programs and Disciplines
Himalaya Darshan College offers a diverse range of degree programs within three main disciplines: Science, Management, and Humanities. Each program is carefully structured to align with global educational standards while addressing the evolving industry needs.
Science: For students seeking to explore the vast realm of scientific knowledge and research.
Management: Tailored for aspiring entrepreneurs and business professionals, ready to lead in the corporate world.
Humanities: Offering a deep dive into the creative and critical study of human culture, thought, and society.
Vision for the Future The college envisions itself as a pioneering educational institution that not only meets but anticipates the needs of the community. It is committed to helping students tackle economic, social, and environmental challenges, thereby becoming proactive contributors to shaping a better future.
Responsive Education: Adapting to the needs of the community and offering relevant educational opportunities.
Socio-Economic Contributions: Preparing students to make meaningful contributions to society's socio-economic fabric.
Mission Statement
The mission of Himalaya Darshan College is multi-faceted:
Cultivating Potential: Encouraging every student to reach their full potential and become engaged global citizens.
Inspiring Learning: Fostering a love for learning and civic responsibility.
Achieving Academic Excellence: Ensuring that all students are challenged and supported to excel academically.
Embracing Diversity: Valuing the rich diversity of the community and promoting an inclusive environment for all.
Ensuring Equity: Striving for equity and respect for every individual, ensuring a supportive and respectful learning atmosphere.
Courses Offered at Himalaya Darshan College
Himalaya Darshan College, affiliated with Tribhuvan University (TU), offers a variety of undergraduate programs. Each program is designed to provide students with the knowledge and skills needed to succeed in the modern workplace.
BSc CSIT (Bachelor of Science in Computer Science and Information Technology): This is a four-year, eight-semester program that combines the fields of computer science and information technology. The course curriculum is designed to produce IT professionals with a solid grounding in computer system and information technology. Graduates of BSc CSIT are equipped to handle the complexities of technology and apply their skills in real-world problem-solving situations.

BHM (Bachelor of Hotel Management): The BHM program prepares students for the thriving hospitality industry. Spanning four years, the curriculum encompasses both theoretical and practical aspects of hotel management, from operations to service delivery. It aims to groom hospitality leaders who can adapt to diverse environments and offer exemplary customer service.

BCA (Bachelor of Computer Applications): This program is tailored for aspiring software developers, system managers, and computer application specialists. Over the course of four years, students delve into programming languages, database management, and application development, gaining hands-on experience and technical expertise.

BIM (Bachelor of Information Management): BIM is an interdisciplinary program that blends information technology with management concepts. Students learn about information systems management, e-commerce, and technology-driven business strategies. The four-year course creates professionals who can navigate the crossroads of IT and business.

BBS (Bachelor of Business Studies): This four-year program focuses on providing a strong foundation in business, economics, and management principles. Students are prepared for a wide range of managerial roles and entrepreneurial ventures. The BBS curriculum covers finance, marketing, accounting, and more, to produce well-rounded business professionals.
Each program at Himalaya Darshan College is structured to provide a comprehensive education that aligns with global standards and the needs of the Nepalese market, ensuring graduates are well-prepared for their future careers.
Why Choose Himalaya Darshan College?
Choosing the right college is a pivotal decision for students as it can shape their career and future. Here's why Himalaya Darshan College stands out as a premier institution for higher education:
TU Affiliation: Being affiliated with Tribhuvan University, the largest and oldest university in Nepal, adds significant prestige and recognition to the degrees offered, ensuring that students' qualifications are well-respected both nationally and internationally.

Comprehensive Academic Programs: With a range of courses tailored to the needs of the modern workforce in science, management, and humanities, students can select a program that aligns with their interests and career aspirations.

Modern Curriculum: The college's curriculum is designed not only to impart theoretical knowledge but also to ensure that students gain practical skills through modern teaching methodologies and hands-on experiences.

Experienced Faculty: Students benefit from a team of dedicated and experienced faculty members who bring a wealth of knowledge and expertise to the classroom, enhancing the learning experience.

Professional Development: Himalaya Darshan College emphasizes the professional growth of its students by incorporating interaction with national experts and professionals, which is crucial for networking and understanding the industry.

Quality Education: The institution is committed to providing quality education that is accessible and affordable, yet uncompromising in its standards.

Focus on Value-Based Education: The college integrates values and ethics into its curriculum, ensuring that graduates are not just skilled professionals but also responsible citizens.

Equitable and Inclusive Environment: An emphasis on equity and respect for all ensures a nurturing and inclusive community where diversity is celebrated and every student feels valued.

Responsive to Community Needs: The college continually adapts its programs and strategies to meet the evolving needs of the community, making the education it provides both relevant and forward-thinking.

Civic Engagement and Leadership: By encouraging civic engagement and leadership skills, Himalaya Darshan College prepares students to become proactive members of society who contribute to social and economic development.

Global Perspective: The college fosters a global outlook, preparing students to thrive as global citizens in an interconnected world.

State-of-the-Art Facilities: With well-equipped classrooms, laboratories, libraries, and other learning resources, the college provides an environment conducive to learning and innovation.

Strategic Location: Situated in Biratnagar, a city with growing economic importance, the college offers strategic advantages for internships, job placements, and exposure to industry trends.