Overview
Karnali Academy of Health Sciences (KAHS) was on October 20, 2011 (2068-07-03) as an autonomous health academy. KAHS is located in Military Sadak, Chandannath, Jumla, Karnali Pradesh of Nepal. It is recognized by Nepal Medical Council, Nepal Nursing Council, and the Nepal Health Professional Council.
KAHS established by an Act of the parliament of Nepal by upgrading the existing Karnali Zonal Hospital at Jumla. The goal of KAHS is to enable access to Quality healthcare services and education for the people of backward (Pichhadiyako) areas at an affordable cost by establishing a health institute at Jumla and KAHS working district to produce skilled health professionals to deliver quality health care services and conduct health researches.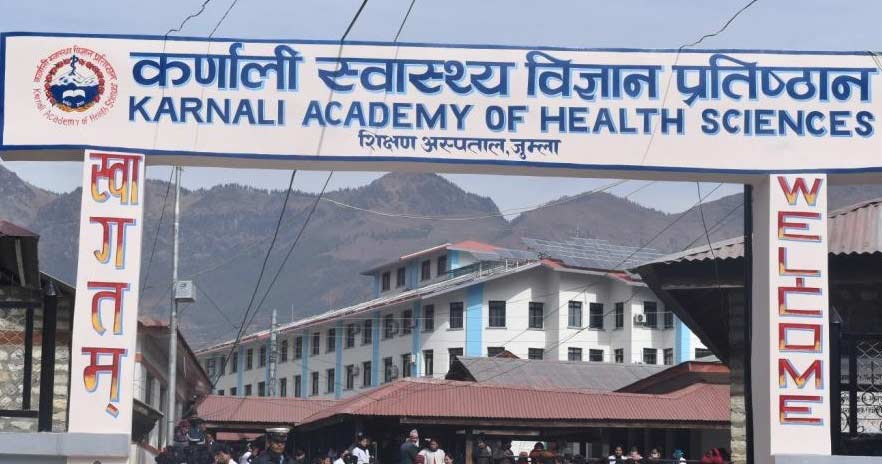 The backward areas (9 districts) mentioned in act of KAHS are Karnali Zone: Humla, Jumla, Kalikot, Dolpa, Mugu districts, Bheri Zone: Jajarkot district, Seti Zone: Bajura, Bajhang & Achham districts and remaining districts of Karnali Pradesh Includes Surkhet, Dailekh, Rukum, and Salyan according to a federal system of Nepal.
The Nepal government owned Karnali Zonal hospital and started its services as Karnali Academy of Health Sciences, Teaching hospital on 17th Kartik, 2069. From the very beginning, the teaching hospital has started outpatient, inpatients, diagnostic services (Lab, X-ray, USG, ECG, etc), and operation theatre in the existing facility. The services have been upgraded and expanded its scope of services in health care and academy each year.
There are 10 districts (Jumla, Dolpa, Humla, Mugu, Kalikot, Rukum-west, Jajarkot, Salyan, and Surkeht) in Karnali Province. Karnali is the largest province of Nepal with an area of 24,453 km2 (% of the total area). The population of the province is 1,701,800, (% of the total population) which is the least in the ranking of the province. The province is surrounded by Gandaki province in the east, Province No. 5 in the southeast, and the south, province No. 7 in the west, and China in the north.
There are high mountains of land in the north and mid hills. There is a Kubi Gangri, Changla, and Kanjiroba Mountain in the north. The Shey Phoksundo National Park with Phoksundo lake is the largest national park in Nepal and Rara lake is the largest lake in Nepal which is located in Karnali Pradesh. Karnali River is the biggest river in the province and the longest river in Nepal.
Mission
Karnali Academy of Health Sciences prepares the next generation of health professionals and leaders to become vital contributors to the delivery and advancement of health care to those who are marginalized and living in backward areas. Our mission is accomplished through educational excellence, innovative research, evidence-informed patient-centered care, public health advocacy, and collaborative community engagement.
Vision
KAHS is an autonomous health sciences university that visualizes providing interdisciplinary leadership for new directions in health promotion and wellness, as well as illness care and disease prevention at all levels, in the community and beyond through innovation in education, practice, research, and scholarship for Nepalese students, especially targeting to those who reside in a backward and rural area as well as those who are socially marginalized. It will be a national centre for providing health services, a prestigious centre for biomedical and health system research, centre for excellence in implementing complete total human development through 'health' as the main agenda in its neighboring teaching districts.
Goal
Sustain and upgrade the quality of the current health services of the KAHS-related hospitals located in remote areas and the backward region of the country as a whole.
Train technically competent and socially responsible physicians, Nurses, and other health care professionals, through its academic programs in medical and health sciences at high quality which is recognized locally, regionally, and internationally, who have the willingness and ability to become inspiring leaders in their respective fields and deal with the existing and emerging health care challenges in Nepal.
Contribute to the advancement of medical and health sciences knowledge and practice through its support of research activities conducted by its faculty and students.
Enable deserving students from the rural and backward regions of Nepal and especially those who are underprivileged and are deprived of access to health science education, including medical, nursing, and other allied health science education because of topo-geographical, social, and financial barriers.
Work in collaboration with the national health system (NHS) to contribute to the improvement of the health status of the people in Nepal, and proactively encourage the national government in the development of appropriate health policies, programs, and systems to uplift the health of the rural poor.
Accentuate the growth of the University by promoting various academic activities, by establishing inter-institutional alliance with premier health Universities and organizations.
University Guiding Principles
We value the strength of a shared mission and vision that guides planning and activities.
We promote the highest ethical principles in life and practice.
We provide programs and services that are student and patient-centered.
We support shared governance and collaboration among students, faculty, staff and administration.
We are innovative, progressive, and responsive in meeting the needs of our stakeholders.
We use continuous quality improvement and best practices to inform decision-making.
We rely on research, clinical experience, and patient preferences to inform academic and clinical programs.
We value diversity and cultural competency.
We practice fiscal responsibility and prudent resource allocation.
We recognize that health comes from within and value the importance of treating the whole person, assisting innate healing, and promoting health and wellness and disease prevention.
We value the need of the marginalized and backward community for the 'right to health and education.
Contact Details:
Karnali Academy of Health Sciences (Karnali Swasthya Bigyan Pratisthan - कर्णाली स्वास्थ्य विज्ञान प्रतिष्ठान)
Head Office: Jumla, karnali
Phone : 087- 520355 (Administration), 087-520115 (Hospital), 087-520611 (Academy Administration)
Contact Office: Maitidevi, Setopool, Kathmandu, Nepal
Phone: 01-5-170622