Overview
Kumarwarti Multiple Campus was established in 1989 Ad (2045 BS) as a publicly owned leading educational centre for higher education in the Nawalparasi district located in Shivamandir VDC, Ward no. 3, Kawasoti, which is 190 kilometers southwest of Kathmandu and 32 kilometers west of Narayangarh. It was founded with the initiative of local and district social, political, and intellectual activists as well as ex-servicemen to disseminate the torch of education among the wards of the people who were unable to pay for higher education by joining city colleges.
Kumarwarti Multiple Campus Initially launched to conduct proficiency certificate level (PCL) program in management faculty, this institution is currently running its Ten plus Two, B.B.S., B.A., B.Ed., MBS, MA in Sociology, and M.Ed. programs.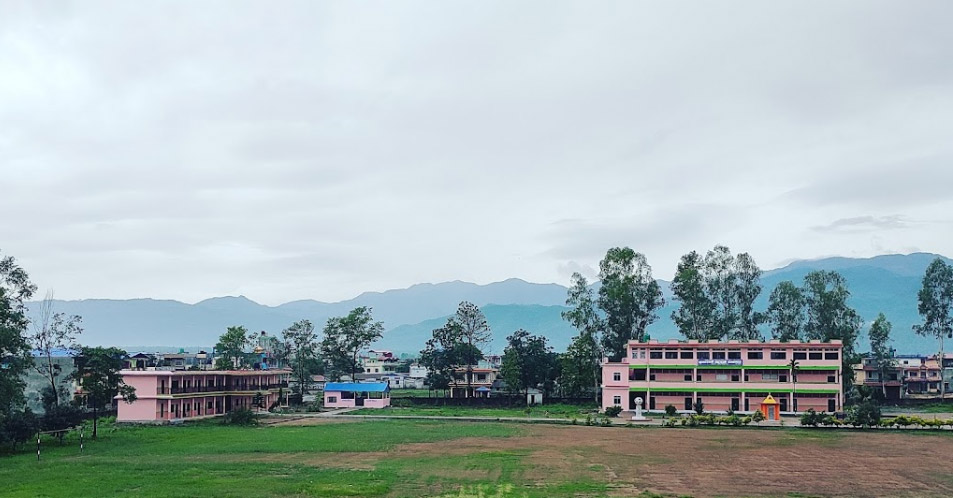 The campus is famous all over the district for imparting quality education at a nominal monthly fee. It is hearing its way by the patronage of social activists and other national and international social organizations. The institution expects similar cooperation and valuable suggestion from all humanitarian national and international organizations in the days to come as well.
It aims to objectify the: imparting of quality education at affordable fees. Generation of efficient human power for conducting the state machinery generation of the self-dependent human power by providing the time needed for vocational, technical, and skill-oriented education. Exposure of the inherent talent of students by stimulating programs. Emphasis on coordination among different academic institutions to enhance the quality of education.
Slogan
This institution believes in the "Betterment of life through quality education".
Visions
Kumarwarti Multiple Campus is dedicated to achieving autonomous status by generating new ideas and assimilating the ideas of masterminds to enhance the betterment of human life in regional, national and international scenarios.
Mission
Developing this institution to be one of the renounced campuses.
Enhancing its status as an autonomous university with other affiliated colleges to it.
Goals
Kumarwarti Multiple Campus is dedicated to producing highly efficient human resources and it is heading its way to these desired missions:
Paving the way for higher education.
Production of skilled human resources in different fields.
Providing quality education services to society.
Preservation of national and traditional culture and learning of cross-cultural values.
Providing community services.
Launching means self-sustainability.
Providing project-based learning (problem-based learning).
Establishing autonomous education institutions with multi faculties peopled by skilled manpower.
To strengthen system capacity through intensive support.
To train human resources to enable them to improve their skills and knowledge.
Objectives
This plan is dedicated to realizing these achievements
To provide opportunities for higher education to the larger segment of the population, especially to the culturally, socio-politically, and economically disadvantaged community
To increase the number of students enrolment and to increase pass percentages.
To enhance the quality and relevance of higher education and research through a set of incentives for promoting effective pedagogy, management, and financial sustainability.
To improve access for academically qualified underprivileged students, including girls, Dalits, and educationally disadvantaged Janajatis for higher education.
To enhance the quality of education by building a linkage between national and international institutions to get mutual benefits.
To introduce new, modern and technical subjects.
To increase community participation.
To increase students' participation in every activity.
To improve and extend physical facilities.
To establish a well-managed library.
To use modern information technology.
To be certified for QAA.
To keep the college environment clean, healthy, and pleasant.
Major Priorities
This institution has set these priorities for the coming five years:
Raising the academic performance of the campus through the skill development of teachers and staff.
Increasing pass percentage and achievement level through reinforcement activities.
Administrative reform: providing capacity building training to administrative staff.
Improving institutional memory records through effective information management.
Introducing a student support programme to attract more students.
Introducing a system for taking responsibility and accountability.
Increasing student enrolment by introducing marketable subjects.
Providing job-oriented courses.
Providing further study programmes for teaching staff.
Launching of new programmes:

Introduction of additional subjects in the master's degree level; e.g. M.Ed.(Eng)
Bachelor in Computer Application (BCA) Bachelor in Business Administration (BBA), Bachelor in Information Management (BIM), Bachelor in Social Worker (BSW).

Infrastructure development:

Immediate priority
Renovation of existing library.
Completion of compounding and protection of campus land.
Gardening and park development.
Vehicle parking stand.
Development of a well furnished faculty department
Building of new toilets.
Construction of Basket Ball Court.
Construction of Business Shutters.

Mid-term priority

Construction of a separate library.
Construction of a free student union building.
Modernizing/Renovation of the computer lab.
Construction of a cafeteria.

Long-term priority

Construction of an administrative building.
Construction of hostel for students.
Construction of quarters for campus staffs.
Scholarship
There is the provisions of scholarship in different categories for the deserving students. The students having excellent academic records, the poor and genius, the disabled, the Dalits, students recommended by different co-operatives, social organizations and community schools will get full or partial scholarship to study in the school. The students seeking scholarship must drop an application for scholarship for scholarship within a month of admission.
Facilities and Services
Resource library with the school library
Free of cost e-mail and net service to all students
Special discount for students with excellent results in SLC
Extension of liaison and coordination at the international level
Provisions of games and sports and extracurricular activities
Transportation facility