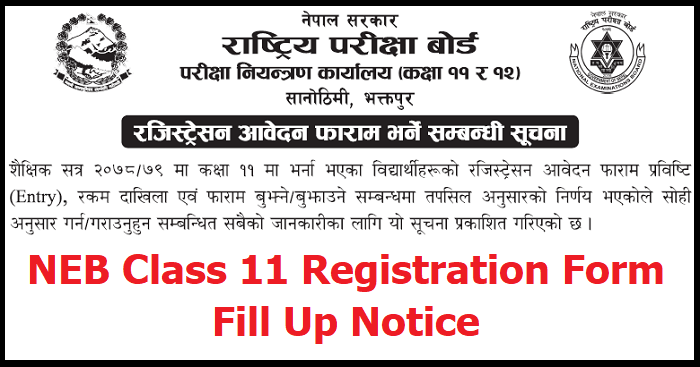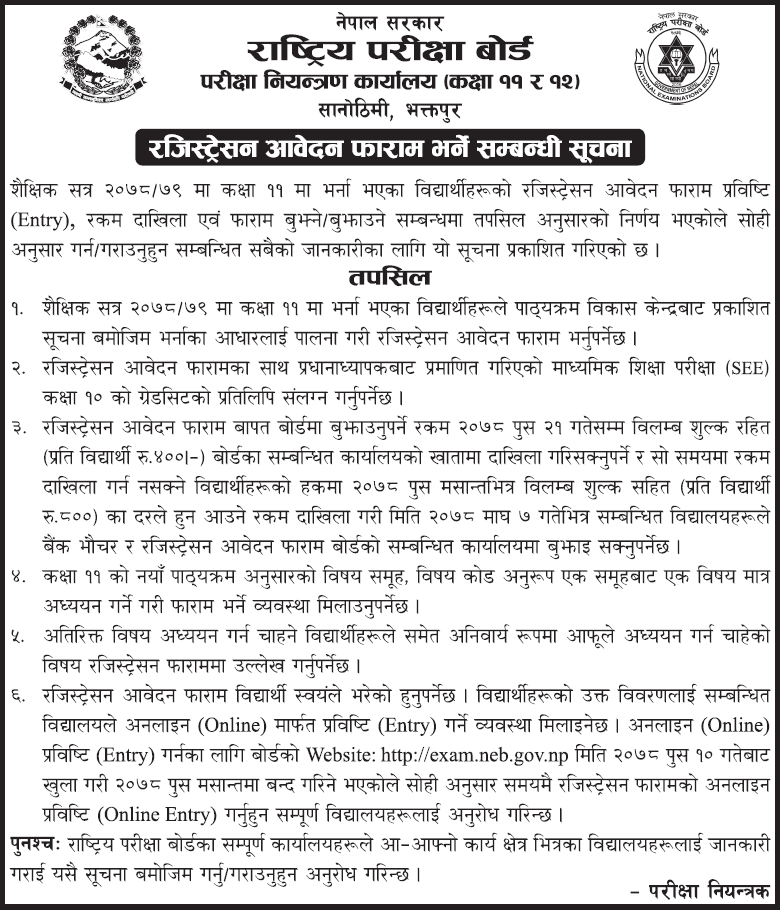 NEB Class 11 Registration Form Fill Up Notice: Government of Nepal, National Examination Board, Examination Control Office (Class 11 and 12), Sanothimi, Bhaktapur
This notice has been published for the information of all concerned regarding the registration application form (graph) of the students enrolled in class 11 in the academic session 2078/79, the amount as per the details regarding the enrollment and submission of the form.
1) Students enrolled in class 11 in the academic session 2078/79 will have to fill the registration application form following the admission basis as per the information published by the Curriculum Development Center.
2) A copy of the grade sheet of Secondary Education Examination (SEE) class 10 certified by the headmaster should be attached with the registration application form.
3) The amount to be submitted to the Board for registration application form without delay fee (Rs. 400 / - per student) by 2078-9-21. The concerned schools should be able to submit the bank voucher and registration application form to the concerned office of the board by 2079-10-7 by filing the amount at the rate of Rs. 500 per student.
4) According to the new syllabus of class 11 subject group, according to the subject code from one group to study only one subject should be arranged to fill the form.
5) Students who want to study additional subjects must also mention the subject they want to study in the registration form.
6) Registration application form should be filled by the student himself. Arrangements will be made for the concerned school to enter the details of the students online. The Board's Website https://www.exam.neb.gov.np for online entry will be opened from 2078-9-10 and will be closed in mid-December 2078. All schools are requested to submit the registration form online in time accordingly.
P.S .: All the offices of the National Examination Board are requested to inform the schools within their respective jurisdictions and to do / do according to this information.
NEB Class 11
NEB