Important Information Regarding the Nepal Medical Council's Special Examination Online Application Form
Are you aspiring to participate in the Nepal Medical Council's Special Examination? Here's some crucial information for you. The special examination is scheduled to take place on 11th and 12th Shrawan, equivalent to July 27th and 28th, 2023, which falls on Thursday and Friday. To ensure a smooth application process, the online application form has been made available since 27th Shrawan.
To be eligible for the examination, interested candidates must submit their application form between Jestha 27th and Ashad 24th, 2080, following the provided instructions at exam.nmc.org.np. However, please note that late submissions will be accepted on the 25th and 26th of Ashad, 2080, but will require an additional late fee.
To accommodate candidates' convenience, the system for filling and submitting the online application form will remain open 24/7. This flexibility allows you to complete the form at a time that suits you best. The special examination itself will be conducted using computer technology at the Institute of Engineering Studies in Pulchowk.
For any further inquiries or clarifications, you can reach out to the Examination Committee at the Nepal Medical Council located in Bansbari, Kathmandu. They can be contacted via phone at 01-4377164 or 01-4371954, or through email at [email protected].
By adhering to the provided guidelines and submitting your application within the designated timeframe, you can take a significant step towards realizing your dream of pursuing a career in the medical field. Don't miss out on this opportunity to showcase your skills and knowledge.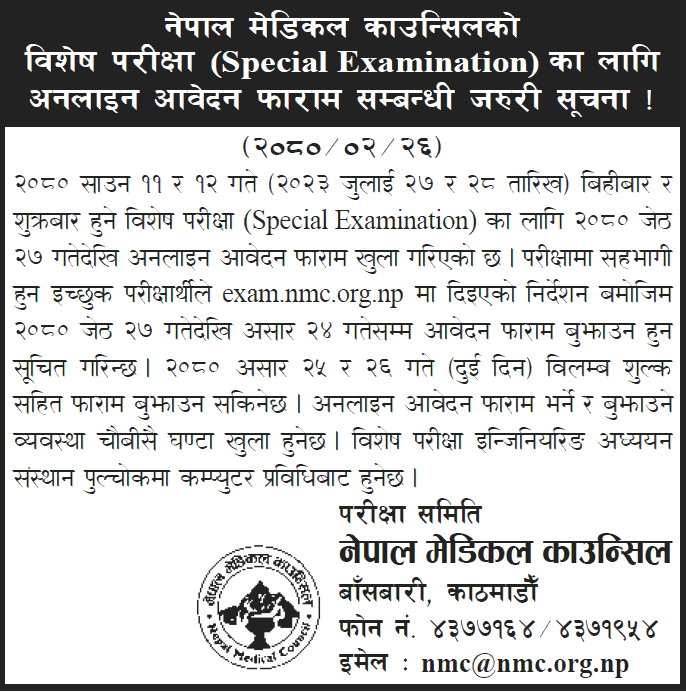 Notice