Notification of Written Examination Schedule for Various Posts in Sudurpashchim Province
Province Public Service Commission, Sudurpashchim Province, Dhangadhi, Kailali Examination Conducting Branch Notice no. 100/079-80, Date 2080/2/19
The Province Public Service Commission, Sudurpashchim Province, Dhangadhi, Kailali, has released an important notification regarding the written examination schedule for various posts in the state civil service and local government service at the fifth level. This notification numbered 100/079-80 and dated 2080/2/19, aims to inform all concerned individuals about the upcoming examination.
Written Examination Schedule
The examination program for the aforementioned posts has been carefully designed by the Province Public Service Commission based on the advertisement published in 2079-80. Candidates who have applied for positions in the services, groups, sub-groups, and assistant-level fifth-level technical posts will need to take note of the following examination schedule:
Date: To be announced later by the examination center.
Important Information
This notification serves as an official announcement of the upcoming written examination for various positions in Sudurpashchim Province.
The examination schedule will be published at a later date by the designated examination center.
Candidates are advised to regularly check the official website or other reliable sources for updates on the examination program.
It is crucial for all concerned individuals to stay informed about the examination schedule to avoid missing any important dates or changes.
Further instructions regarding the examination process, including the venue, timing, and examination guidelines, will be provided in due course.
Candidates are reminded to thoroughly prepare for the examination based on the syllabus and recommended study materials outlined in the advertisement.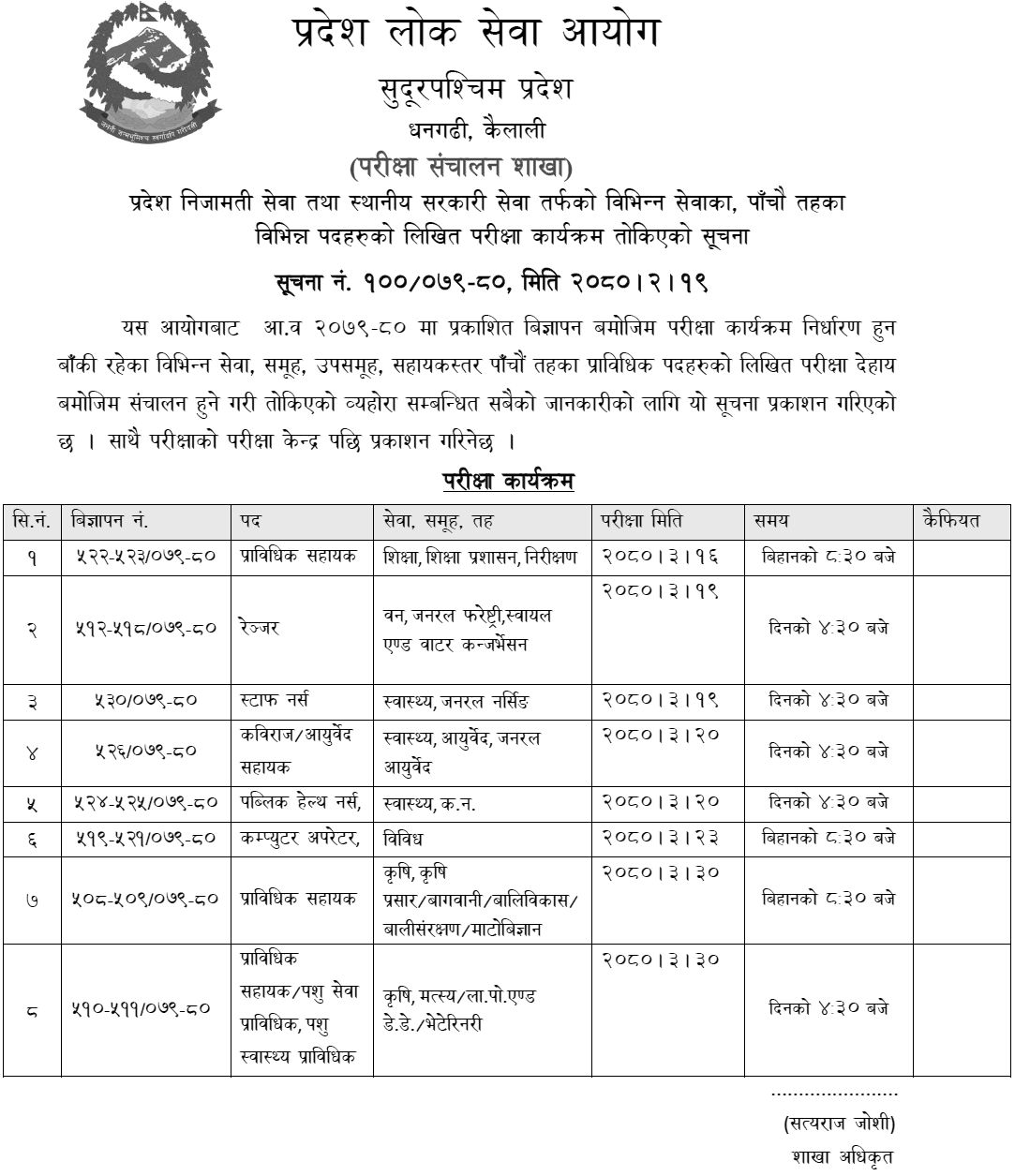 PPSC Sudurpashchim
PPSC
Notice
Exam Routine