Important Examination Update: Sudurpashchim Pradesh Public Service Commission
Province Public Service Commission, based in Dhangadhi, Kailali, significant revisions have been made concerning the examination centers for upcoming exams pertaining to the Engineering Service, Civil Group Assistant Sub Engineer / Sanitary Group. This notification is crucial for all applicants and adheres to Notification No. 17/080-81, dated 2080.
Revised Examination Details
An overview of the amended examination details is as follows:
Advertisement No. 532-535/079/80

Position: Assistant Sub Engineer, Engineering, Civil
Exam Date/Time: 2080/06/27, 8:30 AM
Roll Numbers: 2692 to 2951 and 2952 to 3211
Revised Exam Center: Tribhuvan Secondary School, Woradandi, Dangadhi Center "A" and "B"

Advertisement No. 531/079/80

Position: Water Sanitation & Sanitation Technician, Engineering Service, Civil, Sanitary
Exam Date/Time: 2080/06/27, 4:30 PM
Roll Numbers: 2497 to 2756 and 2757 to 3017
Revised Exam Center: Tribhuvan Secondary School, Woradandi, Dangadhi Center "A" and "B"
Essential Guidelines for Candidates
All candidates must adhere to the following guidelines during the examination process to maintain an authentic, accurate, and transparent examination environment:
Admit Card Necessity

Candidates must bring their admit card for the examination. Entry will not be permitted without it.

Additional Identity Verification

Alongside the admit card, aspirants must carry a citizenship certificate or a photo identification document issued by a government agency, ensuring verification accuracy and adherence to strict E-A-T (Expertise, Authoritativeness, Trustworthiness) guidelines.

Timely Arrival

It's paramount to reach the examination center 1 hour prior to the start time to facilitate a smooth and organized entry process.

Prohibited Items

Ensure that bags, books, documents, mobile phones, smartwatches, and other electronic devices are not brought into the examination hall.

Black Pen Usage

Candidates should utilize only a black pen during the examination.

OMR System Adherence

The OMR system will be used for the answer sheet in the written examination, ensuring a clear, concise, and error-free evaluation process.

Examination Schedule Adherence

The examination will strictly follow the pre-determined schedule set by the commission. Any changes will be communicated through official channels only.

Key Writing Obligation

It's imperative to write the 'key' of the question paper in the objective test on the answer sheet. Failure to do so will result in the automatic cancellation of the answer sheet.

Calculator Usage

The use of calculators is strictly prohibited during the exam.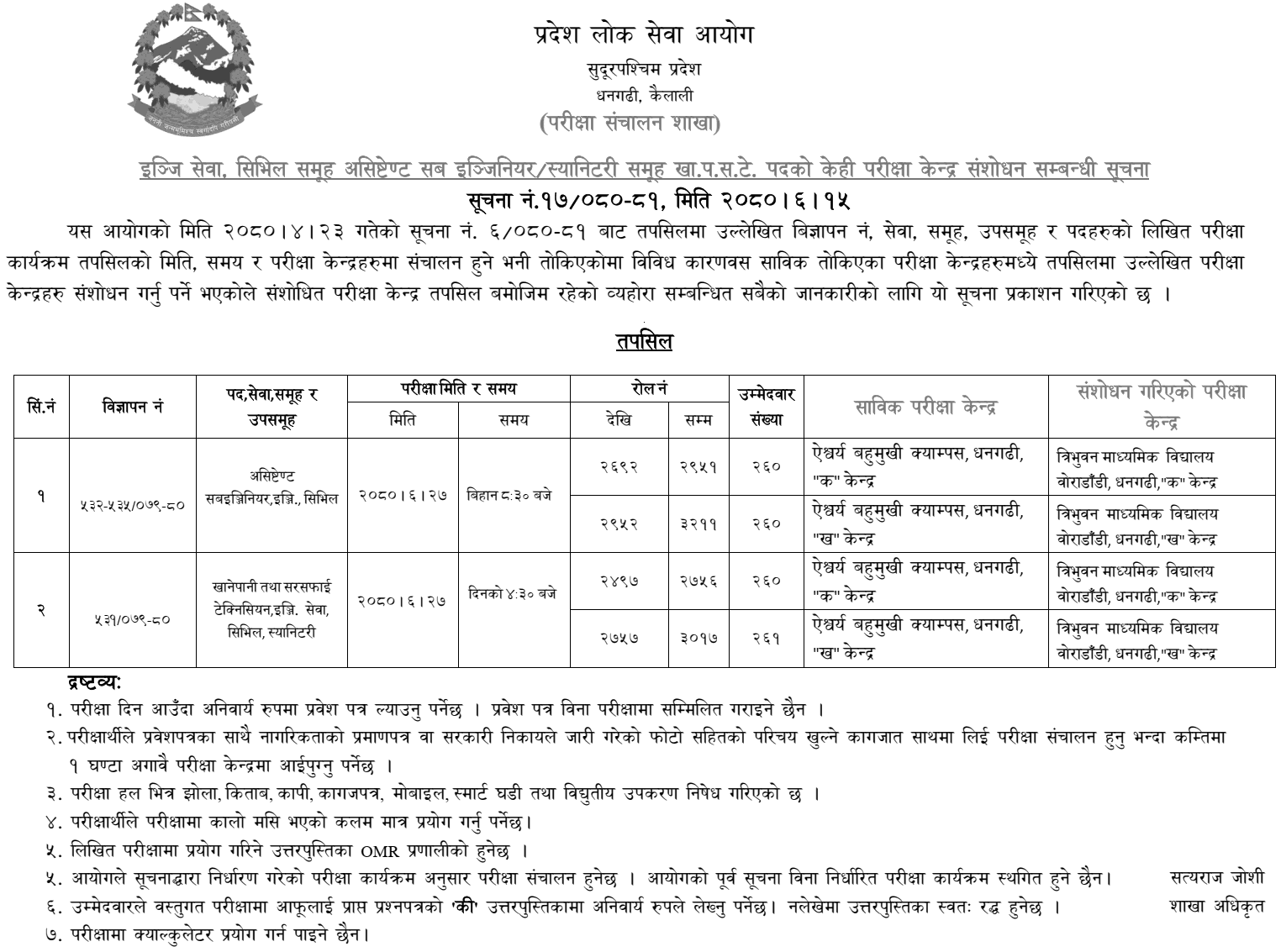 PPSC Sudurpashchim
PPSC
Notice
Exam Center
Sudurpashchim Pradesh