Notice Regarding Revised Interview Schedule for AHW Post in Sudurpaschim Province Public Service Commission
Introduction: The Sudurpaschim Pradesh Lok Sewa Aayog has recently published a notice regarding the revision of the interview schedule for the post of Auxiliary Health Worker (AHW) in the Health Inspection Group, Fourth Level, under the Nepal Health Service.
Revised Interview Schedule:
The interview schedule for the candidates selected from the written results published on 10/28 was earlier fixed from 2079/11/16 to 20. However, due to some special reasons, the commission has revised the interview schedule, and now it will be conducted from 2079/11/21 to 22.
Position and Level:
The advertised position for this post is AHW, and the level of the post is 4th Level Assistant.
Notification for All Concerned:
This notice is published by the Province Public Service Commission, Sudurpaschim Province, Dhangadhi, Kailali, (Interview and Recommendation Branch) to inform all concerned candidates about the revision of the interview schedule.
Candidates who have applied for the AHW post in Sudurpaschim Province are advised to check the revised interview schedule and make necessary arrangements accordingly. This notice serves as an official notification for all concerned candidates.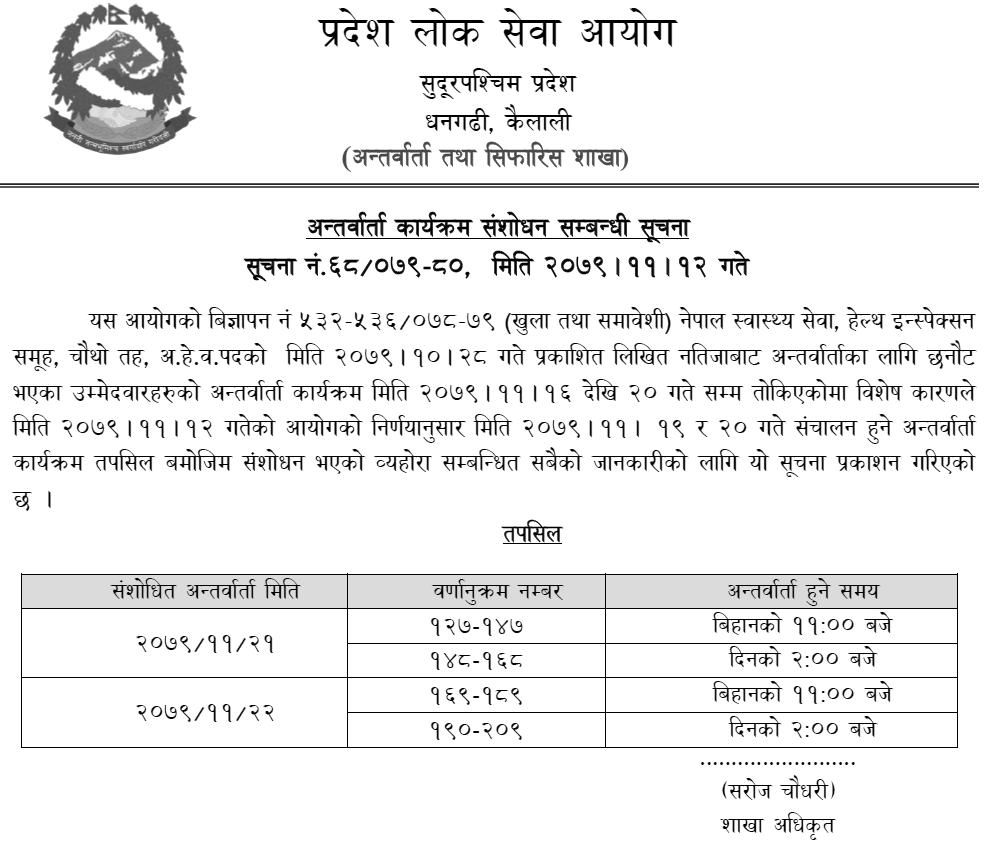 PPSC Sudurpashchim
Exam Routine
Sudurpashchim Pradesh