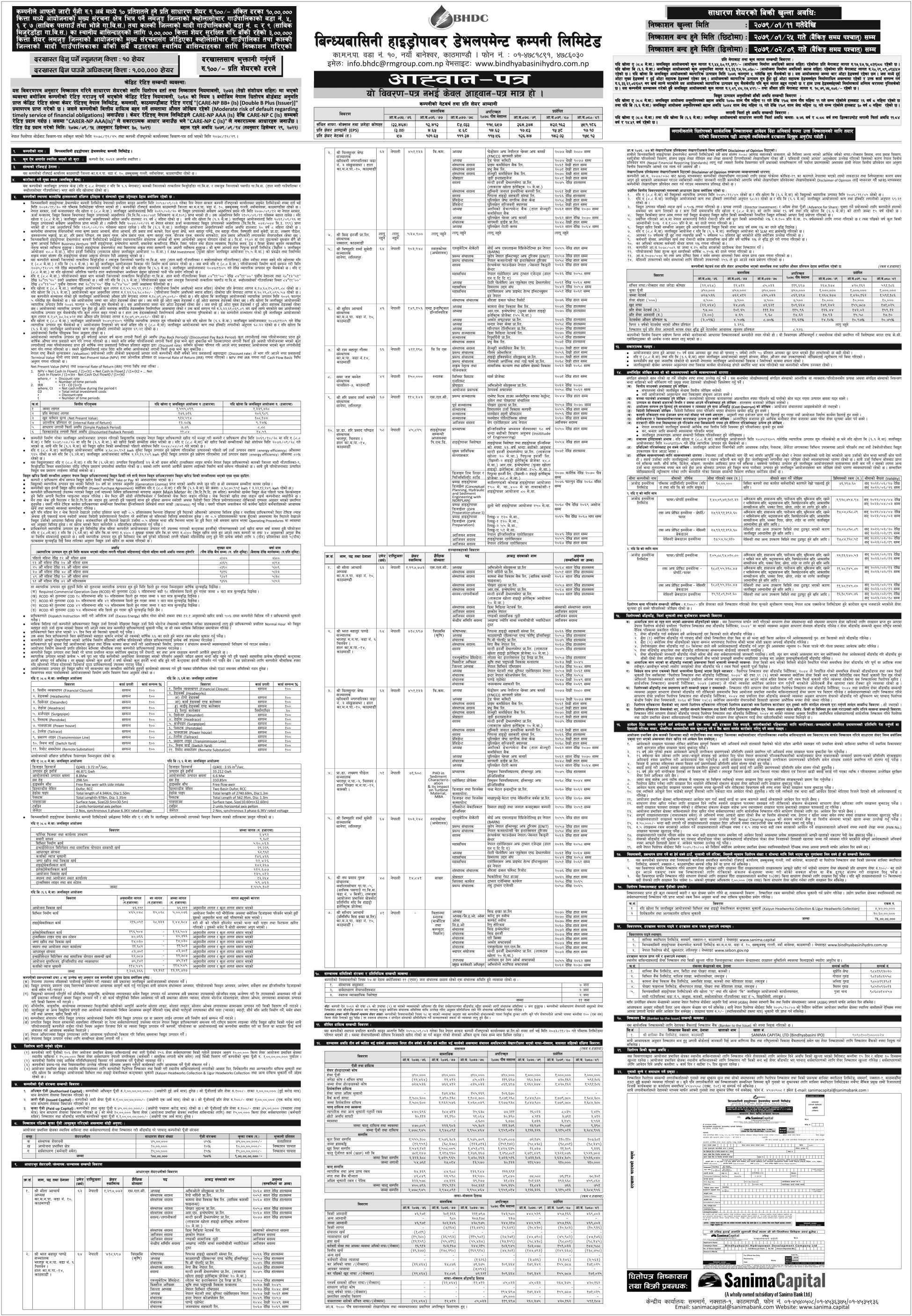 Bindhyabasini Hydropower Development Company Limited is going to open an IPO issue and sale from Baishakh 11. The company is planning to issue an IPO for the residents of the project-affected areas.
The company is about to issue 1 million ordinary shares with a face value of Rs 100 per share. The company has secured 7 lakh shares for the locals of Wards 5, 6, and 7 of Kwalasothar Rural Municipality (Gaupalika) of Lamjung District and Wards No. 8 and 9 of Madi Rural Municipality (Gaupalika) of Kaski District within the main infrastructure area of ​​the project. 300,000 shares are to be issued to the locals of Kwholasothar Rural Municipality (Gaupalika) and all other wards of Madi Rural Municipality (Gaupalika) of Kaski district, which is connected to the main structure of the project in Lamjung district.
The eviction shutdown will take place on the 25th of Baishakh soon and on the 9th of Jestha. Applications for the IPO can be submitted from Sanima Bank's Birauta and Pokhara Branch Office, Civil Bank's Maling Branch Office, Kamana Seva Vikas Bank's Kaski and Beshishahar Branch, Pokhara Finance's Pokhara and Beshishahar Branch and project workplace. In addition, applications can be submitted from all C-ASWA member banks and financial institutions and their branch offices approved by the Nepal Securities Board.
The issue and sale manager of the company is Sanima Capital Limited. Investors will have to apply for a minimum of 10 units of shares and a maximum of 100,000 units.
Care Rating Nepal has given Care NP Double B Plus IS rating to the company in the rating given for the IPO issue. This indicates a moderate risk in the company's ability to bear responsibility.
IPO Date
IPO