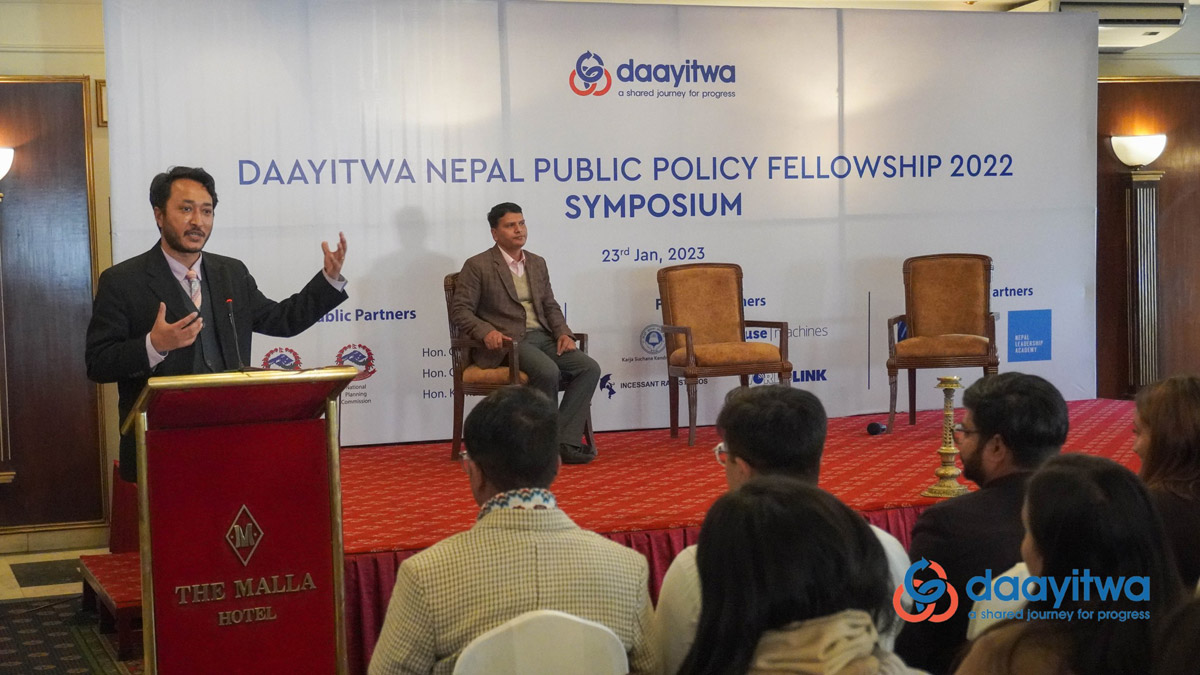 The Daayitwa Nepal Public Policy Fellowship Symposium 2022 was a celebratory event marking the graduation of the 12th cohort of Public Policy Fellows and the inauguration of the Daayitwa Nepal Public Service Fellowship (DNPSF) Alumni Council. The event featured enlightening deliveries about the critical role that youth-government collaboration plays in driving national progress.
During the ceremony, Dr. Baikuntha Aryal, the Secretary of the Ministry of Communication and Information Technology, spoke about his dedication to implementing the research findings and pledged to continue supporting future researchers in the pursuit of evidence-based policymaking.
Dr.Jeeban Amgain , Executive director of the Academy of Innovation for Economic Development strongly emphasized the need to establish innovative programs like the DNPPF fellowship program to foster continued growth and success.
Former fellows shared their uplifting narratives of optimism for a more promising future in research and evidence-based policymaking. They emphasized that the conclusion of every fellowship program is a step forward in the research journey for involved parties including public and private organizations.
Dr. Pukar Malla, the founder, and chairperson of Daayitwa, acknowledged that while the DNPPF program alone may not be sufficient to bring about a major change in the country, it is a step in the right direction and a source of hope. He urged the fellows to strive for great accomplishments and make a meaningful impact in the community.