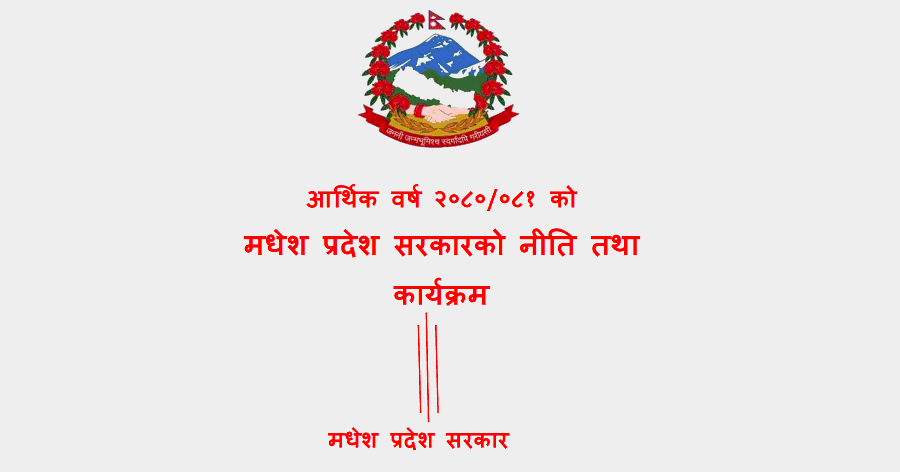 Policies and Programs of Madhesh Province Government: Agriculture, Education, Health, and More
The Madhesh Province government, with a focus on agriculture, education, and health, has introduced a range of policies and programs aimed at improving the well-being of its citizens. On 6th June 2023, Provincial Chief Harishankar Mishra presented these initiatives for the upcoming financial year 2080/081 in the state assembly. While some new policies have been introduced, most of the existing ones have been continued.
Agriculture Sector: Boosting Production and Livestock Welfare
The government has implemented the policy of constructing one ward and one agrovet, facilitating easy access to agricultural supplies and services for farmers.
To enhance production, subsidy-based agricultural programs have been adopted, providing financial support and incentives to farmers.
Livestock insurance has been introduced to safeguard the interests of livestock owners and protect against unforeseen losses.
Emphasis has been placed on irrigation to ensure a steady and reliable water supply for agricultural activities.
The government has embraced chaklabandi farming, a sustainable farming technique that involves rotational cropping to optimize land use and crop yields.
Environmental Conservation: One Citizen, One Plant and Riverbank Tree Plantation
The government has launched the "One Citizen, One Plant" program, encouraging every individual to contribute to the environment by planting a tree.
Tree plantation along the banks of rivers aims to protect river ecosystems, prevent erosion, and promote a greener environment.
Construction of dams in the Chure area for water recharge purposes will help sustain water resources and mitigate the effects of water scarcity.
Education Sector: Empowering Girls and Enhancing Educational Facilities
The Beti Padhau, Beti Bachau program, championed by the Chief Minister, will continue to prioritize girls' education.
Education insurance for girls, distribution of bicycles to class 8 girls, and provision of laptops to class 12 girls are part of this initiative, aiming to remove barriers and promote access to quality education.
The government has also pledged to designate at least one model school in each district, setting a benchmark for educational excellence.
Health Sector: Accessible Healthcare and Nutrition
Government hospitals will not charge any fees for admitting patients, ensuring access to healthcare services for all.
Each health post will have at least one MBBS doctor, enhancing the quality of primary healthcare services.
Senior citizens will receive free eye, ear, and dental treatments, prioritizing their healthcare needs.
A concerted effort will be made to eliminate malnutrition in the province, with the goal of declaring it malnutrition-free.
Transportation: Railway Line Extension
The government plans to extend the Janakpur Jayanagar railway line to Rajviraj, improving transportation connectivity and facilitating regional development.
Additional Initiatives: Hygiene, Tourism, and Public Housing
The Chief Minister's Hygiene Program will continue, promoting cleanliness and sanitation practices among citizens.
Religious and cultural monasteries will be developed from a tourism perspective, preserving heritage sites and attracting visitors.
The government remains committed to the public housing program, ensuring the provision of affordable housing options for citizens.
Through these policies and programs, the Madhesh government aims to drive economic growth, improve social welfare, and foster sustainable development across various sectors.
Download / View Policies and Programs.PDF

Madhesh Pradesh