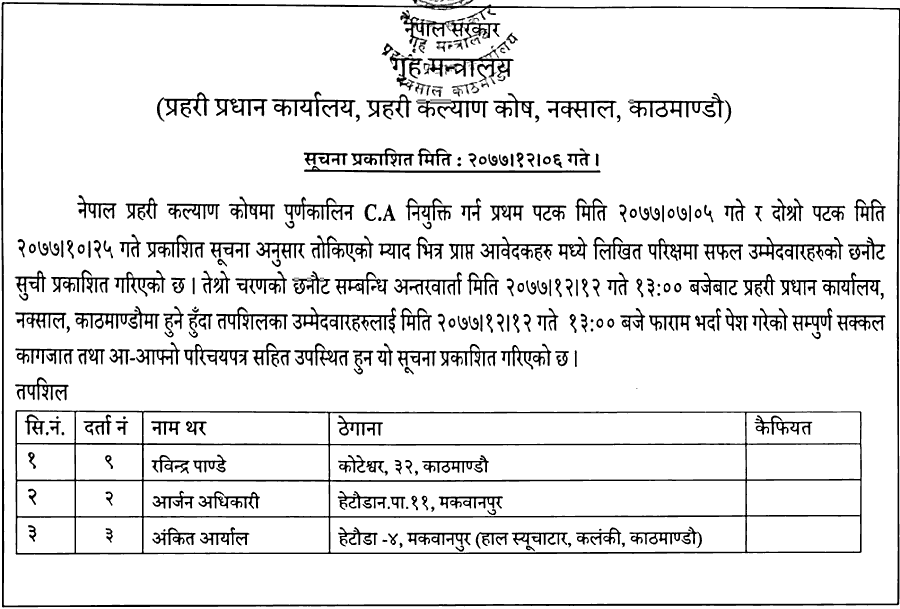 Nepal Police CA Post Written Exam Result and Interview Schedule:
Government of Nepal, Ministry of Home Affairs, Police Headquarters, Police Welfare Fund, Naxal, Kathmandu Published written exam result of CA Post:
According to the information published for the first time on 2077-07-05 and the second time on 2077-10-25 for the appointment of full-time CA in the Nepal Police Welfare Fund, the selection list of successful candidates in the written examination has been published from among the applicants received within the stipulated time.
Interview regarding the selection of the third phase will be held on 2077-12-12 at 13:00 hrs at the Police Headquarters, Naxal, Kathmandu; This notice has been published for the detailed candidates to appear with all the original documents submitted while filling the form on 2077-12-12 at 13:00 along with their identity cards.
Details
1) Rabindra Pandey Koteshwar, 32, Kathmandu
2) Earnings Officer Hetaudan-11, Makwanpur
3) Ankit Aryal Hetauda-4, Makwanpur (now Suichatar, Kalanki, Kathmandu)
Information published on 2077-12-06.