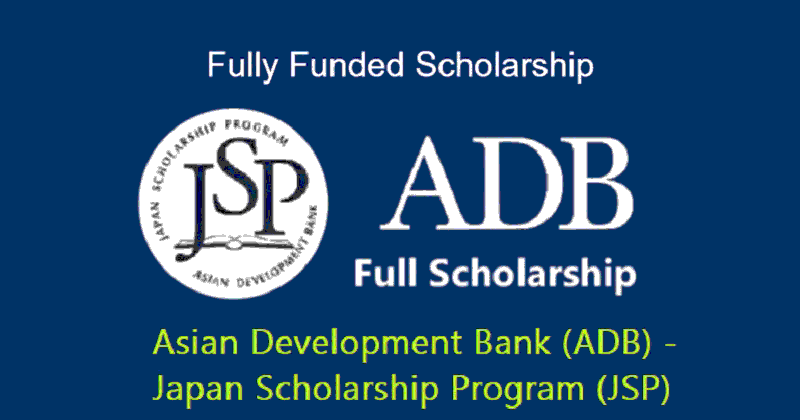 The Asian Development Bank (ADB Japan) invited applications for the Asian Development Bank Scholarship 2021. ADB offering Fully Funded 140 Scholarships each year to International Students. Scholarship recipients can study in any of the 25 Universities located in 9 Countries under the Asian Development Bank (ADB JSP) Scholarship Program. It is a Prestigious Scholarship Program fully funded by ADB Japan.
There is no application fee required for this Scholarship. This scholarship is available in the following various countries such as USA, China, India, Japan, New Zealand, Hongkong, Pakistan, Philippines, Singapore, Thailand.
There is a wide range of academic fields is available. It is available to Study a Full-time Master Degree Program. Enrolls about 300 Students annually for the two years of duration of the ADB Master's Degree Scholarships.
Details of Asian Development Bank Scholarship (ADB JSP) 2021-2022:
| | |
| --- | --- |
| Scholarships Country: | Hongkong, China, India, Japan, New Zealand, Pakistan, Philippines, Singapore, Thailand, USA |
| Degree Level: | Master Degree Programs |
| Duration: | 2 Years |
| Financial Coverage: | Fully Funded |
| Deadline: | 31st April 2021 (For Most of the Universities) |
The Japan Scholarship Program (JSP) was established in 1988 to provide an opportunity for well-qualified citizens of developing member countries to undertake postgraduate studies in economics, business and management, science and technology, and other development-related fields at selected 29 educational institutions in 10 countries in Asia and the Pacific. Between 1988 and 2015, Japan contributed US$170 million to the JSP. A total of 3,500 scholarships have been awarded to recipients from 37 member countries, 40% of which are female scholars. This brochure provides general information on the JSP.
Major Field of Study:
Science and Technology:
· Agriculture, Biological Science, Computer Science, Energy, Engineering, Environment, Forestry, Genetics, and Health
Economics, Business, and Management:
· Accounting, Business Administration/Management, Commerce, E-Business, Entrepreneurship, Economics, Finance, International Cooperation, and Social Sciences
Development Studies:
· Asia Pacific Studies, Development Management, and Development Studies
Law and Public Policy:
· International Business Law, International Environmental Law, Policy Studies, Political Science, Public Administration, and Public Policy
Financial Benefits:
Asian Development Bank Japan Scholarship program (ADB JSP) is a Fully Funded International Student Scholarships to study abroad. All the Expenses will be covered by the Asian Development Bank (ADB). The following expenses covered by the ADB JSP.
Tuition Fees
Housing Allowance
Subsistence Allowance including housing allowance
Student Medical and Accident Insurance.
Economy Class Air Travel Tickets.
Visa Fees, Airport Taxes, Luggage Allowance.
Books
Thesis/Research Allowance. Photocopying, School Supplies, Typing and Computer Charges, Postage, Communications, Binding Charges, Local Travel Costs and Accommodation for out-of-town trips.
Eligibility Criteria:
Be a national of an ADB Country given above.
A Bachelor's degree or it's equivalent with a superior academic record.
At least two (2) years of full-time professional working experience (acquired after a university degree) at a time of application.
Not more than 35 years old at the time of application. In exceptional cases, for programs that are appropriate for senior officials and managers, the age limit is 45 years old.
Agree to return to your home country after completing the program.
Deadline:
The deadline to apply for the Asian Development Bank Scholarship (ADB JSP) 2021-2022 varies from one University to another University. Most of the Universities have a Deadline on 31st April 2021.
How to Apply For ADB JSP:
The Application Process is Online for the ADB JSP. To Apply, Please Visit the Official Website of the ADB (JSP Japan Scholarship Program) and process the details.
Scholarship Details Link: https://www.adb.org/work-with-us/careers/japan-scholarship-program
Eligible Countries for ADB JSP:
| | | |
| --- | --- | --- |
| Afghanistan | Mongolia | Solomon Islands |
| Armenia | Myanmar | Sri Lanka |
| Azerbaijan | Nauru | Tajikistan |
| Bangladesh | Nepal | Thailand |
| Bhutan | Niue | Timor-Leste |
| Cambodia | Pakistan | Tonga |
| Cook Islands | Palau | Turkmenistan |
| Georgia | Papua New Guinea | Tuvalu |
| India | Philippines | Uzbekistan |
| Indonesia | Samoa | Vanuatu |
| Fiji | Kazakhstan | Viet Nam |
| Marshall Islands | Kiribati | Malaysia |
| Kyrgyz Republic | Maldives | |
| Lao People's Democratic Republic | Federated States of Micronesia | |
List of Courses Available (Country Wise):
Hong Kong China
Master of Science in:
· Urban Planning
· Urban Design
India
· Master of Technology in Science and Technology
· New Zealand
· Master in International Business
· Master of Arts (Development Studies)
· Master of Science (Environmental Science)
· Master programs in Engineering
· Master of Public Health
Pakistan
· Master in Business Administration
· Philippines
· Master in Business Administration
· Master in Development Management
· Master of Agriculture
· Master of Science
Singapore
· Master in Business Administration
· Master in Public Policy
· Master of Social Sciences (Applied Economics)
· Master of Science in Environmental Management
Thailand
· Master of Sciences or Engineering in School of Engineering and Technology
· School of Environment, Resources, and Development (SERD)
· Interdisciplinary Courses among Schools
· School of Management (SOM)
· Master in Engineering
· Master in Economics
· United States
· Business Administration
· Economics
· Geography
· Business Administration (Global MBA-Japan Track)
· Natural Resources & Environmental Management
· Ocean and Resources Engineering
· Oceanography
· Pacific Island Studies
· Public Administration
· Sociology
· Tropical Plant & Soil Science
· Urban and Regional Planning
· Master of Law
Japan
· Asian Public Policy Program
· Master of Arts in International Relations
· Master of Arts in International Development
· Master of Arts in Economics
· Master of Arts in Public Management
· Master of Business Administration (MBA)
· Master of E-Business Management
· Master of Science in Engineering
· Master of Arts in Economics
· Master of Systems Engineering
· Master of Systems Design and Management
· Master of Economics
· Master of International Studies
· Master of Laws
· Master of Political Science
· International Project Management Course (M.B.A)
· Master's Program in International Environmental Management Program
· Special Course in Agricultural Sciences – For the Global Future of Life, Food and the Environment (Master)
· International Course in Management of Civil Infrastructure and Earth Resources Engineering
· International Course in Urban and Regional Development in the Department of Urban Management
· Bioresources Sciences
· Agro-Environmental Sciences
· Agricultural and Resource Economics
· Bioscience and Biotechnology
· Global Governance and Corporations
· Economic and Business Law in Asia
· Innovation and the Law
· Fundamental Perspectives on Economic and Business Law
· Master of Science in Asia Pacific Studies
· Master of Science in International Cooperation Policy
· Mathematics
· Physics
· Chemistry
· Earth and Planetary Sciences
· Mechanical Engineering
· Systems and Control Engineering
· Electrical and Electronic Engineering
· Information and Communications Engineering
· Industrial Engineering and Economics
· Materials Science and Engineering
· Chemical Science and Engineering
· Mathematical and Computing Science
· Computer Science
· Life Science and Technology
· Architecture and Building Engineering
· Civil and Environmental Engineering
· Transdisciplinary Science and Engineering
· Social and Human Sciences
International Scholarship