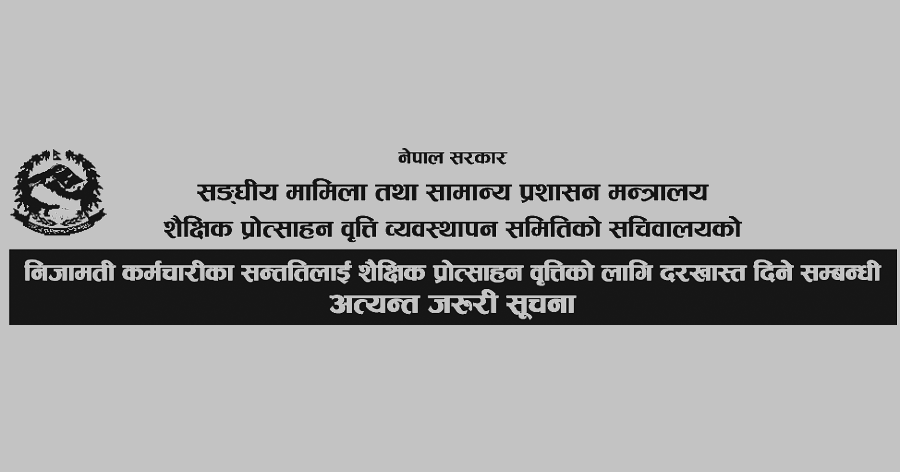 How to Apply for Educational Incentives for Children of Civil Servants in Nepal?
If you are a civil servant in Nepal and want to apply for educational incentives for your children's higher education studies, the Ministry of Federal Affairs and General Administration has issued an urgent notice. Here's what you need to know:
Eligibility for Academic Incentives:
To qualify for educational incentives, your child must have:
Passed with a minimum GPA of 2.4 or more than fifty percent marks in ten plus two or equivalent examination
Enrolled in a native university or affiliated or affiliated indigenous educational institution of such university
Studying in the first year or first semester or second semester of graduation or its equivalent
Not having completed the age of twenty-five years
Not having a permanent appointment in other public service posts.
Documents Required:
You need to attach the following documents and details along with the application within 15 days from the date of publication of the notice:
Citizenship certificate (including migration certificate if current permanent address is different)
Admission (SLC/SEE) and educational certificates of 10+2 (Graphic Paper/Transcript and Character Certificate)
Letter of recommendation from the office where the parent employee is employed
Having passed the higher secondary education or equivalent examination from a community or government higher education institution
Letter of Recommendation, Admission Receipt, and Fee-structure
Certified letter from the concerned district administration office or a government document confirming the incident (in the case of descendants of employees who died in the course of government work)
Documents proving incorporation
Certificate proving the relationship
Copy of the identity card (in the case of the current employee)
Recent passport-size photograph of the parent, employee, and student child.
How to Apply:
To submit an online application, visit the website https://santati.mofaga.gov.np and fill out the form in the format as per schedule 1 of the directory.
Note:
Action will be taken according to the law if it is found that an application has been submitted by submitting false information for receiving an educational incentive scholarship. The educational qualification, number, and amount to be provided and the inclusive quota will be determined based on the applications received.
For more information, you can contact the Ministry of Federal Affairs and General Administration's Employee Welfare Branch at 01-4200309 or email at [email protected].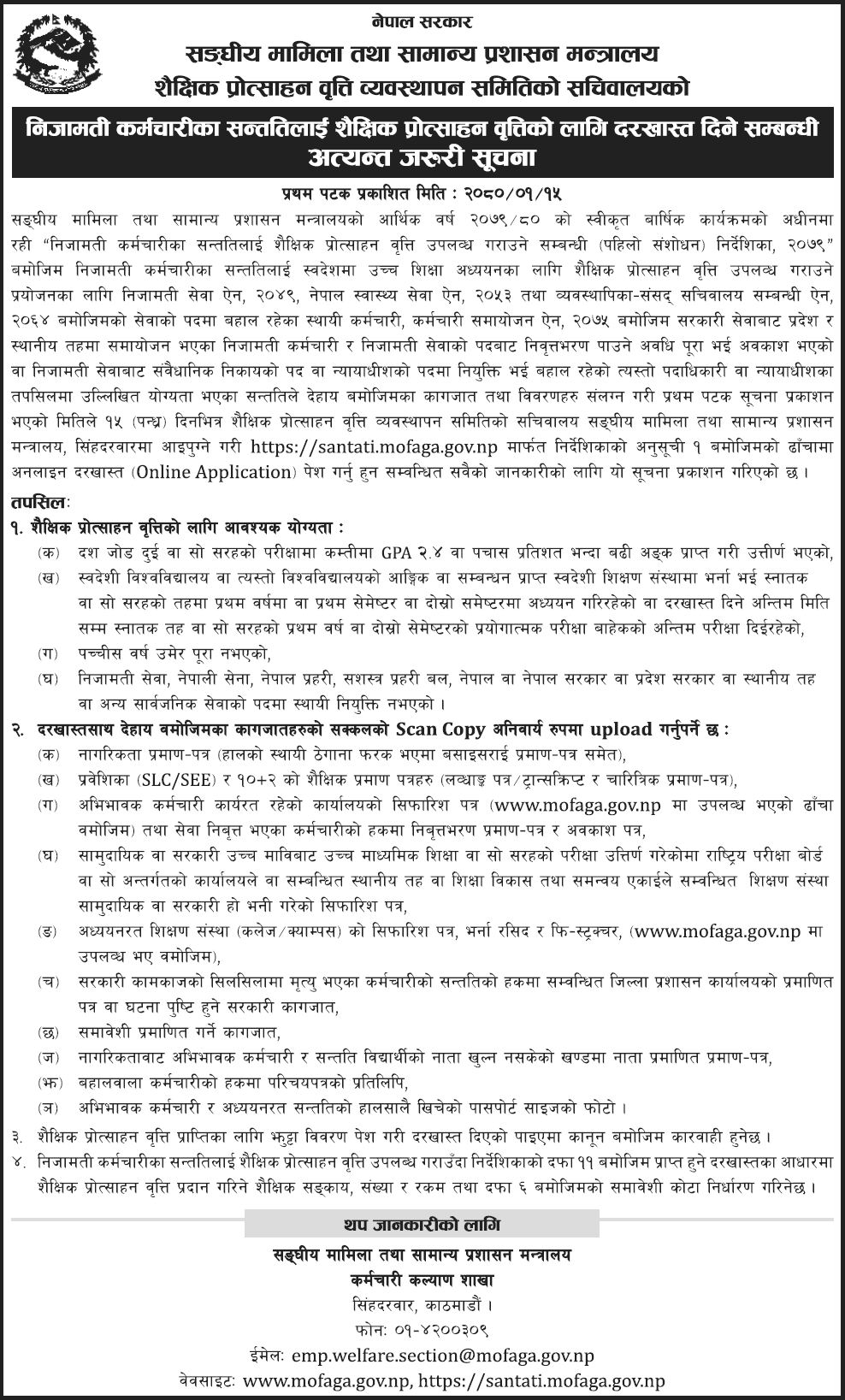 Notice
Scholarship in Nepal