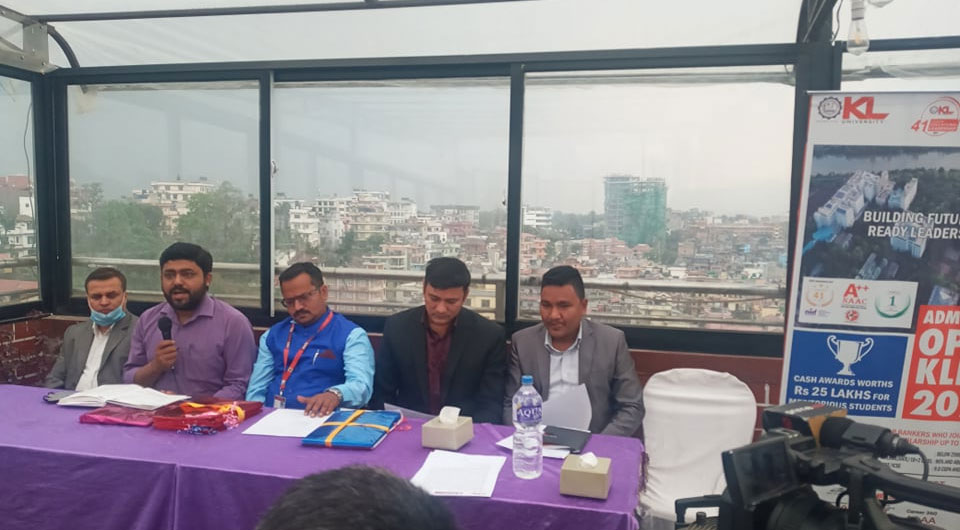 KL University India Announces KLEEE Scholarship worth Rs. 25 Lakh Cash:
KL University under Koneru Lakshmaiya Education Foundation is a university located in Vijayawada, Andhra Pradesh, India. The team of the university and the group of digital partner educators of the university have come to Nepal for the purpose of interviewing Nepali academic counselors, students, and journalists about the university.
A press conference has been organized in Kathmandu to inform about its educational programs, scholarships, university promotion strategy in Nepal, and other issues.
KL University was established in Andhra Pradesh in 1980 by the University Grants Commission (UGC), accredited by the All India Council for Technical Education (AICTE), NAAC A ++, NBA, MHRD, NIRF 41st Ranking, and Rating and UGC's Annual Assessment Category. 1 has succeeded in becoming an excellent university.
Other approvals include the Pharmacy Council of India (PCI), Council of Architecture (CoA), Bar Council of India (BCI).
The University has Engineering (BTech and MTech) Architecture Hotel Management, BBA / MBA BSc Agriculture, B Pharmacy, Pharmacy D, LLB, and LLM in operation.
The university is run by StarWorld International Education Maharajganj, Informatics Consultancy Putalisadak, Awsika International Education Thapathali, Kathmandu Masway International Education Consultancy Bagbazar, White Platinum Education Services Kupandol, and other educational institutions in Nepal.
Responding to the queries of journalists regarding the scholarship, Himanshu Gaurav, Marketing Director, Educators New Delhi, said that KL University has given high priority to Nepali students by conducting KLEEE (KL Engineering Entrance Exam-2021) & KL MAT (KL Management Aptitude Test - 2021) from 100% to 15%. Scholarships will be provided.
For the scholarship, we are going to Lear All Nepal Camping in association with the Government of Nepal. Shiva Raj Neupane, the coordinator of the promotion committee, briefed the journalists.