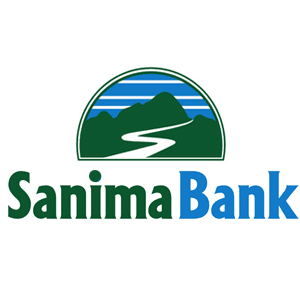 Sanima Bank Limited Announces Scholarship for Class 11 and 12: For a long time, Sanima Bank has been providing scholarships (a monthly cash stipend of Rs. 2,000/- in addition to fees and educational materials) to 2-2 students from each of its branches located outside Kathmandu Valley to pursue higher education in educational institutions and subjects of the student's choice.
In continuation of the same scholarship, this bank has published this notice to apply among the students from poor and underprivileged families who have passed the SEE examination conducted in the month of Baisakh, 2079, from among the permanent residents of the Sanima Bank branch outside Kathmandu Valley to study at the secondary level (classes 11 and 12).
The scholarship amount per student per year is Rs. 50,000/- will be up to. In which monthly expenses per month of Rs. 2,000/- in cash will be included.
Scholarship Information:
1) The applicant should be a permanent resident of the place where the branch is located.
2) The applicant should be from a poor and needy family.
3) The applicant must have studied continuously for the past three years in a government/community school within the same location and passed SEE on the first attempt.
4) The subject/faculty available in the secondary educational institution within the same location should be studied. Applicants will have to choose educational institutions and faculties themselves.
5) The scholarship will be awarded only after it is confirmed that the educational institution in which the applicant wishes to study will accept the applicant.
6) The applicant should be a full-time student.
7) The selection of the poorest and most disadvantaged candidates from among the applicants will be done by the recommendation committee formed by the bank and consisting of local people as members. The committee may interview the applicant or his family members.
8) The scholarship will be applicable from the date of admission to the educational institution.
9) The applicant should not have received any other scholarship at present.
10) The application form will be available free of charge from the branch office of the bank.
11) Documents to be enclosed with the application:
- One passport-size photograph
- SEE mark sheet and character certificate.
- Document that the applicant has continuously studied from a government/community school within the location of the branch for the last three years.
- Copy of citizenship of father or mother
12) Last date for filling the application form: 2079 Bhadra 31st within office hours.
13) Scholarships will be provided from all the branches of Sanima Bank located outside Valley. Branch information is available at https://sanimabank.com/branches.
14) For other information you can contact the bank's head office "Alkapuri" Naxal and related branches.
Sanima Bank Limited
Alkapuri, Naxal, Kathmandu,
Phone: +977-1-5970033,
Fax: +977-1-4428969,
Email: [email protected]
www.sanimabank.com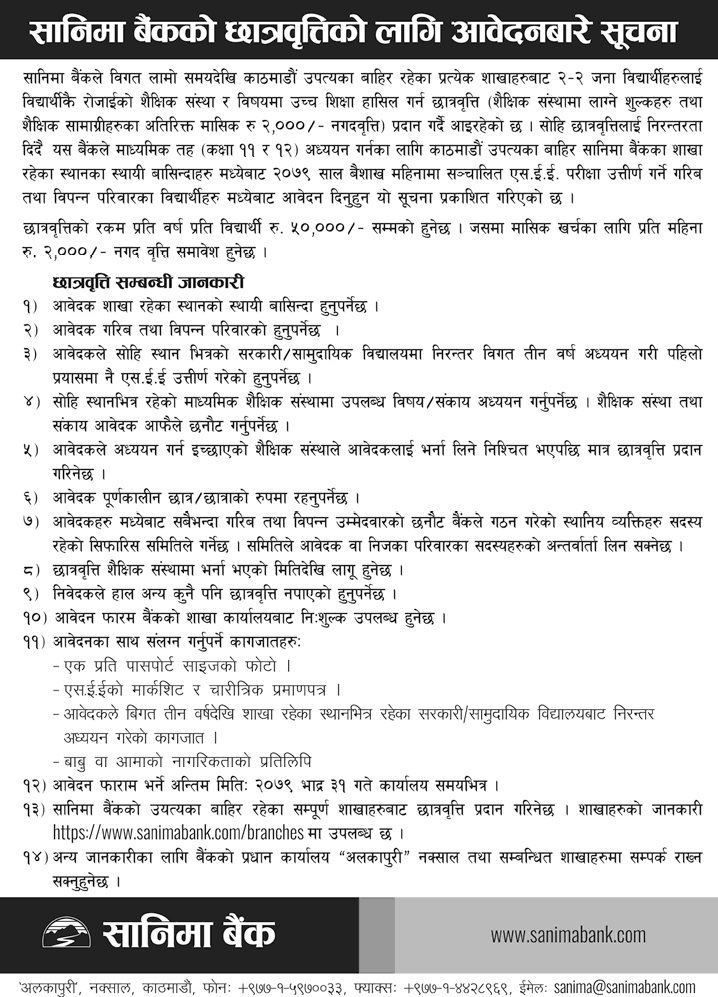 Scholarship in Nepal
Job Vacancy