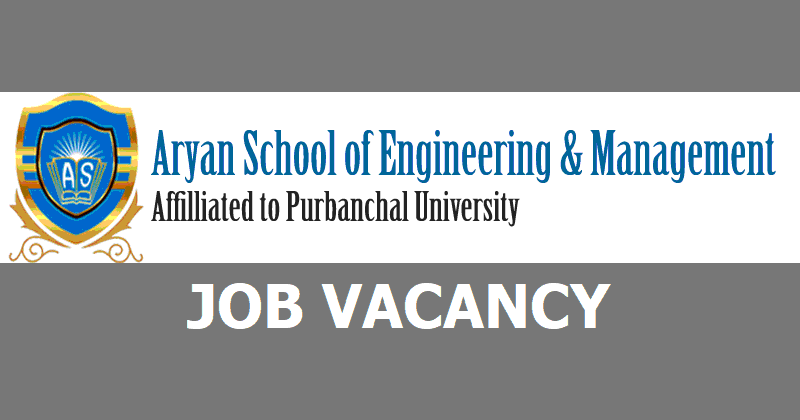 VACANCY ANNOUNCEMENT: Aryan School of Engineering & Management is one of the renowned college of BE Civil, BIT, BCA, and BBA running under the Purbanchal University since 2010 A.D. is looking for energetic, qualified, and self-motivated faculties for the following position.
Civil Engineering Department

Lecturer - Few

Masters in Structural Engineering or Equivalent
Applied Mechanics/ Strength of Material/ Structure/ Steel/ RCC

Lecturer - Few

Masters in Civil Engineering or Equivalent
General Civil Engineering Subject (Surveying, Engineering Materials, Building Technology, EPP, etc.)

Lab Inchargeassistant - One

Diploma/ BE in Civil Engineering

BIT & BCA Department

Lecturer - Few

ME (Computer)/ MCS (Computer Science) or Equivalent
C Programing/ Python/ JAVA / Jaya/ data structure and Algorithm

Lecturer - Few

Masters in IT/ Software MIT/ MCA/ MSC-CSIT or Equivalent
System Analysis and Design/ Network Programming/ Computer Network

Lab Assistant - One

Diploma in computer/ BIT/ ICA/ engineering

Science & Humanities Department

Lecturer

Master in Mathematics or Equivalence
Engineering Mathematics/ Probability & Statistics/ Numerical Methods etc.
Interested candidates are encouraged to send their CV along with a cover letter within Seven days from the date of advertisement to [email protected]ryanschool.edu.np.

Telephone enquiry will not be entertained. Only Short-listed candidates will be informed of an interview.
Aryan School of Engineering & Management
(Affiliated to Purbanchal University)
Mid Baneshwor, Kathmandu
Phone: 01-4585146, 9865288925, 9823317260
[email protected] / www.thearyanschool.edu.np
Date of Adverfisernent : 2079-08-26
College Job
Teaching Jobs
Engineering Job