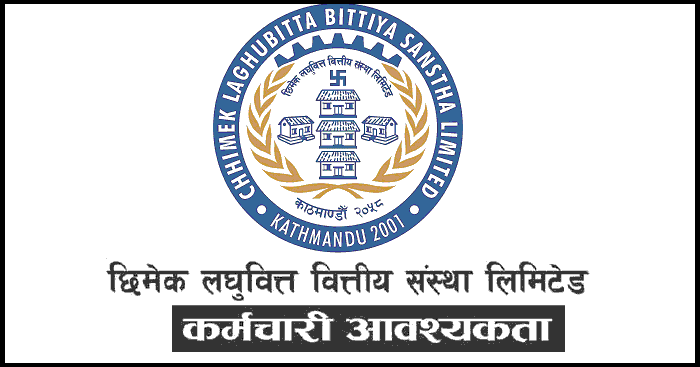 Chhimek Laghubitta Bittiya Sanstha Limited of national level licensed by Nepal Rastra Bank for the following positions through open competition; Applications are invited from Nepali citizens who have reached the specified qualifications to reach the below-mentioned address of this financial institution within the date 2079-08--12.
The application form should be submitted along with the applicant's bio-data, 3 copies of a passport-size photograph, a copy of educational qualification, citizenship, training, and experience certificate along with a contact phone number.
Applicants shortlisted will be included in the interview test. Keeping in mind the interest of the institution, the right to reject the applications received with or without reason or to cancel the advertisement will be reserved in this financial institution.
Deputy Executive Head / Deputy General Manager
Type of Appointment: Permanent
Minimum educational and other qualifications:
At least 12 years of working experience in the managerial category in a microfinance institution after passing the postgraduate level; Or in case of graduation, 15 years of working experience in a microfinance institution in the managerial category.
Other essentials:
(a) Age: Not exceeding 50 years.
(b) Selection Process: Interview.
(c) Where to obtain and submit the application form: The application form can be obtained from the central office of the institution, Central Baneshwar Kathmandu, or by downloading it from the website of this financial institution www.chhimekbank.org.
# The application form should be submitted to the central office of the financial institution in Baneshwar, Kathmandu.
(d) Service facilities: As per the rules of the financial institution.
(e) Last date for receipt of application: 2079-08-12 within office hours. If there is a holiday on that day, then on the day the office opens, within office hours.
(f) Examination fee: Rs.500,/- (literally five hundred rupees only).
(g) Details of the bank and account where the examination fee will be deposited: # Name of the account holder:
Neighborhood Microfinance Financial Institution Ltd. # Account no. : 0750076576700031 Account Bank: Prabhu Bank Ltd., New Baneshwar Branch
(h) Information of pre-selected applicants and interview date, time, and place: The information will be given on the notice board and website www.chhimekbank.org of this financial institution.
(i) Other: During the interview, the candidate will also have to give a maximum 10-minute presentation on the topic of "current situation, challenges, and prospects of microfinance in Nepal".
# Candidates who have studied in foreign institutions must have their qualifications determined by the relevant body. Applications are not received automatically; will be canceled.
Chhimek Laghubitta Bittiya Sanstha Limited,
Central Office, Madhya Baneshwar Kathmandu.
Phone no. 01- 4440113
(Date of information published for the first time: 2079-07-23)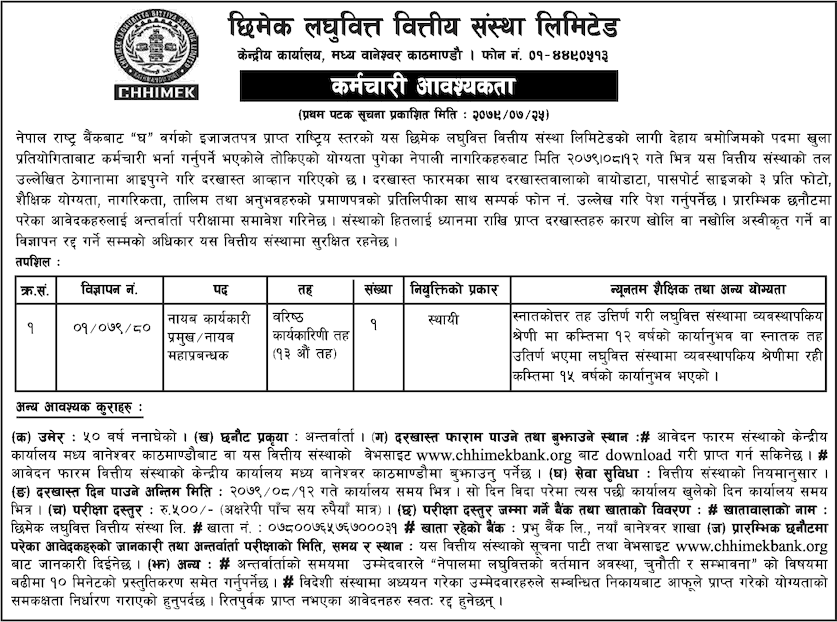 Laghubitta
Banking Career
Job Vacancy
Banking Job