Dhanauji Rural Municipality Vacancy for Various Services:
Dhanauji Rural Municipality (Gaupalika), Rural Municipal Executive Office, Dhanauji, Dhanusha, Province No. 2, Nepal notice regarding recruitment in contract service
To operate Covid-19 temporary hospital as per the letter received from the Ministry of Health and Population, Ramshahpath, Kathmandu and as per the guideline 2077 regarding the operation of Covid-19 temporary hospital at the local level and to recruit in the staff contract as per the decision of 6th village council of FY 2077/2078; Interested Nepali citizens who have reached the following qualifications are invited to apply to this office within 15 days along with the required details and receipt of payment of revenue.
Vacancy Details:
| | | |
| --- | --- | --- |
| Position and Req. No. | Application Fees | Selection Process |
| MBBS Doctor - 1 (One) | 1000 | Written and Interview |
| B. Optometry - 1 One) | 1000 | Written and Interview |
| Staff Nurse - 2 (Two) | 600 | Written and Interview |
| Computer Operator - 1 (One) | 600 | Written, Interview, Computer Skills Test |
| Sub-Engineer - 2 (Two) | 600 | Written and Interview |
| Women Entrepreneurship Facilitator - 1 (One) | 600 | Written and Interview |
| Office Assistant - 2 (Two) | 600 | Interview |
| Office Helper - 1 (One) | 400 | Interview |
| Chaukidar (Pale) - 2 (Two) | 400 | Interview |
Additional Information
(A) Last date for application: - Within 15 days from the date of publication of the notice and in case of leave on that day till the office hours on the day after the opening of the office.
(B) Date and place of the examination: The information board of the office will be published on 2078-01-12 and in the office of the office.
(C) Place of submission of application fee: - Nepal Bangladesh Bank, Dhanauji Branch (Account No. Internal Revenue Account 0680001341)
(D) Certificates of Educational Qualification (A. Certificate of Merit, B. Character Certificate, C. Copy of Certificate of Equivalence for Foreign Educational Qualifications), copy of experience and training related documents, copy of Nepali citizenship, and cash receipt of the application fee shall be submitted along with the application.
(E) Two passport size photos.
(F) In the copies of the certificate, the candidate himself should sign that the copy is correct as per the original.
(G) The candidate should have completed 18 years of age and not exceeding 40 years of age.
Other matters not mentioned in this notice shall be as determined by the Candidate Selection and Recommendation Committee under the coordination of the Chief Administrative Officer.
First published on 2077-12-25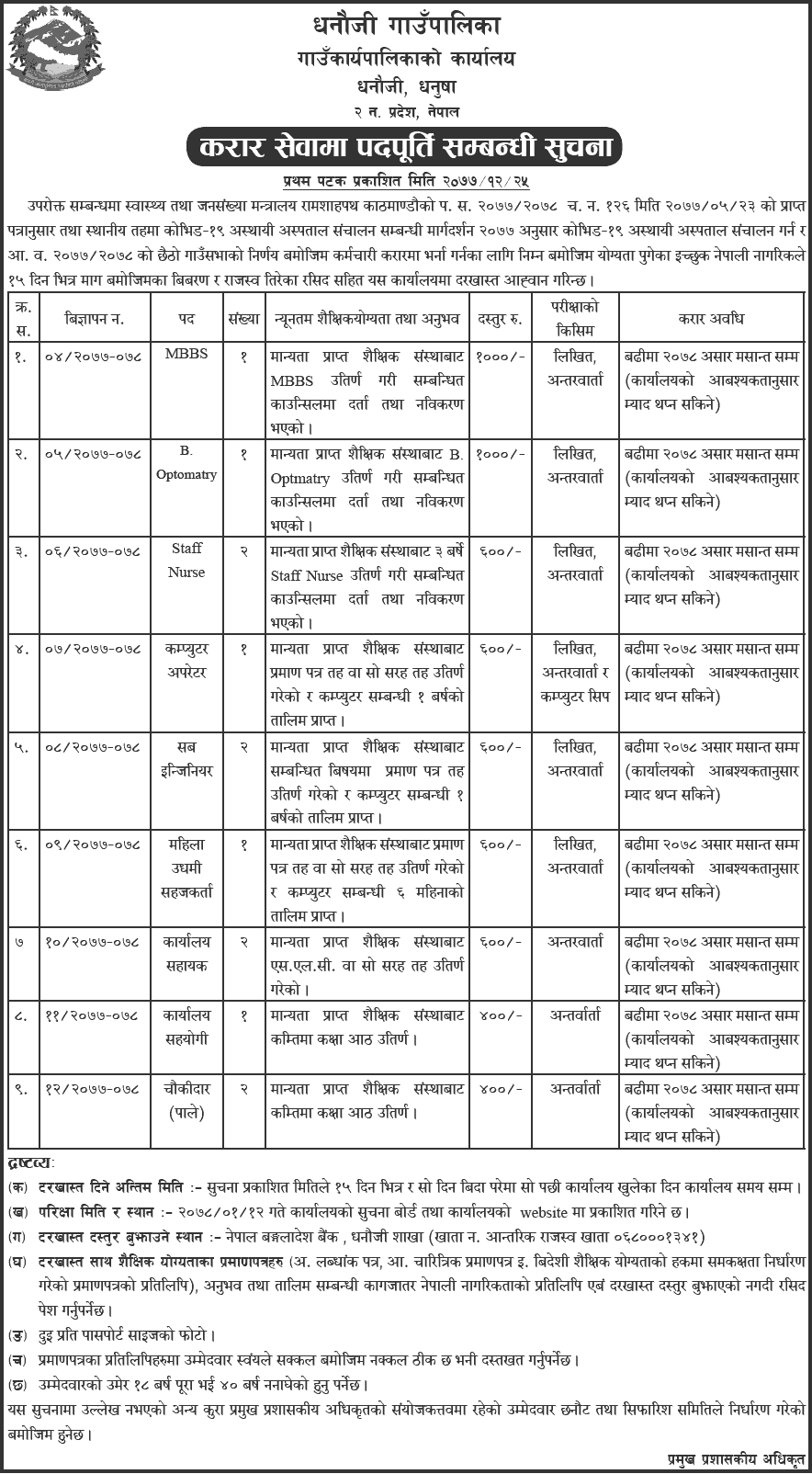 Technical Jobs
Dhanusha
Job Vacancy
Health Job
Engineering Job
Government Job