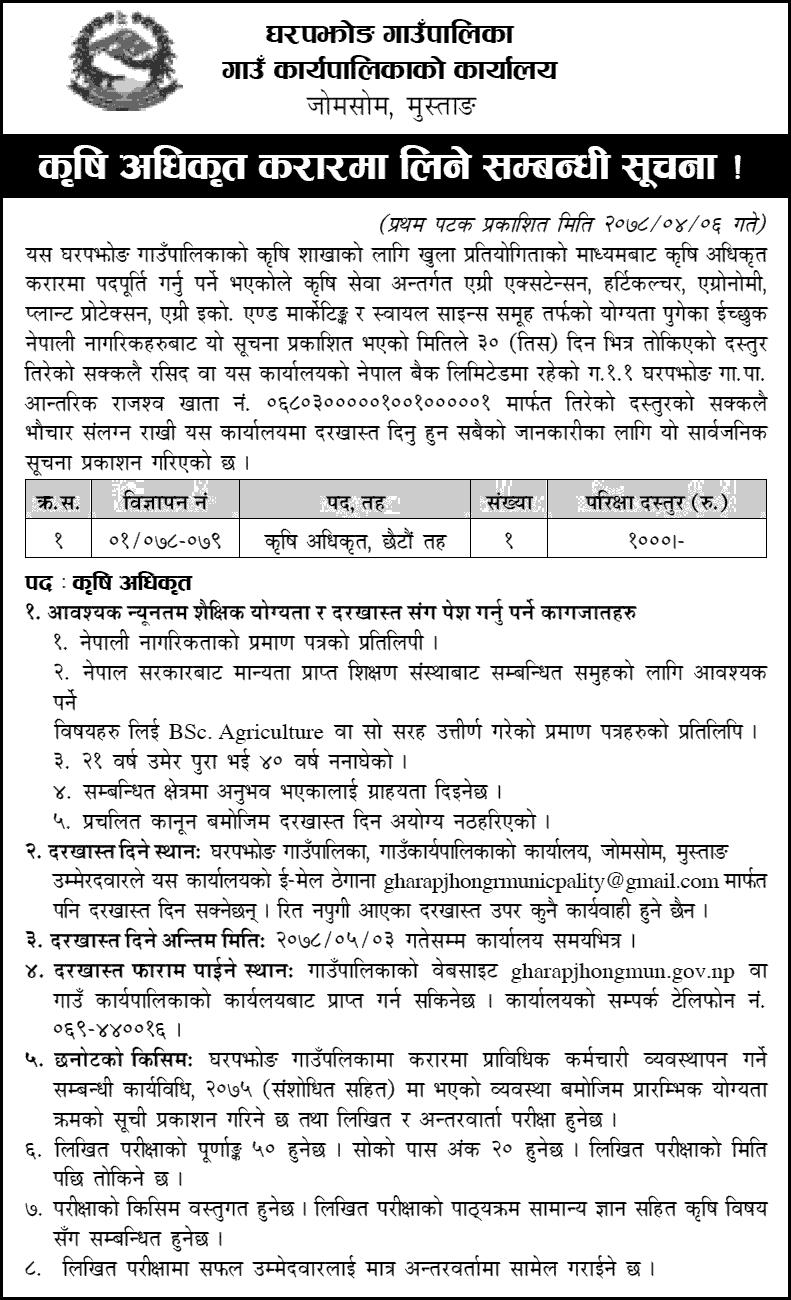 Gharapjhong Rural Municipality (Gaupalika), Office of Rural Municipal Executive, Jomsom, Mustang: Since the post of Agriculture Officer has to be filled on contract through open competition for the Agriculture Branch of Gharapjhong Rural Municipality. Eligible Nepali citizens who are eligible for Agri Extension, Horticulture, Agronomy, Plant Protection, Agri Eco & Marketing, and Swallow Science Group under Agriculture Service. GA.1.1 Gharapzhong Rural Municipality Internal Revenue Account no. This public notice has been published for the information of all to apply in this office with the actual payment of the fee paid through 06803000001001000001.
Position: Agriculture Officer (Krishi Adhikrit)
Level: Sixth
Examination Fee: 1000
1) Documents to be submitted along with the required minimum educational qualifications and application
Copy of Nepali citizenship certificate.
BSc for subjects required for the respective group from an educational institution recognized by the Government of Nepal. Copies of certificates passed in Agriculture or similar.
21 years of age and not exceeding 40 years.
Acceptance will be given to those who have experience in a related field.
Not disqualified to apply as per prevailing law.
2) Place of application: Candidates of Gharapjhong Municipality, Village Executive Office, Jomsom, Mustang can also apply through the e-mail address of this office: [email protected]. No action will be taken on the applications received before the due date.
3) Last date to apply: 2078-05-03 within office hours.
4) Where to get the application form: The website of the village municipality can be obtained from the office of the village executive. Office Contact Telephone No. 069-440016.
5) Type of Selection: A list of preliminary qualification orders will be published in accordance with the provisions of the Rules of Procedure for Managing Technical Staff in Contract in Gharapzhong Rural Municipality, 2075 (with amendments) and there will be a written and interview examination.
6) The integer of the written examination will be 50. The pass mark will be 20. The date of the written examination will be fixed later.
7) The type of examination will be objective. The syllabus of the written examination will be related to agriculture subject with general knowledge.
8) Only successful candidates in the written test will be included in the interview.
(First published on 2078-04-06)
Agriculture Job
Job Vacancy
Government Job