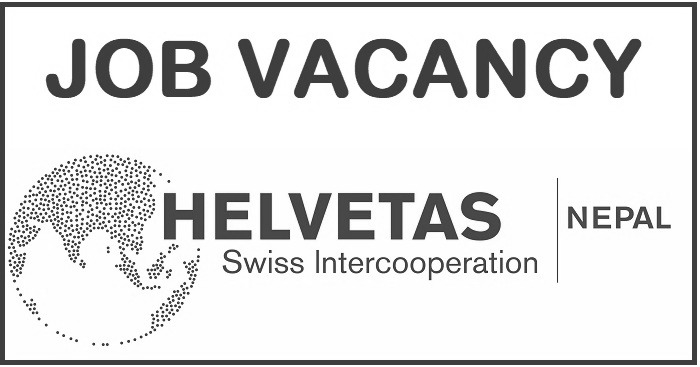 HELVETAS Swiss Intercooperation Nepal Vacancy Announcement for Province Manager (Gandaki)
HELVETAS Swiss Intercooperation Nepal is a Swiss non-governmental organization actively contributing to the improvement of the living conditions of poor and disadvantaged people in Nepal.
HELVETAS Swiss Intercooperation Nepal invites applications for the following position from young and committed Nepali citizens for our anticipated TVET project that will be implemented in all seven provinces through the provincial government.
Position: Province Manager- 1 no
Job Purpose:
Lead the province Project Support Unit. Work closely with the Project Coordination and Implementation Unit of the relevant province ministry. Provide technical assistance to provincial government (PG) and local governments (LGs) for the implementation of the project activities. Collaborate with PG, LGs, private sectors, and their associations in respective provinces regarding the TVET. Facilitate to establish TVET coordination unit/skill development unit within industry associations as necessary and be responsible forthe respective province office's finance, administration, and human resource management.
Required Education, Experience, and Social Competence:
Master's degree in Development Studies, Social Science, Business Management, or any relevant discipline. Minimum 7 years of working experience in project/program implementation with 3 years of working experience in a TVET sector with similar responsibilities with experience of managing finance, administration, and human resources of the project. Working experience with industry associations/chambers will be an advantage. Commitment towards gender equality, social inclusion, and poverty reduction is a must.
Duty Station: Province headquarter of Gandaki Province
Duration: till 15July 2025.
Salary and Benefits: As perthe rules and regulations of Helvetas Nepal.
Priority will be given to the local candidates (from orfrom the surroundings ofthe duty station).
Application Procedures: Interested candidates who meet above requirements are requested to visit our website at http://apply.helvetas.org.np and submit an application through the online portal. The detailed job description is available on the website.
Telephone inquiries will not be entertained. Only short-listed candidates will be contacted for the selection process. Helvetas Nepal reserves the right to reject any or all applications without assigning any reasons.
Helvetas Nepal promotes workforce diversity and applies positive discrimination to candidates from discriminated groups (women, Dalit, Janajati, Madhesi/Terai, and other minority communities).
Deadline for submission of application: 18 April 2023.
Gandaki Pradesh
Job Vacancy
INGO Jobs