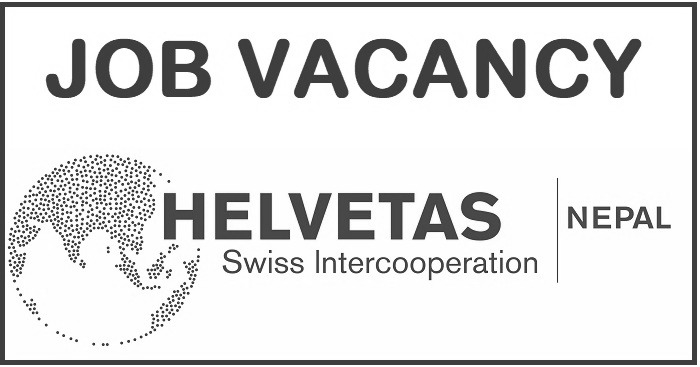 Helvetas Nepal is providing the Technical Assistance to the Rural Enterprises and Remittances Project (RERP) "SAMRIDDHI" project executed by the Ministry of Industry, Commerce, and Supply (MoICS) and funded by the International Fund for Agriculture Development (IFAD) for implementing vocational skills and apprenticeship training and is responsible for the overall management and monitoring of the vocational skills and apprenticeship component of the project. Helvetas Nepal invites applications from Nepali citizens for the following position.
1. Position: Communication and Knowledge Management Coordinator (1)
Job Purpose: The overall responsibility of this position is to ensure adequate communication and outreach, documentation and knowledge management, and periodic reporting of the project.
Required Education, Experience, and Social Competence:
Master's Degree in Journalism/ Mass Communication or English Literature or Social Sciences or in any relevant subject; Minimum of three years of relevant experience in report writing, documentation, and developing and disseminating knowledge products; Experiences working with government, civil society and private sector organizations; Commitment towards gender equality, social inclusion, and poverty reduction.
Duty Station: SAMRIDDHI office, Itahari, Sunsari
Duration: Until 31 December 2023
Salary and Benefits: As per the rules and regulations of Helvetas Nepal
Application Procedures: Interested candidates who meet the above requirements are requested to visit our website at http://apply.helvetas.org.np and submit an application through an online portal. The detailed job description is available on the website. Priority will be given to the local candidates (candidates from the surroundings of the duty station).
Telephone enquiries will not be entertained. Only short-listed candidates will be contacted for the selection process. Helvetas Nepal reserves the right to reject any or all applications without assigning any reasons.
Helvetas Nepal promotes workforce diversity and applies positive discrimination to candidates from discriminated groups (Woman, Dalit, Janajati, Madhesi/Terai, and other minority communities).
Deadline for submission of application: Friday 14 October 2022
Job Vacancy
INGO Jobs